Register now: join the AO Davos Courses 2020 from anywhere in the world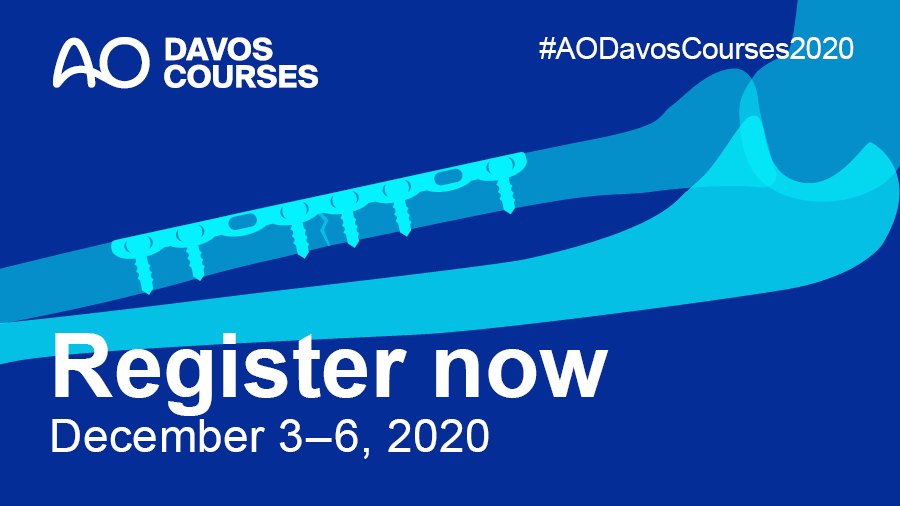 With over 20 courses the AO Davos Courses 2020 set the course for the future of medical education, and registration is open now.
This year's event offers participants around the world extraordinary value, including more ways than ever to learn from and engage with the AO's experts and to customize their learning experience.
AO Davos Courses 2020 registration is open, with a slate of over 20 online courses spanning AO CMF, AO Recon, AO Spine, AO Trauma, AO VET, and the AO Program for Education and Excellence in Research (AO PEER).
"The first-ever fully online AO Davos Courses 2020 are a unique opportunity to learn from and engage with the best, from wherever you are in the world."
Robert McGuire, President AO Foundation

Importantly, as continuing medical education (CME) plays a vital role in participants' development, CME credits will be available for the lion's share of courses and applications have been made to the respective accreditation bodies.
In addition to this year's courses, the AO offers a number of value-adding features, such as:
Round-the-clock access to its digital industry exhibition and digital AO world as well as on-demand materials and a digital library

The AO TV stream, "The good, the bad, the ugly—a case that taught me a lesson," from AO Spine

The free, online AO Recon Meet the Experts Webcast on the new and up-to-date AO Recon Complex curriculum

The free, first-ever, live AO Recon OnAir session with expert periprosthetic fracture management.
Many courses offer a limited number of spaces, so early registration is recommended.
AO Davos Courses 2021: flagship event prepares for return to on-site, face-to-face courses
The AO is excitedly preparing to welcome back participants—on-site and face-to-face—for this year's AO Davos Courses.
From November 28 to December 10, AO Trauma, AO Spine, AO CMF, AO VET, and AO Recon will offer over 30 innovative and engaging courses.