Voices for change: Celebrating diversity within the AO
Saeed Qaimkhani: my AO Access journey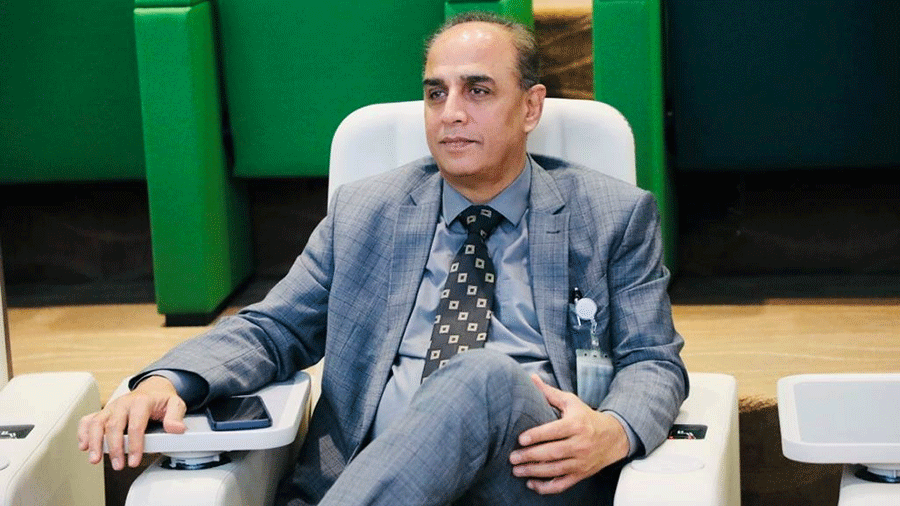 For Saeed Qaimkhani, education is not a finite destination. Rather, he believes it's a lifelong process that encompasses not only classroom learning but mentorship as well. As a founding member of the AO Access Mentorship Task Force, he helped establish the AO's six-month AO Access Mentorship Program which was officially launched in December 2022.

Qaimkhani, who grew up as one of eight children in a conservative family in Pakistan, credits his family and his mentors for inspiring him to begin his journey of lifelong learning.
"I grew up in a relatively conservative family. My mother was completely illiterate but she had a vision that all of her children should be well educated. My father was educated to the college level, but he was also very supportive and wanted all of us to be highly educated," Qaimkhani said. "We were a relatively poor but happy family: five brothers and three sisters.
Qaimkhani added that he cherishes the support that his family has provided throughout his medical career.
"I have had the utmost support of my family, my wife, and my four children. My wife looked after the kids when I would be studying and preparing for exams. I did not have enough time to spare for social activities with children. Family suffers the most when one is dedicated to profession," the surgeon said. "Even now my wife continues to smile when I am busy working long hours on my laptop, completing tasks for AO Access, organizing Qatar Board for Medical Specialties exams, working in operating theaters over the weekends, or similar activities. She understands that with greater positions come greater responsibilities and more sacrifices."

He also had the good fortune to grow up and come of age in a society where all education was funded by the government.
"My mother inspired me to be involved in medicine and science because she always wanted me to be a doctor," he recalled. "My education in Pakistan was in government schools which did not cost us a large amount of money compared to the current situation; for example, getting a medical degree in the United Kingdom can cost about GBP 50,000."

After completing his bachelor of medicine and bachelor of surgery (MBBS) degree at the University of Sind, Pakistan, Qaimkhani earned his Fellowship of the Royal College of Surgeons (FRCS) qualification in 1998, followed by his FRCS Trauma and Orthopaedics qualification in 2006. He practiced orthopedic and spine surgery in the United Kingdom for 21 years before moving to Qatar, where he practices at Hamad General Hospital in the nation's capital city, Doha.
"My mother inspired me to be involved in medicine and science because she always wanted me to be a doctor"
Saeed Qaimkhani
Boundless enthusiasm
"I love everything about my work. Every morning when I wake up, I am excited to go to work," he said, noting that he constantly strives to learn, whether it's an intellectual pursuit like preparing for and earning the AO Spine Global Spine Diploma or an athletic endeavor such as learning to swim, or play soccer or—most recently—learning padel, an exciting new sport gaining popularity all over the world.
"For example, before I moved to Qatar, I didn't know how to swim, so I learned swimming—and now I am certified by the Professional Association of Deep Sea Diving (PADI) in deep sea diving to 21 meters. In Doha, I am very well supported by my director and other colleagues to take a lead role in education and mentoring. Dr Al Ateeq—director of orthopedics and my mentor—placed his confidence in me for establishing a new Orthopedic Postgraduate Qualification Examination under the umbrella of the Qatar Board for Medical Specialties. With departmental support, I established a wonderful group of enthusiastic team players and with collective effort and hard work, we have successfully completed two cycles of QBMS Part 1 orthopedic exam and we are due to conduct first cycle of the part 2 exam next year," said Qaimkhani, who clearly isn't shy about confronting a challenge. "We all need mentoring and support, whatever career stage we are at."

Two years ago, Qaimkhani responded just as enthusiastically when AO Access—the AO's diversity, inclusion, and mentorship initiative—issued an open call seeking contributors. Across his 36-year career, the senior orthopedic and spine surgeon has been inspired and mentored by many people, and for the past 15 years has acted as a mentor, so offering his experience to AO Access—and specifically the AO Access Mentorship Task Force and to the global AO community—has been an opportunity to help advance patient care by working to address existing inequalities to entry and advancement, and identifying and overcoming barriers.
"To be honest, I never thought that I would have any chance of being any value to AO, because the impression from the outside world is that the AO is a very closed society and that not many underrepresented groups are able to progress ahead in the AO—especially women and persons of color, ethnic minorities, and any intersection of these dimensions," he candidly explained. "But then I saw this open call looking for AO Access task force contributors and I thought, 'Okay, I will apply for this.' Before too long, I was part of this wonderful group of people designated to create change; one of the channels of getting involved in creating change is the AO Access Mentorship Program."
"We all need mentoring and support, whatever career stage we are at."
Saeed Qaimkhani
A path to learning,
leadership, and growth
Two years in the making—including a successful, three-month pilot that began in late 2021—the program offers both mentees and mentors a path to learning, leadership, and growth, and aims to involve a minimum of 200 participants for cohort 1. Qaimkhani fervently hopes the program can make a difference in the lives of both its mentors and mentees, as he knows all too well the value of mentorship.

"Sometimes there are inherent biases that we—myself included—do not even realize we have. With the help of my mentors, I overcame them. And I never had any major issue being bullied or harassed but I personally noticed—especially in the United Kingdom where I was trained—that there was especially gender inequality," he said. "In medical schools, 50–70 percent of students are women, but when it comes to the trained doctors and especially people progressing to higher levels of authority in the field, probably less than 10 percent are women. So, there must be some issues stopping women from progressing or discouraging them to progress."
Those are the very issues AO Access seeks to address, and mentorship plays an important role because it ultimately can improve patient care, Qaimkhani said. He cites the example set by his own mentor, Dr TJ Menon, an orthopedic surgeon.
"He was—rest in peace—a person of color like me, but a different religion, a Hindu, and an Indian; India and Pakistan are considered archrivals politically and in sports but he was amazing, totally unbiased, very supportive, an excellent mentor, and a thorough professional. He taught me how to be generous to colleagues, polite, and conscientious—and he taught me orthopedic surgery skills and helped guide my career. He would do the same to any person of any race, religion, or gender. It didn't matter, Muslim or non-Muslim, white or non-white, female or male—didn't matter at all. He was the same with everyone," said Qaimkhani. "The reason I'm a spine surgeon was his guidance to me. He said to me, 'You will be a very good spine surgeon. You have patience and potential.' And here I am today. I owe a lot to my mentors."
"Sometimes there are inherent biases that we—myself included—do not even realize we have. With the help of my mentors, I overcame them."
Saeed Qaimkhani
Another example is the late Professor Syed Azhar, a professor of general surgery, who mentored Qaimkhani in Pakistan.
"He influenced me a lot, teaching me not only surgical skills but ethics, the importance of equal health care, and not to be greedy. From him I learned to look after the patients, whatever background they come from: They may be poor, rich, or prisoners, or different ethnicities or religions," Qaimkhani explained. "That was the biggest influence on my surgical career. I wish and hope that the AO Access Mentorship Program will produce clinicians who will eventually provide ethical, affordable, and excellent medical care to the world population whose majority cannot afford or does not have access to even basic medical care. Remember that being a doctor is a privilege and responsibility."
Qaimkhani's advice to people facing barriers to realizing their goals?
"Never let anybody tell you that you cannot achieve your targets or your goals. If you are passionate enough and you work honestly, and you work with dedication, you can do it," he said. "Yes, you will come across a lot of hindrances, difficulties, and barriers, but don't allow those barriers overpower your determination and resolve to become something. And believe me, you will be successful."
You might also be interested in: