Tiziano Serra
Focus Area Leader Sound Guided Tissue Regeneration, PhD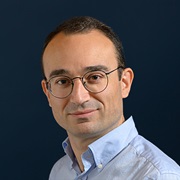 AO Research Institute Davos (ARI)
Clavadelerstrasse 8
7270 Davos, Switzerland
Tel.: +41 81 414 23 25
Tiziano Serra is Focus Area Leader of Sound Guided Tissue Regeneration.
He is Assistant Professor at the Complex Tissue Regeneration Department, MERLN Institute for Technology-Inspired Regenerative Medicine (Maastricht University, NL) and Adjunct Professor at the University of Eastern Piedmont "Amedeo Avogadro", UPO (Novara, Italy) where he held a course of Bioengineering within the Master Degree in Medical Biotechnology.
His team is using extrinsic fields-based biofabrication technologies (e.g., hydrodynamic waves, magnetic, light) and stimuli-responsive materials for repair, regeneration, and diagnostics.
Dr. Serra received a MSc in Materials Science and Engineer from the University of Salento (Italy), a Ph.D. (cum laude) on 3D printing for tissue engineering at the Institute for Bioengineering of Catalonia (Spain, 2014), and was a postdoctoral fellow at University College London (UCL, UK).

For his expertise in biomaterials and biofabrication, he was the recipient of the ISBF Young Investigator Award from the International Society of Biofabrication, BRIDGE Fellowship from SNSF-Innosuisse, "Premi Extraordinari de Doctorat" from the Technical University of Catalonia, and Julia Polak European Doctoral Award from European Society of Biomaterials.
Dr. Serra is inventor of sound induced morphogenesis (SIM) technology, licensed in 2020 to the Swiss startup mimiX Biotherapeutics.
He's involved in several EU consortia such as the ITN MSCA Premurosa project "Precision medicine for musculoskeletal regeneration, prosthetics, and active ageing", the FLAMIN-GO project, "From pathobiology to synovia on chip: driving rheumatoid arthritis to the precision medicine goal", and the STRATAGEM New diagnostic and therapeutic tools against multidrug resistant tumours. Cost Action17104.
Selected scientific publications
Petta D, Basoli V, Pellicciotta D, Tognato R, Barcik J, Arrigoni C, Della Bella E, Armiento AR, Candrian C, Richards RG, Alini M, Moretti M, Eglin D, Serra T.
Sound-induced morphogenesis of multicellular systems for rapid orchestration of vascular networks.
2020 Biofabrication 13 015004
Augurio A, Cortelletti P, Tognato R, Rios A, Levato R, Malda J, Alini M, Eglin D, Giancane G, Speghini A, Serra T. A
Multifunctional Nanocomposite Hydrogel for Endoscopic Tracking and Manipulation.
(2020) Adv. Int. Syst., 2019, 1900105.
Tognato R, Armiento AR, Bonfrate V, Levato R, Malda J, Alini M, Eglin D, Giancane G, Serra T.
A Stimuli‐Responsive Nanocomposite for 3D Anisotropic Cell‐Guidance and Magnetic Soft Robotic.
(2019) Adv. Funct. Mater., 29, 1804647.