Tiziano Serra
Research Scientist,
Focus Area Leader Sound Guided Tissue Regeneration,
PhD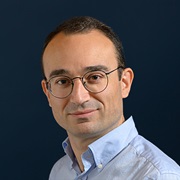 AO Research Institute Davos (ARI)
Clavadelerstrasse 8
7270 Davos, Switzerland
Tel.: +41 81 414 23 25
Dr Tiziano Serra is a materials engineer from Lecce (Italy), received a PhD (cum laude) at the Institute for Bioengineering of Catalonia (Spain, 2014) with a thesis on the development of bioactive composite scaffolds by 3-D printing for bone tissue engineering. He was postdoctoral fellow at University College London (UCL) working on design and development of 3-D printed patient specific medical devices.
Since October 2016, his research activities at ARI are articulated around the translation of innovative biofabrication technologies for the repair of musculoskeletal disorders and development of cutting-edge 3-D in vitro disease models for drug screening and personalized medicine through acoustic and magnetic stimuli for contactless cell assembly. Tiziano is the inventor of sound induced morphogenesis (SIM) technology, co-founder and Chief Scientific Officer of mimiX Biotherapeutics.
Selected scientific publications
Petta D, Basoli V, Pellicciotta D, Tognato R, Barcik J, Arrigoni C, Della Bella E, Armiento AR, Candrian C, Richards RG, Alini M, Moretti M, Eglin D, Serra T.
Sound-induced morphogenesis of multicellular systems for rapid orchestration of vascular networks.
2020 Biofabrication 13 015004
Augurio A, Cortelletti P, Tognato R, Rios A, Levato R, Malda J, Alini M, Eglin D, Giancane G, Speghini A, Serra T. A
Multifunctional Nanocomposite Hydrogel for Endoscopic Tracking and Manipulation.
(2020) Adv. Int. Syst., 2019, 1900105.
Tognato R, Armiento AR, Bonfrate V, Levato R, Malda J, Alini M, Eglin D, Giancane G, Serra T.
A Stimuli‐Responsive Nanocomposite for 3D Anisotropic Cell‐Guidance and Magnetic Soft Robotic.
(2019) Adv. Funct. Mater., 29, 1804647.