Sophie Verrier
Principal Investigator, PhD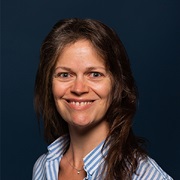 AO Research Institute Davos (ARI)
Clavadelerstrasse 8
7270 Davos, Switzerland
Tel.: +41 81 414 23 91
Fax: +41 81 414 22 88
Dr Sophie Verrier is a Principal Scientist in the Regenerative Orthopaedics Program at the AO Research Institute Davos (ARI). Her research focus relates to bone regeneration and healing, with particular emphasis on vascularization.
After studying biology and Environmental Toxicology at the University of Bordeaux 1 (France), she obtained her master's degree in Bone Biology and Biomaterials at the University of Bordeaux 2 (magna cum laude). For her work on cell-biomaterial interactions, she was awarded a three-year on-merit scholarship to do her PhD on Bone Tissue Engineering and Biomaterials at the University of Paris 7 and Bordeaux 2. During this time, she took the opportunity to complete a one-year internship at Merck Biomaterials (Darmstadt, Germany) where she benefited from wide-ranging experience of research in the Industry and also had the chance to learn German.
After her PhD (summa cum laude), she joined University College London as post-doctoral fellow where she learned about osteoclastic cell biology. Enriched from this experience in fundamental research, Dr Sophie Verrier decided to go back to applied research. She joined Imperial College London as Research Associate where she worked at the interface of the Tissue Engineering Centre and the Biomaterial Department focusing on the cell/material interactions topic. During this time, she also had the chance to become more familiar with the potential of Raman spectroscopy in the field of tissue engineering.
Dr Verrier joined the AO Research Institute Davos in 2004 first as Research Leader of the Fracture Treatment in Osteoporosis group. She later joined the Musculoskeletal Regeneration Program, as Group Leader of the Bone Regeneration group, until 2016 when she became Principal Investigator.
Her research currently focuses on the use of stem cells and biological stimuli from autologous sources for improving the repair and regeneration of bone tissue. She investigates the efficiency of mesenchymal stem cells from bone marrow origin and endothelial cells (progenitor or mature) to promote both osteogenesis and angiogenesis in 2D or 3D culture systems. In this context, she is deeply interested in the use of platelet rich plasma as autologous cell delivery system and source of growth factors, and on the development of microfluidic platforms for the study of cell interaction and response to stimulation factors in a close-to physiology context.
Dr Verrier has authored over 50 research articles and book chapters and had the opportunity to present her work over 100 communications (podium, poster) at notional and international congresses. Dr Verrier is actively involved in different research society (ORS, TERMIS, SBMS, eCM), in which she co-organizes scientific symposia, workshops, summer schools.