Peter Varga
Focus Area Leader Biomechanics and Modeling, PhD, PD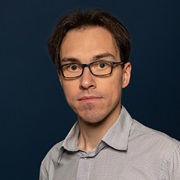 AO Research Institute Davos (ARI)
Clavadelerstrasse 8
7270 Davos, Switzerland
Tel.: +41 81 414 25 95
Fax: +41 81 414 22 88
Dr Peter Varga graduated as a civil engineer from the Budapest University of Technology and Economics. He obtained his PhD from TUWien, where he focussed on bone biomechanics. Following a further year spent in Vienna as post-doc researcher, he moved to the Julius Wolff Institute at the Charitê UM Berlin, where he focused on the microstructural analysis of bone using X-ray-based and ultrasound-related techniques as post-doc and Principal Investigator. In 2014, he joined the AO Research Institute Davos (ARI) as Senior Project Leader.
Dr Varga's current research interests include the biomechanics of bone fractures and implant fixations, with special focus on computer simulations.
Dr Varga is the author of more than 50 scientific publications, one book chapter, and co-inventor of one patent.