Boyko Gueorguiev-Rüegg
Vice Director
AO Research Institute Davos;
Program Leader Biomedical Development, PhD, Prof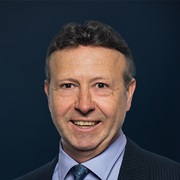 AO Research Institute Davos (ARI)
Clavadelerstrasse 8
7270 Davos, Switzerland
Tel.: +41 81 414 21 25
Fax: +41 81 414 22 88
Mobile: +41 78 665 66 74
Since 2011 Prof Boyko Gueorguiev has been in charge of Biomedical Development at the AO Research Institute Davos, which he joined in 2003.
He completed his masters studies in Solid State Physics at Sofia University.
His PhD work at the Bulgarian Academy of Sciences focused on the crystallographic structure and mechanical properties of thermally sprayed metallic, ceramic, and bioceramic coatings.
Prof Gueorguiev's research interests include biomechanics of bone fracture fixation, implant and joint biomechanics, and metals, ceramics, and polymers used as biomaterials in medicine.
He is the author of over 220 scientific papers, one book, three book chapters, and an Editor for the Journal of Orthopedic Trauma, BMC Musculoskeletal Disorders, Medicine, Indian Journal of Orthopaedics, and the International Journal of Orthopedics.
Prof Gueorguiev is Vice President of the European Orthopedic Research Society and Honorary Member of both the Bulgarian Orthopedic & Taumatology Association and the Serbian Trauma Association. He is Academic Council Member of the University Multiprofile Hospital for Active Treatment and Emergency Medicine 'N I Pirogov', Sofia, and Honorable Research Fellow of the Institute of Metal Science 'Acad A Balevski' at the Bulgarian Academy of Sciences.