The AO Surgery Reference
The all-in-one online reference supporting you from patient assessment to aftercare

The AO Surgery Reference is a powerful online resource for the management of a vast variety of fractures. It is based on current clinical principles, practices, and available evidence. It is designed to support your day-to-day treatment planning, learning, and teaching.
The orthopedic trauma section provides free access to fracture management in:
Adult fractures
Pediatric fractures
Periprosthetic fractures of the hip and knee
Find further information in our FAQ section!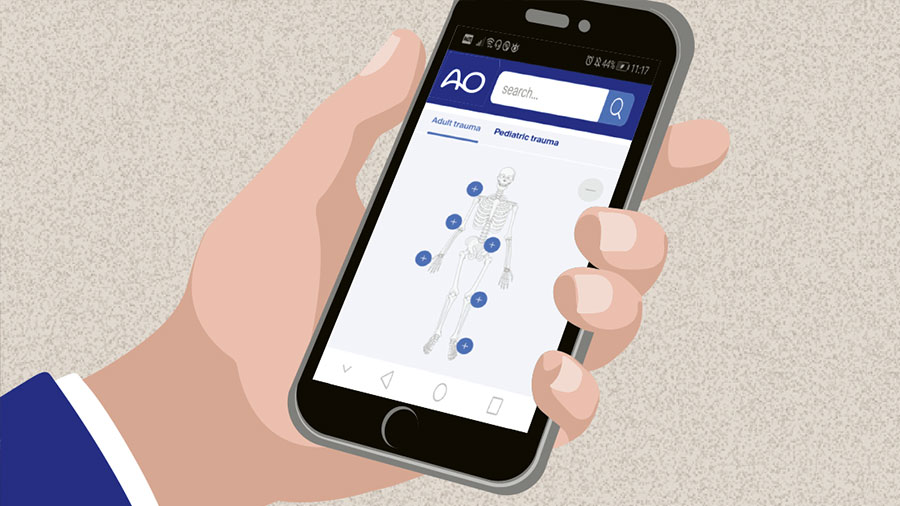 What makes AO Surgery Reference different?
From start to finish—and beyond, it describes the complete fracture management process, from diagnosis to aftercare for all fractures of a specific anatomical region.
State-of-the-art content addressing a global audience: The AO Surgery Reference's high-quality content has undergone a rigorous peer-review process.
Always up to date: Introduced in 2006, the AO Surgery Reference has been continuously expanded and revised.
Unique collection of illustrations: Over 30,000 surgical illustrations—available for free download—take you through each step of the procedures and approaches.
Widely recognized: The AO Surgery reference has earned multiple awards and is recommended by leading institutions worldwide.
The AO Surgery Reference has a gallery of over 30'000 unique surgical illustrations. Watch the video to find out how these are created.
How it works: the AO Surgery Reference in five easy steps
Choose your anatomical region using the skeleton overview.
Select the fracture type for your case.
Decide on the optimal treatment according to the indications.
Get the treatment plan with approach, patient preparation, and pearls and pitfalls of the procedure.
Follow the step-by-step instructions for a successful surgery, including pre- and postoperative care.

The layout of AO Surgery Reference in a browser adapts to the size of your screen and the app makes it easy for mobile users to access.
The content structure primarily follows the AO/OTA Fracture and Dislocation Classification.
The content can be accessed through the navigation or the powerful and easy-to-use search function.
Download the app!
Link to app stores if visited by mobile device:
Accelerate your learning curve!
Prepare for case presentation or case discussion.
Become more confident and competent in preparing for surgery. Review procedures you commonly use and become familiar with various approaches before you enter the operating room.
Achieve your learning goals.
Benefits for practitioners
Join the experience of our users worldwide!
Compare treatment options and decide what's appropriate for your patient.
Plan your patient's treatment.
Use the step-by-step approach when communicating with your staff.
Make use of the illustrations when engaging your patients in their treatment.
Sharpen your skills prior to performing surgery
Learn specifics of pediatric fracture management.
Explore and make use of new features.
Benefits for surgeon educators
Use the content to educate your residents and course participants.
Use the AO Surgery Reference's image collection—with more than 30,000 surgical illustrations to choose from—to illustrate your presentations and teaching materials.
News and updates
What is new?
What is coming up?
Adult trauma: Hand modules (revision)
Pediatric trauma: Proximal tibia (new)
Pediatric trauma: Tibia shaft (new)
Periprosthetic fractures of the shoulder (new)
Intraoperative imaging wrist (new)
Spine: Primary spine tumors
Spine: Trauma classification