AO President Florian Gebhard leaves legacy of advancing the AO mission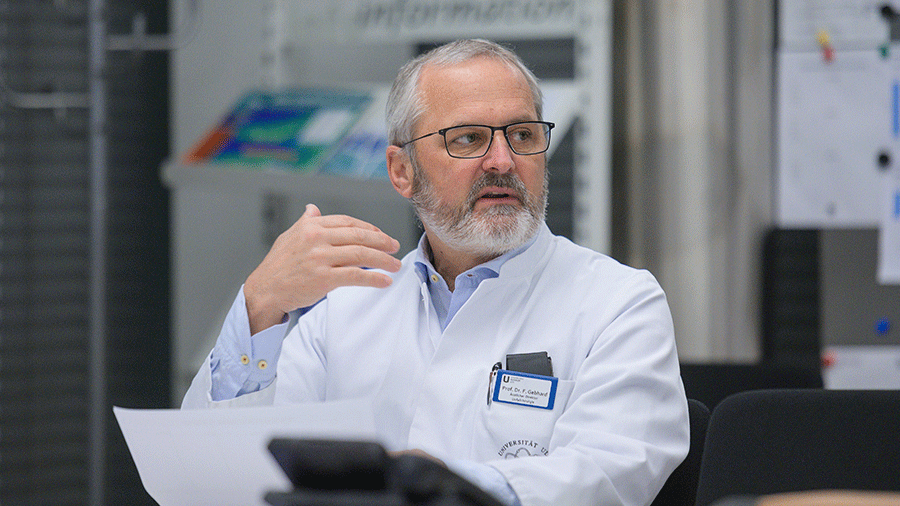 As Florian Gebhard's AO Presidency draws to a close and he prepares to hand the reins to his successor, he leaves a legacy of building on the AO's strengths and achieving greater impact while forging new partnerships and collaborations to advance its mission.
A renowned orthopedic surgeon and researcher, Gebhard is widely recognized for his outstanding contributions to the field of orthopedic surgery. At the AO, Gebhard is well-known for his leadership and enthusiasm for new surgical technologies.
Gebhard, director of the Ulm University Medical Center Department of Orthopedic Trauma and vice-dean of its medical faculty, has decades of experience as a clinician and educator and a sharp focus on the partnership between patients and clinicians. He is dedicated to striving for the highest standards in surgical practice and education and actively involved in bringing innovative, technological advances into the operating room to optimize patient treatment and outcomes—all while keeping the patient front and center.
Promoting greater collaboration and partnership within the orthopedic surgery community has been a key focal point for Gebhard since he was elected AO President in 2021, succeeding Robert McGuire. He has worked to forge new partnerships with stakeholders in health care, including academic institutions, research institutes, and industry. For example, under his leadership, the AO in 2022 took its partnership with RIMASYS to a new level, acquiring all remaining shares of the technology-driven health-tech start-up in order to advance the surgical education ecosystem of the future.
Moreover, during Gebhard's tenure, the AO has undertaken new educational activities with courses for doctors of podiatric medicine, promotion of AO educational events on LinkMed, and a nontechnical skills session—led by a pilot from Lufthansa's Human Factor Academy—at AO North America's OneAO 2023 event. Additionally, the AO has notably laid the groundwork for regional courses in Latin America and Asia Pacific and explored augmented and virtual reality technologies in course offerings.
Looking back, moving forward
As Gebhard prepares to hand over the presidency to AO President-Elect Tim Pohlemann, he recounted the highlights of his term at the helm of the organization.
"One of the great experiences in these past two years has been getting into contact with this new technology called augmented reality—or AR—where you can switch between the real environment and a completely virtual environment," Gebhard said. "I see huge potential for this technology to become part of our education offerings in the future."

Gebhard said his role as AO Immediate Past President will allow him to focus on continuing the projects he started during his AO Presidency. He will help drive efforts to bring AR into the AO's educational portfolio and courses and will continue to serve on the AO's Strategy Fund Committee.
"The AO of the future looks like a very agile organization that offers global education," Gebhard said, noting that with state-of-the-art technologies, the AO is making its educational offering more attractive to emerging generations of learners. In the end, with digital technology, we may end up offering parts of our education portfolio in a Metaverse where we have 24-hour offerings for everyone around the globe. The only thing you need is an Internet connection to access our offerings. I think this will be the future of the AO, and it will not take so many years. It will come very soon."
You might also be interested in: