AO's Development Incubator-supported smartphone app empowers scoliosis patients to manage the condition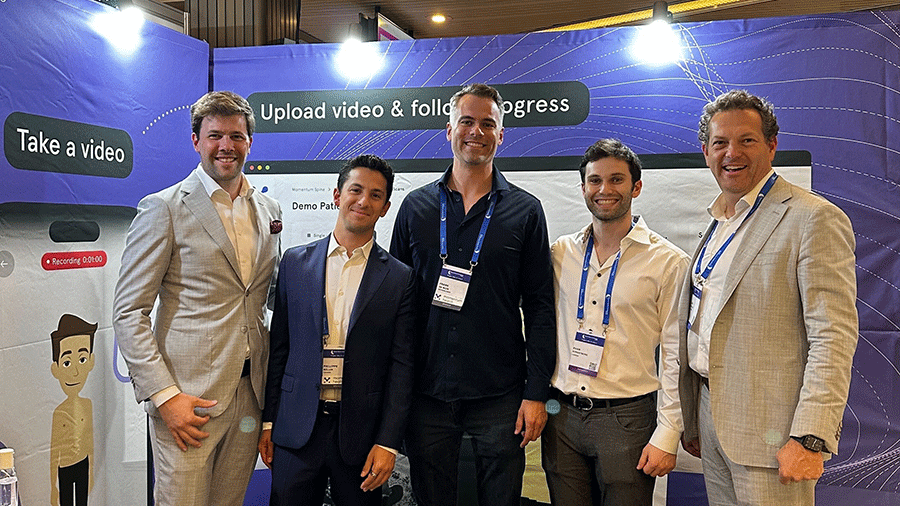 The Momentum Health team (left to right): Leander Goor (Co-CTO), Philippe Miller (CEO), Frank de Wijk (CTO), Evan Dimentberg (COO), and Jean Ouellet, chief medical officer (CMO).
Momentum Health, a new digital health app backed by the AO's innovation funding, empowers scoliosis patients by giving them and their physicians a radiation-free tool for remotely screening and monitoring for the condition while at the same time delivering efficiency gains for a health care system under pressure.
Successful management of adolescent idiopathic scoliosis (AIS), a lateral spinal curvature that impacts 2% to 3% globally, is linked to early detection via close monitoring of the spine. For patients, that means two full-length spinal x-rays every six months, yet only 10 percent of patients will require intervention; the remaining 90 percent are subjected to unnecessary radiation exposure. Beyond reducing AIS patients' radiation exposure, Momentum Health's new app will empower patients to take charge of monitoring the progression of their condition and eliminate unnecessary visits to the doctor, thereby relieving on an already overburdened health care system.
Momentum Health is the brainchild of Evan Dimentberg, medical student at Université Laval (Quebec City, Canada), who in 2018 spent a two-week internship with AO Technical Commission Spine member Jean Ouellet, MD, looking into and understanding scoliosis management practice.
He began medical school in 2019 and, just a year later, had extra time on his hands due to the COVID-19 pandemic.

"I began looking into innovation in medicine and reading a lot about digital health," said Dimentberg. "My mind turned to scoliosis because I had some basic knowledge on the topic from my time with Dr Ouellet. I wrote down my idea for tracking patients remotely to prevent serial scoliosis follow-ups and for radiation-free monitoring—without any specifics on how I would do that."
Do you have an idea to potentially improve patient care or surgeon education?
A solution takes shape
Ouellet encouraged him to continue refining the concept, and he ultimately zeroed in on photogrammetry, a 3D coordinate measuring technology that uses photos as the basic metrology medium. He then leveraged an online freelancing platform to find an expert to explain the technology to him, and that expert connected him with Dutch photogrammetry experts Frank de Wijk and Leander Goor, who today are Momentum Health cofounders and the company's chief technology officers.
Ouellet was immediately enthusiastic about the refined concept.
"This app is unique because it combines technologies in a way that serves everybody's interests by empowering patients and limiting the number of x-rays they need, freeing up the time their parents spend taking them to the clinic, and positively impacting access to health care," said Ouellet.
'A perfect fit'
In addition to funding, the Development Incubator provides the project with access to and visibility within the AO surgeon community as well support with regulatory filings. The partnership is a perfect fit, according to Ouellet.
"The AO is driven by surgeons for surgeons with the idea of improving patient care. There are 4,000 spine surgeons in AO Spine and half of them see adult or pediatric scoliosis, so the networking and our ability to reach out through the AO is incredible," he pointed out. "Being AO-supported adds credibility to Momentum Health and its mandate—and being able to tap into this rich network to get other surgeons' feedback adds tremendous wealth to our project."
Momentum Health's new app has received regulatory approval from Health Canada in December 2022 and is expected to be launched in Canada in March 2023, followed by the United States in the second half of 2023, and Europe possibly in 2024.
You might also be interested in: