Learn, connect, and engage: myAO continues its growth trajectory in 2022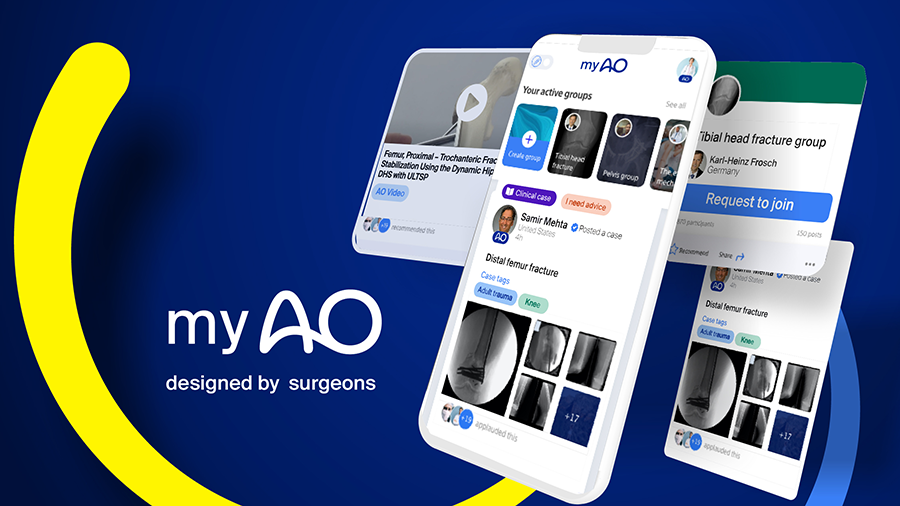 Already reaching more than 45,000 surgeons worldwide, myAO—the AO's personal digital gateway to expertise, education, and innovation— continues to attract new users every day and is poised to continue its meteoric growth trajectory in 2022.
Designed for surgeons by surgeons and originally launched in 2019, myAO today features more than 200 topic discussions and over 300 clinical case discussions in groups and boasts users from across all of the AO's clinical specialties. While it continues to drive discussion and collaboration between surgeons around the world. It puts must-have tools like AO Surgery Reference modules, leading journals, and access to AO events at surgeons' fingertips in seconds.
Last year, myAO was relaunched with a completely new user interface making it more intuitive than ever and providing surgeons with quick access to must-have information and new features, including case sharing, a built-in search function, and a secure messenger.
AO, events and courses were also integrated into the myAO platform, allowing users to network with fellow participants, faculty, and contributors as a group or individually thanks to the "connect" function and the one-to-one secure messenger.
On the 2022 myAO horizon is the introduction of CaseFolio, the myAO clinical case organizer module designed to help support surgeons in their daily practice by providing them with a secure, easy, and organized way to manage their clinical images and cases. Stay tuned for additional details about this success-triggering new feature designed with surgeons from the AO network and thanks to community feedback.
Further confirming myAO's success are the results of a recent user survey: 99.1 percent of surgeons said they are very satisfied with myAO.