Say hello to CaseFolio, your secure, on-the-go clinical portfolio
Organize and share your clinical cases.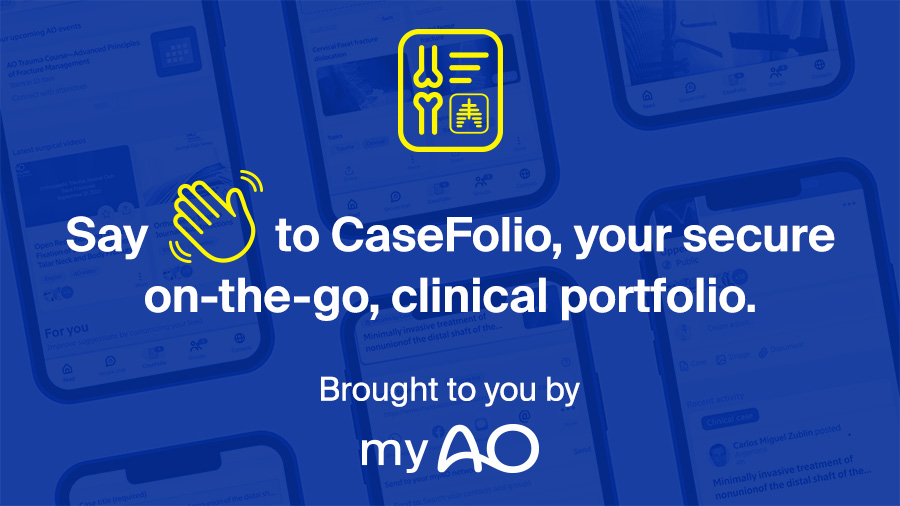 Start creating your personal case library with the new Casefolio on myAO
Designed over the last few months with surgeons from the AO network and thanks to community feedback, myAO is very excited to announce the release of CaseFolio this September—your secure, on-the-go clinical portfolio. The initiative is designed to support surgeons in their daily practice by providing them with a SECURE, EASY and ORGANIZED way to manage their clinical images and cases. Experience a direct access to your portfolio of scans and clinical videos from anywhere and on all devices making it easy for you to access important information outside of your hospital database.
Experience a safer, more compliant way to share your clinical information and data to your networks
CaseFolio allows you to share your clinical images securely with the myAO network, but also with external surgeons. Just like WhatsApp, but better: with a simplified case structure to organise your information, editing tools including free writing, black & white inversion and no third-party data sharing. Presenting a case to colleagues or at an event or congress? Export your structured case* in a few clicks only. CaseFolio allows you to save time without compromising security around your private, sensitive data.
Tired of mixing your personal and professional media?
With myAO and CaseFolio you are organizing single clinical images into fully curated clinical cases that are editable and accessible at any time and from anywhere. Save yourself time and effort by using a flexible tool that allows you not only to structure your photos into clinical cases over time, but also build up a solid portfolio for presentations*, teaching at events and congresses.
*Discover the case export feature, released November 2022.
We constantly update and improve the platform and we are always welcoming your valuable feedback. How can myAO further improve your clinical practice?
Let us know and we will reach back to you.
Join the myAO community and get access to CaseFolio
Download the app