Accessing AO: Narratives from our members
Claudia Arroyo: My AO Access journey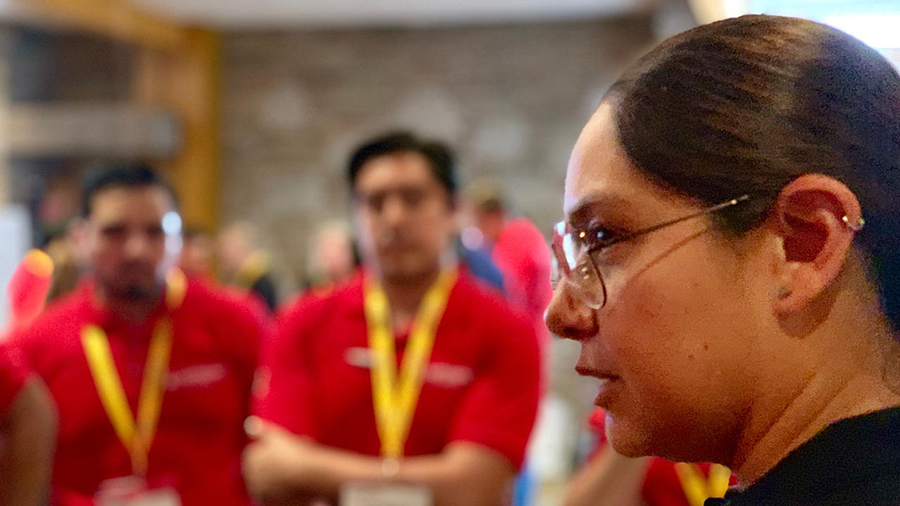 Becoming an AO Trauma member changed my life. Having a mentor in the AO shaped my career.
I had contact with the AO through my residency professors as early as my first year in orthopedics. When I was in my second year of residency, I attended a basic principles course. It was the first time in almost a year and a half that I felt safe while learning. And I remember vividly listening to the last talk about becoming an AO member. I couldn't believe it. It all sounded so far away and unreachable, and yet, here it was. I could become a member even while being a resident. I don't think many people recall what it feels like to be a junior resident, but you are constantly being told you are not yet good enough. And the AO not only taught me evidence-based principles in a safe and friendly space, but it also opened its arms to welcome me as a member.

But the most important aspect of this first approach was understanding the AO's philosophy. Learning a simple methodology to approaching and planning surgeries shaped my young clinical mind and understanding of orthopedic surgery. To this day, this is the way I approach all my clinical decisions.

During my second year, I met a surgeon who would become my mentor and who would change my life: Dr Pedro Jorba. Dr Jorba is a great teacher; he is patient, friendly, and wants to help his students grow. He opened many doors for me and has pushed me consistently out of my comfort zone. He has also backed me up and supported crazy ideas.

In my third year, I took the advanced principles course. When I was in my fourth year, I applied for an AO Trauma fellowship and was not accepted. This brought me down and I was a bit disappointed in the organization. When I graduated from residency, I was a faculty member for the first time while I was in my first year of my hand fellowship program. I remember I was really nervous, but I was also excited to be a faculty member in one of the activities that completely changed the way I approach my surgical practice—and maybe someday become the teacher I had never had.

The next year I applied again for an AO Trauma fellowship, focusing on upper extremity trauma. Surprisingly, I was accepted. So during my second year as a hand fellow, I traveled to the Hospital Italiano de Buenos Aires, in Argentina. I stayed there for five weeks and had great opportunities to learn from amazing surgeons, all of whom were also AO Trauma faculty members. They all followed a similar approach to clinical problems.

Since my fellowship, I have had the opportunity to grow both as a faculty member and as a surgeon. I have met amazing surgeons who have welcomed me into a community and have helped me become a better teacher and surgeon. Every time I participate in an AO Trauma course, whether as a participant or faculty member, I try to remember how I felt during that basic principles course and make an effort to transmit that to younger residents or surgeons. I have had so many great opportunities for learning and networking that I wouldn't have had if I were not an AO Trauma member and I constantly appreciate these opportunities.

Something that makes me sad is that there is this sense that the AO is a really closed community, that young surgeons, especially young women, are not welcome. I am aware that I was really lucky to meet Dr Jorba, who is currently chairperson of AO Trauma Mexico and also a member of the AO Access Officer and Faculty Selection Task Force. He was very friendly and pushed for diversification of the AO in Mexico. I am convinced that we can follow his leadership and welcome more surgeons into our community. This requires great effort from everyone, and I am glad that AO Access is aware of and working actively to improve this.

I always am willing to share that becoming an AO Trauma member changed my life. Having a mentor in the AO shaped my career and helped me see a point of view from that of traditional residency training. I am extremely grateful to everyone who has helped me grow as an individual and become a member of this international community. I would like younger surgeons to see me and believe they can also be part of this amazing community. I want them to believe it is possible for them to get to where I am and maybe grow even more. I want them to know they can make a change and enrich the AO, just as the AO can help enrich us.