First AO College graduates—and its pioneers—discuss what the initiative means to them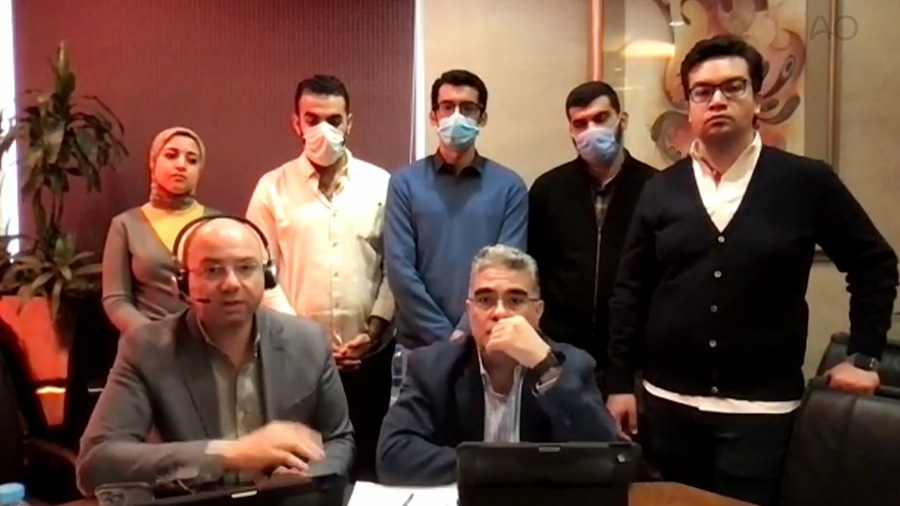 Young surgeons in low- and middle-income countries (LMICs) in the Middle East and Northern Africa (MENA) are enthusiastically going back to college—AO College—thanks to a 2021 cross-divisional initiative spearheaded by four AO surgeons who share a clear vision and an unflagging spirit. The initiative's pioneers and members of its first graduating class discuss what AO College means to them, and what it brings to young surgeons in the MENA region.
AO College
, piloted in 2021, is supported by the AO Jubilee Fund, which comprises resources set aside in the AO's 60th anniversary year in 2018 to safeguard the organization's legacy and ensure that even more people around the world have access to appropriate, timely care. Open to highly motivated and enthusiastic young trauma, spine, and craniomaxillofacial (CMF) surgeons who have graduated from medical or dental school and are within two to five years of their residency/training program, AO College is an intensive, six-month program focusing on helping them develop globally recognized excellence in surgical, research, teaching, and leadership skills.
"It's been quite a journey. To make a long story short, we need to think of LMICS and the challenges they face in education and training programs," says AO CMF MENA Chairperson and AO College initiator Amir Elbarbary. At the same time, he says, the AO—as the global leader in medical education—has the resources and capacity to fill educational gaps in LMICs. The AO Jubilee Fund offered a mechanism for funding the ambitious AO College initiative, he says.
"When [Sabine Girod and I] were talking about AO College, we thought, 'We need to rely on what we were already offering," he explains, adding that study clubs, the AO CMF Management of Facial Trauma curriculum, and AO Program for Education and Excellence in Research (
AO PEER
) immediately came to mind. Elbarbary reached out Ain Shams University (Cairo, Egypt) peer El-Zaher Hassan, a member of the AO Trauma Community Development Commission, and found an enthusiastic AO College ally. The enthusiasm spread to Egypt's Mohammad El-Sharkawi, past chairman of the AO Spine MENA Regional Board, who was soon brought onto the project team.
AO CMF's Mohamed Abdelazeem noted that as far back as the first AO CMF Study Club, broadcast from Cairo, Egypt, in 2019, it was clear from participant feedback that there was a demand for the case discussions and clinical orientation that AO College offers today.
'A great opportunity'
The response from the first class of AO College graduates has been nothing short of enthusiastic across the board.
"I think it's a great opportunity to jump start one's career," says AO College graduate Ahmed Hassan, an assistant orthopedics and trauma lecturer in Egypt. He says AO College is a more-than-welcome learning opportunity, particularly during the COVID-19 pandemic when face-to-face, on-site educational opportunities are in short supply. "The modules are what's really important; they not only focus on scientific content, but they also helped me a lot [by] teaching me some skills that we usually do not learn in college, like the personal development module and dealing with culturally sensitive problems and how to be a leader in a professional setting."
'Very important to me'
Fellow AO College graduate Ahmed Medhat, an orthopedic trauma resident in Cairo, agrees.
"The personal development module was very important to me. I learned a lot of things from it, especially [about] different cultures," he explains. "I will recommend this course to my colleagues."
'A very fruitful experience'
Andrew Madgy, an orthopedics resident at Ain Shams University, said the six-month AO College experience has informed his career.
"I'm very grateful to be part of tis program…meeting our mentors and attending these scientific discussions had a strong impact on my clinical approach and way of thinking," he says. "It was a very fruitful experience."
Ramy Youssef, a craniomaxillofacial surgery resident at Ain Shams University, sees AO College as a model for what education can be.
"I see AO College as an epitome of the model and how you should take a challenge and use it to build something fantastic," says Youssef. "The big challenge was the COVID-19 pandemic. You came up with a platform where everyone can share their experiences as the study club, where we saw different clinical issues and topics and the modern way of dealing with them, as well as personal development [module]."
'Such a useful experience'
Fatma El Zhraa Ahmed , a plastic surgery resident in Cairo, says AO College is already proving useful in her career.
"I'm so glad to have been part of AO College. It has been such a useful experience to me for my life skills as well as the scientific content of the program," she says, noting that the research module and personal development content are especially valuable since they address areas that college doesn't teach young surgeons in her area.
Connecting with experts
Girod says the AO College graduates prove that the project team's vision was right on target.
"I'm almost getting goosebumps hearing what you're all saying and how much you appreciate the modules, including the personal development module," says Girod, recounting the story of a young CMF surgeon who is responsible for an area of 3 million patients in Kenya and has few other surgeons to talk with. "There are people who are young, and they need feedback from other surgeons…to connect with experts in the whole world."
To date, AO College is has facilitated that connection world-leading AO experts and young surgeons across the MENA region: Algeria, Cameroon, Egypt, Ethiopia, Ghana, Iran, Iraq, Jordan, Kenya, Nigeria, Pakistan, Sudan, Tanzania, Togo, Tunisia, Uganda, and Yemen.
"I hope we continue to develop the AO College concept and extend it beyond the MENA region because it's a useful tool. We can expand it globally," Elbarbary says.
More information about the 2022 AO College cycle will be coming soon.
AO TV interview with participants and organizers