Reducing amputations and injuries in children
New strategy fund project aims to transform pediatric fracture care in Ghana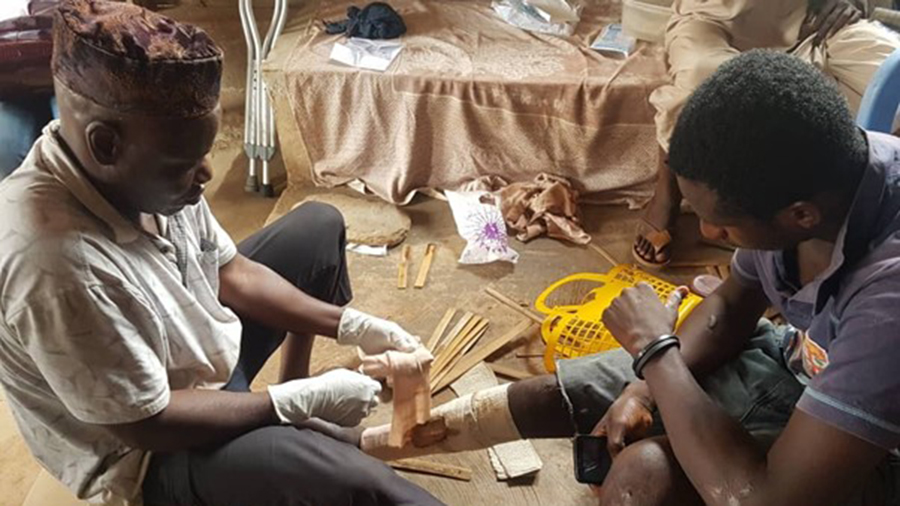 Traditional bonesetters with a patient
In Ghana, traditional bonesetters (TBS) are the affordable, accessible go-to for the treatment of pediatric trauma and fracture patients, but their lack of key pediatric fracture management knowledge too often leads to catastrophic consequences—including amputation—for patients. A new, two-year project, supported by the AO Innovation Translation Center (AO ITC)'s strategy fund resources and led by the AO Alliance, aims to teach TBS these injury management techniques and incorporate TBS into the Ghanaian health care scheme.

AO Alliance Managing Director Claude Martin, jr. said death and disability from injury is a major global health concern. In Ghana, one of four low- and middle-income countries (LMICs) where the nonprofit develops and delivers tailored solutions for improving the care of the injured, unintentional injury caused the deaths of 37 in 100,000 children under age 14 in 2010. Clearly, Martin said, reducing the burden of pediatric injury and fractures demands both injury prevention and improvements in fracture care.

Martin said the project "Reducing amputations and injuries in children resulting from activities of Traditional Bonesetters: A multicenter strategy in Ghana" arose from an earlier AO Alliance undertaking, "Pediatric fracture care solutions for Ghana ," particularly the social science component looking at why primary caregivers make certain decisions when children sustained injuries.

"We found that most primary caregivers don't know about first aid, but we also looked at people's choice of what kind of health care to seek when children are injured," Martin explained, noting that TBS are the "go-to people" for fracture care due to poverty and their wide acceptance, despite devastating—yet entirely avoidable—complications such as gangrene and amputation. He said disability due to extremity injuries is amenable to low-cost, simple educational interventions, but children often require special attention in order to recognize and manage specific orthopedic injuries and complications that are especially prone to amputations and disability. Moreover, while catastrophic complications can be as high as 5 to 10 percent of all cases seen by TBS, there so far have been no evidence-based clinical studies to ascertain the extent of the problem in Ghana.


The new project, which got underway in September 2020, involves mapping of TBS in Kumasi and Tamale, together with local teams from Komfo Anokye Teaching Hospital and Tamale Teaching Hospital ; reaching out to them; establishing training centers in the two cities to teach TBS how complications can be prevented; and integrating them into orthodox fracture care in the country.

'Something has to be done'
"Something has to be done. There is no curriculum for TBS and no regulation. They don't go to school. Their practices are passed down along families, and TBS often speak of having a divine calling or gifted hands, and most have a very good reputation in the community," Martin said. "But children have been—and are being—maimed. This has gone on far too long."
Education and integration of TBS are key, he said.
"With appropriate fracture care education, TBS should be able to decide which patients they are competent to treat, the appropriate treatment modalities, and which patients should be referred for orthodox orthopedic management," Martin said. "We are not trying to put the TBS out of business. We are trying to educate them to the cases that are beyond their expertise and require additional treatment; these cases can include open or displaced fractures and fractures involving the joint."


"Ghana has a population of about 30 million, and only 54 trauma and orthopedic surgeons in the entire country, half of them in the Accra region. Kumasi has eight orthopedic surgeons and Tamale has three orthopedic surgeons," he said of the expertise the two hospitals bring to the project.

"We hope will we learn enough through this project to make a case with Ghanaian authorities, and we may look at some sort of TBS certification program," Martin said.

The project could make a significant contribution to Ghana's National Poverty Reduction Strategy by simply triggering a reduction in catastrophic complications. Gaining TBS buy-in, building community awareness of TBS as partners to trauma and orthopedic surgeons who are doctors, and adding to the trauma and orthopedic workforce will help ensure the project's success beyond the 24-month project period. In fact, he said, the strategy developed for Ghana could be applied in other LMICs.
1 Principal Investigator: Dr Dominic Konadu-Yeboah; orthopedic specialists: Dr Alexis Buunaaim, Dr Tolgou Yempabe, and Dr Peter Konadu; public health specialists: Dr Ruth Owusu and Dr. Benjamin Nuertey; project coordinator: Dr Wilfred Addo; research officers: Paul Okyere, Bernice Mensah, Yussif Misbahu, and Hamdiyat Sogleh; data manager/monitoring and evaluation officers: Francis Adjei, Samuel Odoom, Joshua Arthur, and Nicholas Mensah; administrative support staff: Brenda Bonah and Reuben Addo