AO Education Institute promotes excellence in medical education
Appropriate, effective, transparent, and balanced—AO curriculum guarantees the highest quality course design
The AO Education Institute (AO EI) collaborates with key organizations to share best practices to continuously improve medical education.
AO Curriculum Development and Faculty Development colleagues are proud members of leading organizations in medical education such as Association for Medical Education in Europe (AMEE), Alliance for Continuing Education in Health Professions, Global Alliance for Medical Education (GAME), and the Good Continuing Medical Education Practice group (gCMEp).
Over the years, the AO EI team members have contributed to several initiatives of these organizations, the most recent being the 'Developing an accredited educational activity' webinar from the gCMEp.
In the webinar, AO Project Manager CME Accreditation & Educational Research, Monica Ghidinelli, discussed how to design an accredited continuing medical education (CME) activity with International Medical Press Director of CME Services, Sophie Wilson, and Liberum IME Managing Director, Celeste Kolanko.
The elements essential for designing high-quality, accredited education are also the core principles of the gCMEp group:
Appropriate

The appropriateness of education means addressing real needs and patient problems, identifying proper competencies, learning objectives, content, the learning method and target learner.
In other words, it means following the backward planning process.

Effective

The effectiveness of education is correlated to its appropriateness and can be measured by post-activity evaluation. The main parameters used to measure effectiveness are satisfaction, knowledge gain, and intent to maintain or change behavior in line with learning objectives.

Transparent

It is imperative to collect and disclose to the participants all the sources of financial support and conflict of interest declarations of content experts involved in the development of the scientific content, and of faculty involved in the presentation of the program.

Balanced
Content must be developed independently of the sponsor and reflect the full clinical picture within the framework of the learning objectives.
Over the past 10 years, this approach has been used by AO in design, implementation, and evaluation of curriculum-based educational events.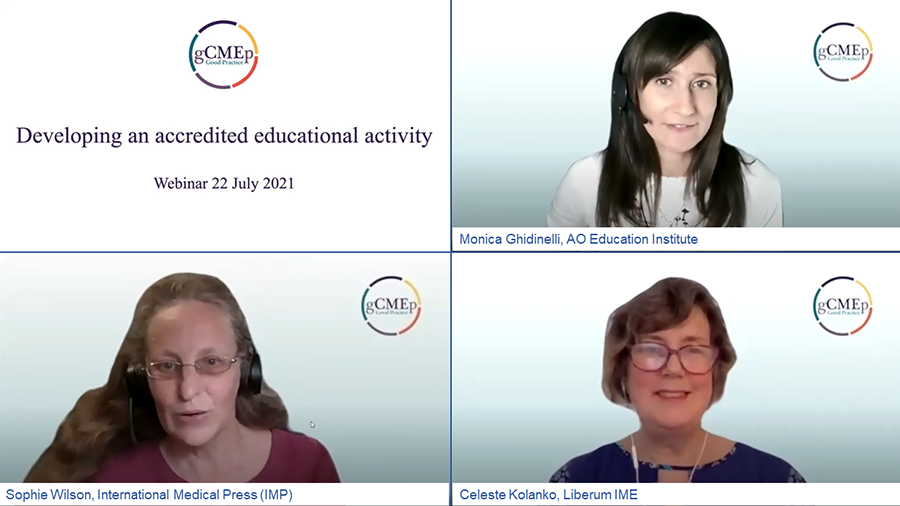 To learn more about the elements essential for designing high-quality medical education, watch the 30-minute webinar here: