Introducing the newly-CE marked Biphasic Plate
Superior fixation for optimized fracture healing.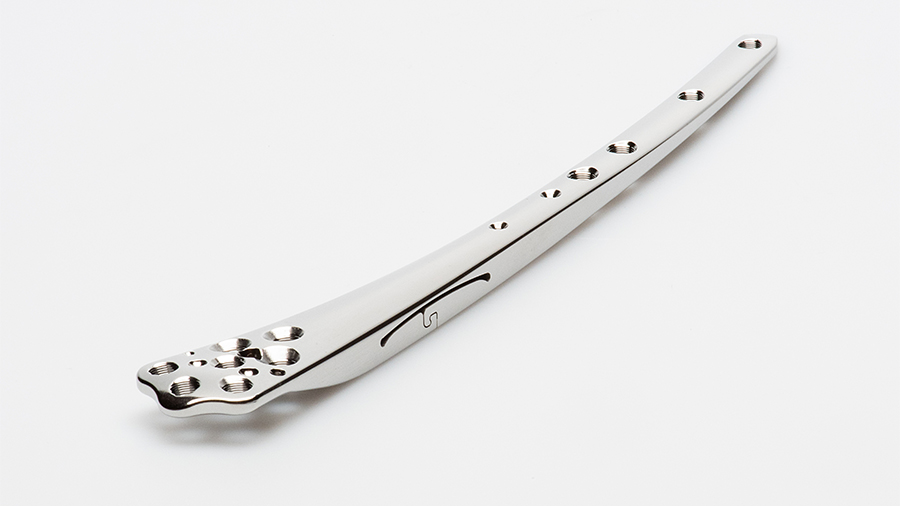 On April 21, 2021, the Biphasic Plate DF (Distal Femur) obtained the CE certification as a class IIB medical device.

This great achievement represents a formidable team effort, made possible by the AO Innovation Translation Center (AO ITC) Technology Transfer.
In fact, Biphasic Plating is a new solution devised by the AO Research Institute Davos (ARI) in Switzerland, Queensland University of Technology (QUT) in Brisbane, Australia and 41medical as a legal manufacturer. Due to the development incubator funding from the AO ITC, the development phase of the distal femur version started in 2018 and today the plate is in first series production in preparation for clinical application in mid-2021 in Europe.


Clinical problem
Severe trauma to the extremities is a leading cause of disability during the wage-earning period. The socioeconomic burden of fracture is substantial: loss of working capacity represents more than 60% of the total cost of fractures, while the direct cost of medical treatment is less than 20%. Optimal outcomes require not only solid union but also early and complete recovery of limb function. The current generation of fracture fixation plates focuses on minimizing the impact of surgery and preserving biological healing potential. However, their design poorly controls a second critical component: the mechanical environment of the fracture. Furthermore, these plates are prone to failure, which limits function and delays return to work.


Novel solution
The Biphasic Plate with its novel plate fixation design:
Provides a beneficial mechanical environment at the fracture site for robust fracture healing

Increases implant strength which carries potential to permit full, early weight bearing and prevent implant fatigue-related failure

Standardizes and, therefore, simplifies the surgical procedure
Invented by Associate Professor Devakar Epari from QUT and ARI Focus Area Leader Markus Windolf (among others), the Biphasic Plating concept was proven by mechanical testing and preclinical experiments conducted at ARI between 2016 and 2018. Results of the large animal study, which were published in the August 2020 issue of the Injury journal [1], support in vivo feasibility of the Biphasic Plating concept. Additionally, computer simulations were performed at QUT, demonstrating its improved mechanical performance [2].