AO Development Incubator Success Stories
AO Development Incubator supports ORS business innovation competition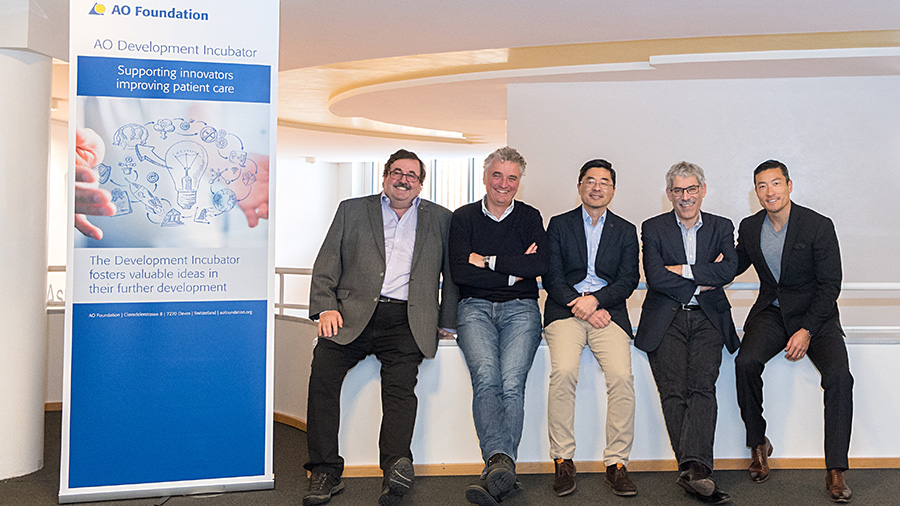 AO Development Incubator Board (l-r): Robert Frigg, Michael Schütz, Keita Ito, D Todd Dollinger, and Han Jo Kim
The AO Development Incubator (AO DI) was established two years ago to support promising ideas in line with the AO's mission of promoting excellence in patient care and outcomes in trauma and musculoskeletal disorders. Over this time, it has achieved to identify innovative ideas and to build a presence on the broader innovation landscape.

AO DI supports inventors with know-how and investment up to USD 3 million over several years, allowing them to move from the research phase to successful innovation.

AO DI helps innovators navigate the difficult journey from having the initial idea through to securing the IP, obtaining proof of concept, clinical validation and commercialization. This is one way that AO Development Incubator is continuing in the AO's 60-year tradition of innovation.

AO DI is proud to be supporting the ORS Business Innovation Competition at its 2019 Annual Meeting in Austin, Texas. "This is an excellent fit for AO DI, as this is the leading forum for the presentation of high-quality, innovative, and transformative research, and AO DI is a vital player in the field of delivering innovations to patient care," said Roland Herzog, Manager at AO DI.

The positive response to each of the AO DI's calls for proposals stands as testimony to a real and present need for the services it provides, and expertise it makes available to those projects selected.

The four calls for proposals it has held since 2017 have received over 200 submissions from 50 countries in all AO regions: Asia Pacific, Europe and Southern Africa, Latin America, Middle East and Northern Africa, and North America, covering topics from trauma to machine learning.

"The intensity of the response we had so far, and the fact that we have sustained this in subsequent calls speaks to the appetite in the broader community for what we offer," said Roland Herzog.


Bürger and his system for external fixation of fingers
Perhaps the best example of how AO DI brings inventions to life, is the story of an AO-educated surgeon with more than 20 years of experience in reconstructive surgery:
Dr Karl Heinz Bürger, whose innovation
– a new system for the external fixation of fingers – is being moved toward proof of concept and valorization with the help of AO DI. It will be available to the first patients later this year.
This is one of a number of examples of how AO DI helps deliver real change to patient outcomes. Starting with inventors submitting their proposals to AO DI at any time, with two semi-annual deadlines, April 30 and October 31. The AO DI board then selects the most valuable ideas based mainly on clinical problem, patentable solution, and market size.
The current portfolio is diverse, including projects that are very different from each other in terms of their technology and investment readiness. Some are at prototype stage, others are undergoing laboratory testing, others have patents, while some are just ideas loosely sketched out.
"This great heterogeneity is something that makes AO DI projects very special. In fact, they all have something very clear in common – the aim to bring innovative patient care solutions to market. AO DI differs from support and funding inventors receive in an academic or pure VC setting in a number of ways – but at the heart of this distinction, what really makes AO DI stand out, is its position within the AO, the world's leading network of surgeons and ORP working in the fields of trauma, spine, CMF, VET, and recon surgery," said Roland Herzog.