Celebrating Martin Allgöwer's Birthday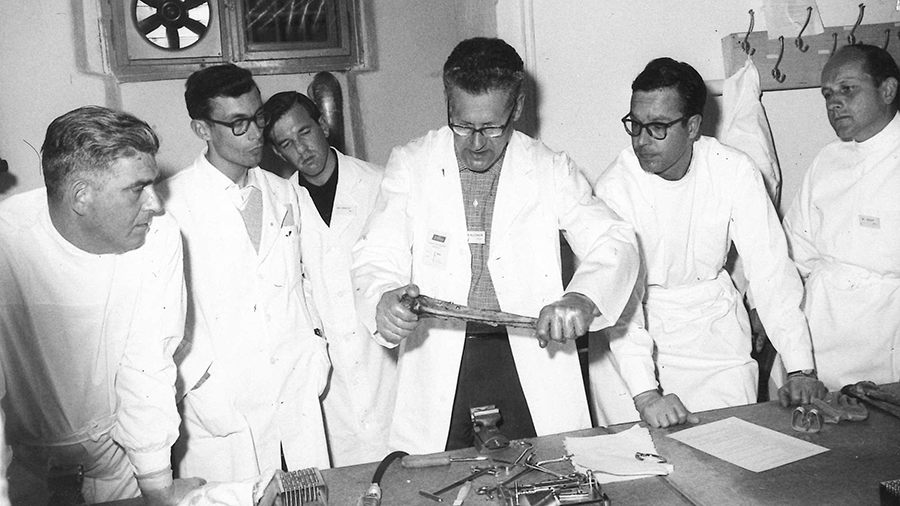 Martin Allgöwer (c) leads a practical exercise during one of the first AO Davos Courses
On May 5, the AO celebrates the birthday of one of its founders, Martin Allgöwer, who was the reason, why the AO headquarters is in the beautiful alpine city Davos.
In the early 1950s, Allgöwer spent almost a year at the University of Texas Medical Branch conducting laboratory research, which became a lifelong pursuit. After his election as Surgeon-in-chief at Kantonsspital Chur in 1958, he was looking for a place to continue his research in tissue culture in conjunction with the newly founded AO.
Allgöwer found that space in the vacant tuberculosis research institute building in Davos. The premises were empty except for a dissection table which was later used as a surgical table for preclinical research.
The owners allowed rent-free use of the building if the AO maintained the building.
On June 18, 1959, he established the Laboratory for Experimental Surgery (Labor für experimentelle Chirurgie Davos or LECD), and he asked his new AO friends Hans Willenegger and Maurice E Müller to join the foundation board. With each of the three surgeons investing in the startup. In his years as director of the laboratory, Allgöwer regularly spent two days a week in Davos in addition to his position as head surgeon at the Kantonsspital in Chur.
Allgöwer remained director of the laboratory until 1963, when Dr Herbert Fleisch was hired as head of the research unit. He was followed by Dr Stephan Perren, who had finished his training as a surgeon under Allgöwer in Chur.
In the AO Allgöwer acted as treasurer until 1972 and he was invited to be the chairman of the AO in 1978 following the retirement of Robert Schneider.
In 1984 the AO Foundation was founded on Allgöwer's initiative, and he became its first president. Furthermore, he promoted the construction of the new AO Center.
We honor him for his dedication to the AO and to Davos as a research location and as a founder of the Laboratory known today as the AO Research Institute Davos (ARI).
You might also be interested in: