The AO Education Institute is live now in its new setup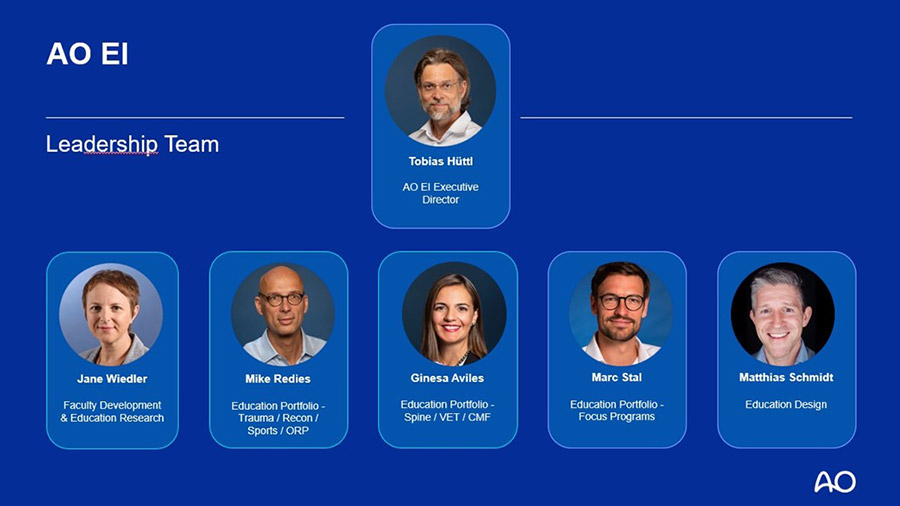 The AO Education Institute (AO EI) has started a new chapter. The institute last month unveiled a new setup to deepen its engagement with AO clinicians. The goal is to strengthen its role as the go-to place for clinicians who want to grow professionally through learning and teaching with their peers.
Over recent months, the AO EI transformation has been driven by feedback from the AO networks, specialties, and education commissions, explained AO EI Director Tobias Hüttl.
He named three key goals, emphasized in an ambition statement for the AO EI developed with the AO Foundation Board and the AO Executive Committee:
Deepening the AO EI's engagement with AO clinicians and specialty education commissions, to effectively address learner needs and market requirements
Collaborating with technology experts and providers to pioneer innovative educational products
Establishing active life cycle management of existing AO education offerings
"To bring these ambitions to life, we have established specific Education Portfolio teams," Hüttl explained. "These teams will support the specialties' education commissions in their strategic planning of new and existing education programs and products. They will also actively manage these programs and products."
The Education Portfolio teams are supported by the Education Design team, which conducts curriculum development, instructional design, education resource production, implementation support, and platform management.
Beyond structural enhancements, faculty development and educational research stand out as key priorities.
"Acknowledging the pivotal role our faculty plays, we are committed to bolstering their professional growth," Hüttl explained.
As of September 1, the AO EI's organizational structure features five units:
Faculty Development & Education Research, led by Jane Wiedler
Trauma, Recon, Operating Room Personnel (ORP), and Sports, led by Mike Redies
Spine, CMF, and VET, led by Ginesa Aviles
Focus Programs, led by Marc Stal
Education Design, led by Matthias Schmidt
The Faculty Development team will continue to focus on faculty education programs but in the future also will have a renewed focus on faculty engagement.

Jane Wiedler is the contact for Faculty Development.