Transformation is underway to strengthen the AO Education Institute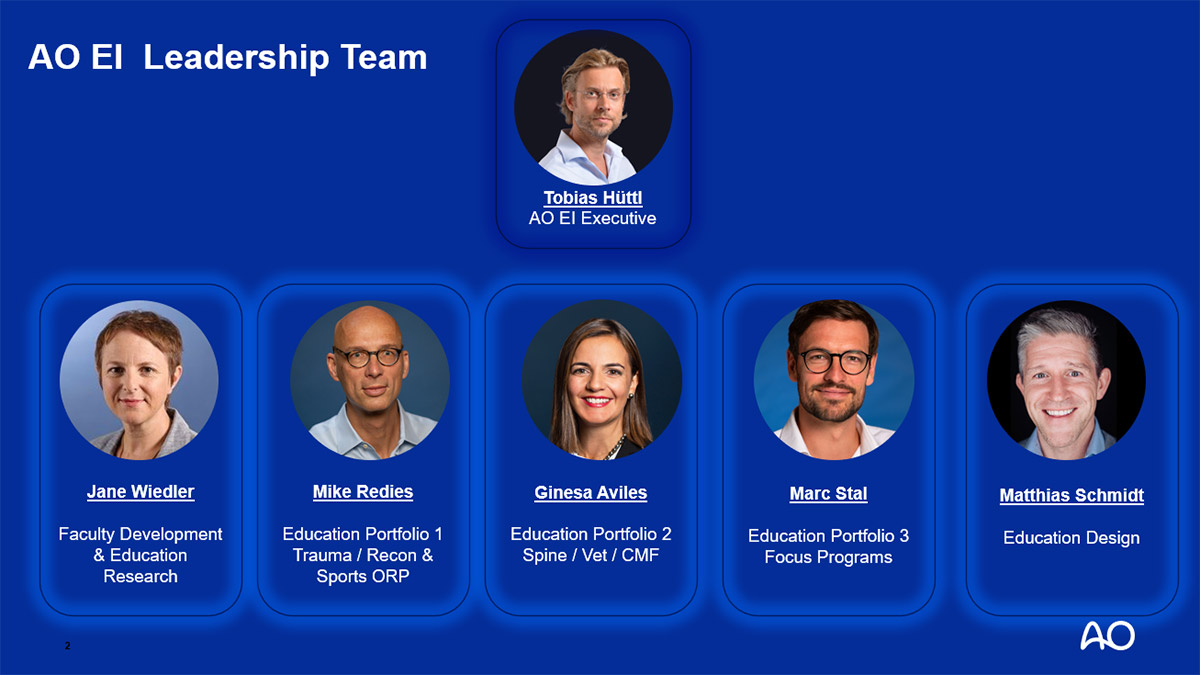 The AO Education Institute (AO EI) is undergoing a significant transformation to advance trusted learning programs for health care professionals through strategic planning, faculty development, and education research.
This transformation is based on valuable feedback received from the AO network, the AO specialties, and the chairs of the various education commissions. In response, the AO Foundation Board and the AO Executive Committee developed a new ambition for the institute: "To further the AO mission, the AO Education Institute advances trusted learning programs for health care professionals."
To bring this ambition to fruition, the AO EI will establish education portfolio teams that closely align with the AO's clinical specialties and their education portfolios. These teams will play a pivotal role in facilitating and supporting the strategic planning of both new and existing education programs and products. Furthermore, they will actively manage the life cycles of these programs and products, ensuring their effectiveness and relevance.
To achieve these goals, the education portfolio teams will collaborate closely with the Education Design team, which will provide the necessary expertise in curriculum development, instructional design, educational resource production, implementation support, and platform management. The Education Design team will serve as a valuable resource, enabling the education portfolio teams to design and develop high-quality educational content.
In addition to strengthening the education programs, the AO EI will prioritize faculty development and education research. Recognizing the vital role of faculty members in delivering effective education, the institute will invest in their growth and professional development. This investment will enhance their ability to deliver exceptional learning experiences to health care professionals.
The future AO EI organization model will be built upon five key building blocks, which will be operational by September 1, 2023. These building blocks encompass the education portfolio teams, the Education Design team, and the Faculty Development and education research teams.
With this comprehensive and well-structured approach, the AO EI is poised to advance its mission of providing trusted learning programs for health care professionals. By focusing on strategic planning, life cycle management, and the expertise of the Education Design team, the institute will elevate the quality and impact of its educational offerings. Moreover, by nurturing faculty development and conducting education research, the AO EI will continue to innovate and evolve, remaining at the forefront of medical education.
AO Education Institute building blocks