Cultivating transformative leadership
Trove of AO Access resources is just a click away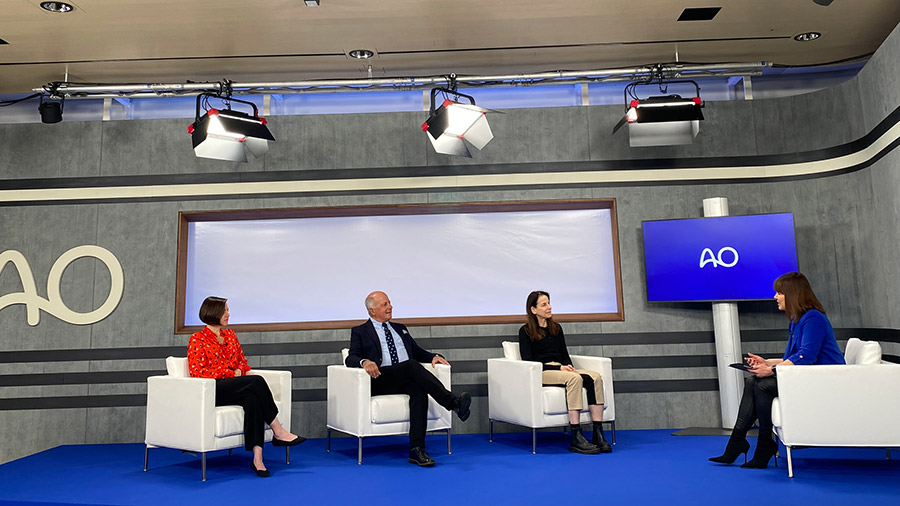 Transformative leadership is more than a management buzz phrase: It's an approach that critiques inequitable practices and calls on leaders to act with moral courage to transform people, systems, and society. AO Access—which drives the AO's diversity, inclusion, and mentorship programs—puts development of skills and practices supporting transformative leadership just a click away with trove of free, easy-to-access self-education resources.
From the Access to success podcast and pathways along the AO Access Journey to a collection of inspiring and educational videos, AO Access is empowering AO faculty, members, and staff to drive change across the organization by addressing existing inequalities to entry and advancement within the AO, and to identifying and overcoming barriers.
Putting group interests first
"Transformative leadership requires a high degree of coordination, communication, and cooperation from all parties involved [and]…a proactive leader," said Amy Kapatkin, diversity and inclusion representative to the AO Access Steering Committee, during an interview at the AO Davos Courses 2022. "They put group interests before their individual interests. Intellectual stimulation promotes creative and innovative ideas for problem-solving."
Jaime L Quintero, mentorship representative to the AO Access Steering Committee, said there's a distinction between management and leadership.
"Transformative leadership is when the leader truly connects people with the higher purpose of the organization. This is the big difference between a manager and a leader," he explained. "In organizations, groups, and teams, the purpose should be something more aspirational: What makes the difference? What gives people a sense of meaning and draws their support, where do they take ownership? It should not be the financial return, something of value, or personal recognition."
In contrast to traditional leaders, transformational leaders empower their people, according to Samantha Morello, who leads the AO Access Faculty and Leader Development Task Force.
"Traditional leadership can be very hierarchical, whereas transformative leadership inspires confidence and self-actualization throughout the learning process," she noted. "As educators, teaching learners…is nowhere as hard as helping them find their confidence. The true goal of transformative leadership is to help both the individual and the team find confidence in themselves and in how they participate in the group, which ultimately can translate into far superior outcomes compared with learning the simple mechanics of a task."
The importance of nonclinical competencies
In the context of surgeons, Kapatkin said social science research shows that only 35 percent of surgeon interaction is transformative in the operating room—yet the majority of learners and surgical team members prefer and thrive in a transformative environment. Research also shows that surgical learners perform better under transformative leaders, yet few surgical environments are transformative.
That's where nonclinical competencies can play an important role, Morello added.
"As the medical profession evolves and diversifies and is increasingly cognizant of how nonclinical skills are essential for developing and utilizing clinical skills, a transformative leader will be the most effective teacher and mentor," she said. "Transformative leadership—when done correctly—can foster inclusion, belonging, confidence, and teamwork. All of these elements have been shown to improve workplace satisfaction and patient outcomes and to combat burnout."
The urgency of developing transformative leaders is clear.
"This requires true cultural change at every level. Social science research shows that training in transformative leadership early on in medical education significantly improves learners' ability to practice this type of leadership," Kapatkin emphasized. "In North America [for example], medical programs are mandated for accreditation to have some training in this. One study showed that 90 percent of surgical residents scored a zero on emotional intelligence. Since this all affects patient outcomes and the team success, training is needed."
Ultimately, Quintero pointed out, truly transformative leadership will drive the cultural changes that are needed to identify talent, respect diversity, promote personal and professional development with mentorship and nonclinical competencies and skills in order to inspire and unite people around the purpose. The AO Access Journey's mentor, mentee, and collaborative and communal learning pathways were specifically developed to help surgeons develop their nonclinical skills.
To learn more about transformative leadership, watch AO Access to success Episode 8: "Leading transformation for an inclusive environment." In this episode, AO Access Mentorship and Sponsorship Task Force Lead Marinis Pirpiris and mentorship task force member Lynette Spalding speak to internationally recognized spine surgeon, educator, and researcher Prof Jeff Wang about inclusion and leadership.
Additionally, the AO Video Hub is a rich resource for inspiring and educational content on leadership, diversity, inclusion, and mentorship—finding this content is as easy as searching for: AO Access.