AO Technical Commission Innovation Awards
For outstanding achievements.

AO recognition acts as a driver for further innovative development.
The AO Recognition Award, the AO Technical Commission Innovation Prize, and the AO Technical Commission Certificate of Merit are intended to recognize and encourage the continued pursuit of excellence, innovation, and continued rigorous improvement.
The AO Technical Commission recognizes outstanding achievements in development and innovation, which have a lasting impact on patient care and outcomes in fields central to the AO mission.
The AO Recognition Award is awarded by the AO Foundation's supervisory body, the AOFB, to honor individuals within the AO Technical Commission who have made significant contributions to the AO Foundation throughout their career and achieved meaningful impact to product innovation and patient care.
Theodor "Theddy" F Slongo, MD, of Bern, Switzerland, is the recipient of the AO Technical Commission (AO TC) 2022 Recognition Award. He has been an active member of the AO TC since 1997 and has chaired several groups, including the External Fixation Expert Group and the Pediatric Expert Group.
As an extremely experienced and world-renowned orthopedic pediatric surgeon, Slongo's involvement with the AO TC began with the conceptual design and development of new implants for children, perhaps most notably the Titanium Elastic Nail intended for diaphyseal fracture fixation. More recently, his vast experience and innovative mind have driven the development of external fixator systems including the creation of the MAXFRAME® Multi-Axial Correction System, the first solution to provide precise 3D planning, simulation, and correction of complex deformities.
Slongo has continually demonstrated true innovation in product development via his tendency to consider disruptive technologies, often supporting distinct adaptations to surgical techniques and procedures if the result achieves improvements in functional outcomes for his patients.
In addition to his practical ability to help develop new solutions, Slongo is an excellent teacher with decades of experience as an AO educator. He brings broad clinical knowledge to his courses, workshops, and live surgery sessions, and his students appreciate his sharing of an array of tips and tricks for complex situations.
The AO TC honored Slongo for his unflagging dedication to the improvement of patient care by supporting research and development, fostering clinical evidence, and providing his knowledge and experience in education.
Previous winners of the AO Recognition Award

| | |
| --- | --- |
| 2017 | David L Helfet |
| 2016 | Dankward Höntzsch |
| 2012 | Pietro Regazzoni |
| 2010 | Paul W Pavlov |
| 2008 | Jörg A Auer |
| 2006 | Alex E Staubli |
| 2005 | Theerachai Apivatthakakul, Anselmo Reyes, Christoph Sommer, Timothy Weber |
| 2004 | Emanuel Gautier |
| 2004 | Michael Schütz |
| 2003 | Brigitte von Rechenberg |
| 2002 | Phil Kregor |
| 2001 | Michael Plecko |
| 2000 | Michael Wagner |
| 1999 | Reto Babst |
| 1998 | Douglas Klotch |
| 1998 | Christian Krettek |
| 1994 | Christoph Müller |
| 1994 | Roland Schmoker |
The Innovation Prize is awarded by the AO Technical Commission's supervisory body, the AO TCEB, to individuals or groups for their leading involvement in a project that has made significant impact.
The AO Technical Commission is proud to announce the Cervical Expert Group as well-deserved winners of the 2021 Innovation Prize. Awarded for advancements in Posterior Cervical Fusion (PCF) and development of the Symphony Occipito-Cervico-Thoracic System, the prize acknowledges clinical innovation apparent in a solution that successfully addresses deformity correction, revision surgery and fixation in poor quality bone. Discussions about the need for such a system were initiated during a 2014 Cervical Expert Group meeting. After years of development Symphony was introduced in a teaching capacity during the 2019 Complex Cervical Course in Davos. The Cervical Expert Group is an international group of expert spine surgeons, and the AO Technical Commission congratulates them for their achievements in advancing the care of patients requiring fixation of the cervical spine.
At the time of Symphony release, the CEEG members were:
Frank Kandziora (Germany)—CEEG Chair
Rick Bransford (US)
Osmar JS Moraes (Brazil)
Chung Chek Wong (Malaysia)
Abdulrazzaq Alobaid (Kuwait)
Previous winners of the AO Technical Commission Innovation Prize

| | |
| --- | --- |
| 2020 | Hans-Christoph Pape, Brett Crist, Peter Giannoudis, David Hak, Ingo Marzi, Christof Müller, Brent Norris, Martijn Poeze, Gerhard Schmidmaier |
| 2018 | Karl Stoffel |
| 2016 | Scott P Bartlett, Daniel Buchbinder, Carl-Peter Cornelius, Nils-Claudius Gellrich, Damir Matic, Alf L Nastri, Rainer Schmelzeisen |
| 2013 | Gerhard Schmidmaier, Michael J Raschke |
| 2013 | Michael Mayer |
| 2012 | Per-Henrik Agren, Michael Castro, Juan B Gerstner Garcés, Leslie Grujic, Andrew K Sands, Ian G Winson |
| 2011 | Theodor F Slongo |
| 2010 | Peter Däscher, Emanuel Gautier, Romano Matthys-Mark, Urs Schlegel, Peter Toggwiler, Dieter Wahl |
| 2008 | Alberto A Fernández Dell'Oca |
| 2007 | Toru Sato |
| 2007 | Takeshi Sawaguchi |
| 2006 | Sigvard T Hansen |
| 2004 | Stephan Perren |
| 2001 | Fridolin Schläpfer |
| 2001 | Robert Frigg |
| 1995 | Hill Hastings, Jürg Brennwald, Ueli Büchler, Jesse Jupiter |
The Certificate of Merit is awarded by the AO Technical Commission's supervisory body, the AO TCEB, to individuals as a sign of appreciation for outstanding activities over the course of one project or a year.
In December 2019, Markus Windolf received the AO Technical Commission Certificate of Merit. He was in particular awarded for the outstanding and innovative development of a simplified navigation system based on shape recognition and for a concept to automatically determine the required screw length during drilling.
Both concepts are now in translation to clinical applications which is a clearly visible sign that the Concept Development Focus Area under the thoughtful leadership of Windolf plays an essential role in the efforts of the AO Foundation to foster innovation. In this regard the AO Technical Commission wishes Windolf and his team continued success and is looking forward to a fruitful collaboration.
Previous winners of the AO Technical Commission Certificate of Merit

| | |
| --- | --- |
| 2012 | Marc C Metzger, Alexander Schramm, Edward B Strong |
| 2009 | Marc C Metzger, Edward B Strong |
| 2007 | Peter Messmer |
| 2007 | Beat Hammer |
| 2006 | Kaj Klaue, Hans Zwipp |
| 2005 | Maria F Sanchez |
| 2004 | Romano Matthys |
| 2004 | Daniel Rikli |
| 2003 | Yvonne Adank |
| 2001 | Ortrun Pohler |
| 2001 | Christoph Nötzli |
| 2001 | Joy Buchanan |
| 2000 | Frank Baumgart |
| 2000 | Hermann Oberli |
| 1994 | Helga Reichel |
Prize for Lifetime Achievements
J Kellam and S Perren at the AO Courses opening 2004
In 2004 Stephan Perren has been awarded the AO Innovation Award for his lifetime achievements and exceptional contributions to the development of new concepts, technologies, and treatment options.
You might be interested in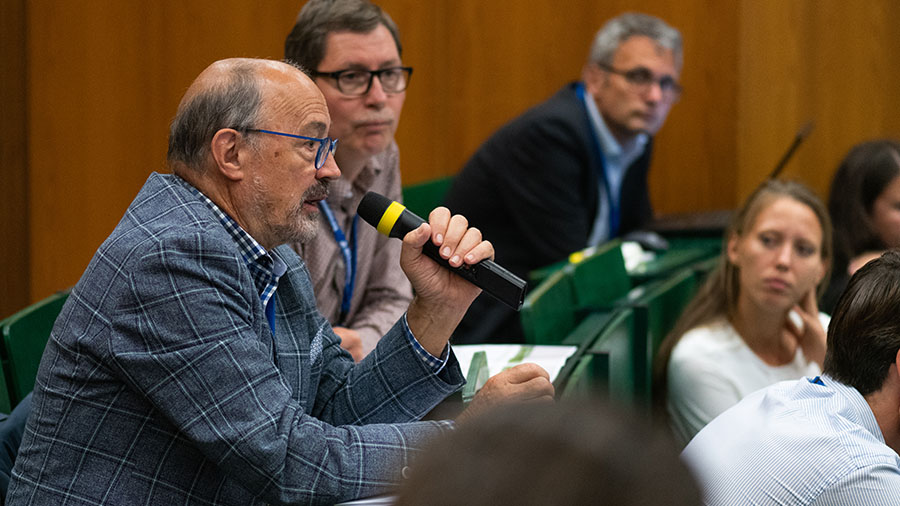 Experts Symposia
Where outstanding minds come together in a robust process to improve available treatments.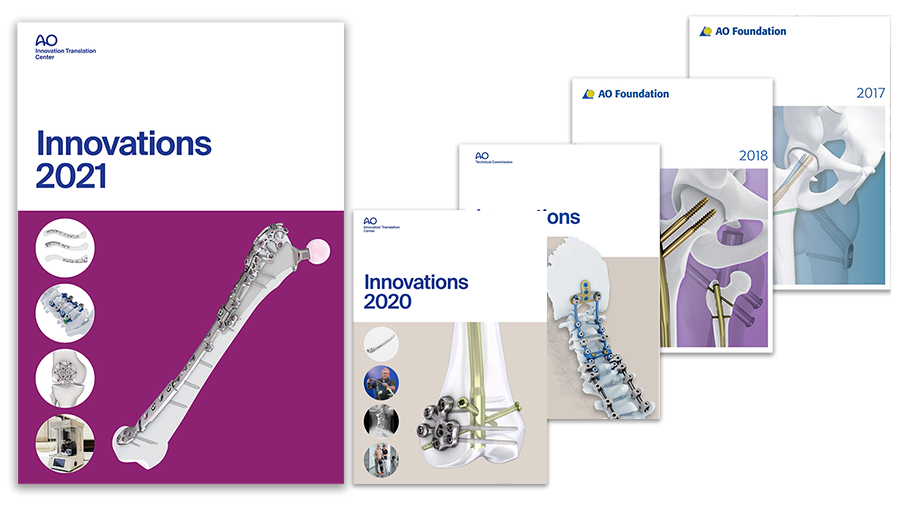 Latest innovations
Learn about the newest AO Technical Commission approved products in Trauma, Spine, CMF, and Vet.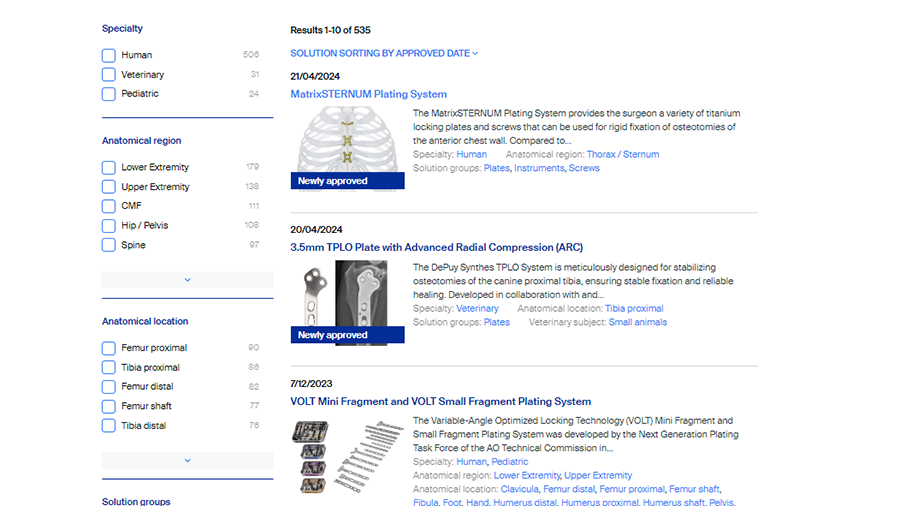 AO Approved Solutions
Offering detailed descriptions of AO Approved Solutions, including videos and clinical cases.