Safe, effective, and easy to use: Development Incubator project offers solution to reduce PJK and improve clinical outcomes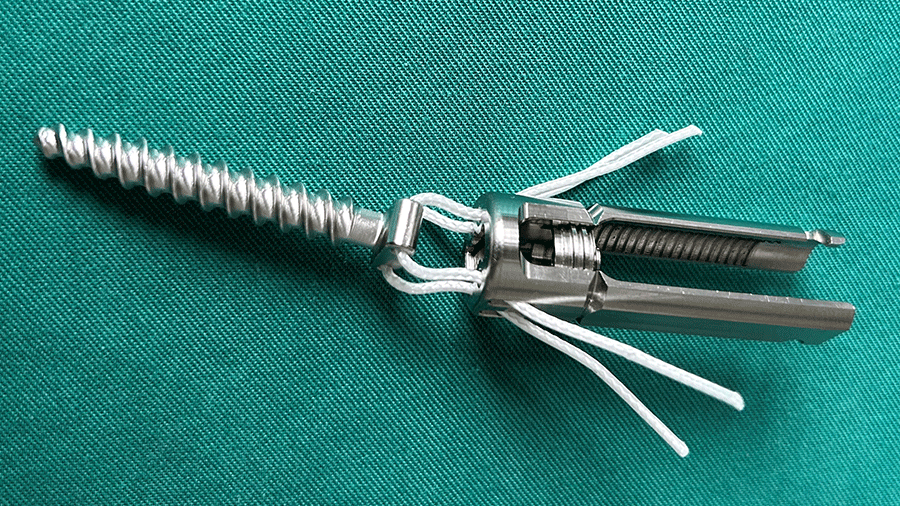 A new concept to prevent PJK
Koller's Tether Pedicle Screw reduces stress discontinuity between the instrumented and non-instrumented levels of the spine. Affording a more gradual transition from the stiff section of the spine (which is fused by instrumentation during surgery) and the still-mobile sections above, the Tether Pedicle Screw is expected to reduce the likelihood of PJK while protecting the adjacent intervertebral discs from further degeneration and the vertebral bodies from non-physiological stress patterns. Koller said that gradual transition also benefits the topmost level of the fixed segment.
The Development Incubator project, which is being carried out in close collaboration with Attiswil, Switzerland-based IGNITE-concepts and its lead engineer, Tom Overes, got underway in June 2021. Today, a number of key milestones have been achieved, including the production of implants and instruments at the AO Research Institute Davos (ARI) prototype shop and the filing of a patent application in February 2022. Additional mechanical testing and a formal presentation to the AO Spine Technical Commission lie ahead, and then the project team will seek a commercial partner to finalize the development and make the Tether Pedicle Screw available to surgeons.
"The AO is a strong partner, and the Development Incubator is a unique resource: It has all of the resources—financial support, project management, prototyping, and mechanical testing capabilities under one umbrella. What was fundamental with the Development Incubator was its willingness to support my project and its resources which allowed us to conduct the necessary studies to achieve proof of concept," Koller explained.
Koller's advice to would-be innovators is straightforward.
"I would tell inventors and surgeons with product ideas and solutions to clinical problems: Do your homework, be passionate about your project, and have the courage to ask the Development Incubator for support," he said.
You might also be interested in: