With successful first-ever courses and return to on-site education, AO PEER looks to 2022 and beyond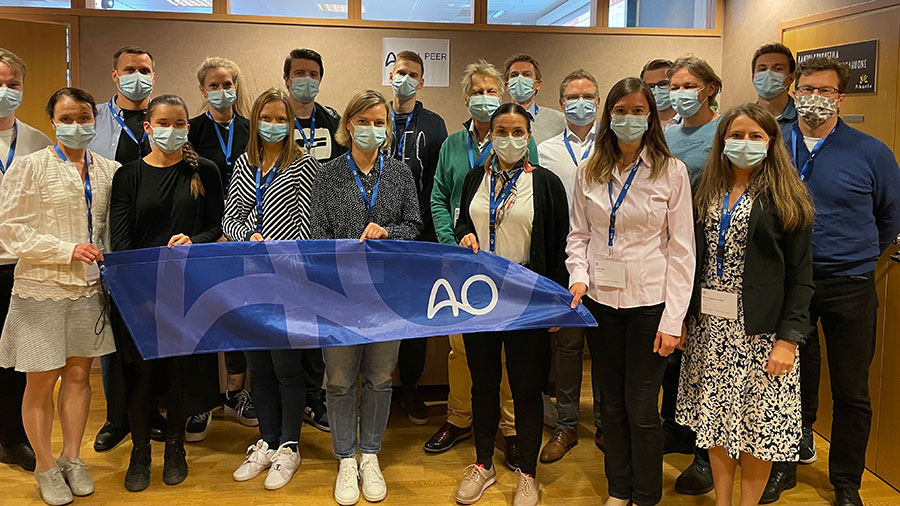 With the successful 2021 rollout of its first-ever courses in Northern Europe and Germany, the AO Program for Education and Excellence in Research (AO PEER) looks to the coming year—and beyond—with plans to further extend its reach.
In Tampere, Finland, the AO PEER Course—Principles of Clinical Research in August also marked AO PEER's return to face-to-face, on-site education after an 18-month, COVID-19-related stretch of offering primarily online events. Initiated by AO Spine, the course addressed the needs identified by the clinical division's members in a survey and brought 16 Finnish participants together with expert faculty from AO Trauma, AO Spine, and AO CMF. A highly interactive experience, the course was cochaired by Marko Neva, regional research representative to the AO Spine Europe and Southern Africa Board, and Aleksi Reito from Tampere University Hospital. Participants also interacted with Risto Kontio, AO CMF representative on the AO PEER task force; Joanna Snäll, head physician at Helsinki University Hospital Head and Neck Center, Division of Oral and Maxillofacial Diseases; and Denise Hess, manager of AO PEER's global program.
Antti Yltalo, a student at Finland's University of Oulu, said the course was an opportunity to gain valuable insights into clinical research in advance of a project he's involved in.
"I was lacking the basic skills in statistics, for example. We are starting a project and I wanted to understand more about the background of clinical research and the whole process," he said. "I really liked the precourse material—it was very good, very helpful. And the two days was a nice timeline."
Yltalo also appreciated the faculty mix of clinicians and researchers, as well as the representation of a range of specialities.
Laura Kärnä, an orthopedics and trauma resident at Tampere University Hospital, also had positive feedback about the course.
"I'm a beginner in research; I wanted to get started and have some tools and to learn all of the basics. I think this was the right time to come to this course," she said, adding that she especially valued the small group discussions and statistical analysis portion of the course.
Germany: seven nationalities represented
Additionally, AO PEER conducted its first-ever educational event in Germany, with the AO PEER Course—Principles of Clinical Research in November, with 20 participants from Germany, Switzerland, Italy, Saudi Arabia, Lithuania, Poland, and Ukraine gathering in Ludwigshafen.
The successful course, initiated by AO Trauma, involved faculty from across all four AO clinical divisions: AO Trauma, AO Spine, AO CMF, and AO VET. Chaired by Prof Paul Grützner and Dr Camillo Müller, the event offered a high degree of interactivity. In addition to the chairpersons, faculty included Dr Sven Vetter (spine surgeon), Dr Philip Nolte (trauma surgeon), Dimitra Kotsougiani (adjunct professor and hand and trauma surgeon), and Kirsten Häusler, PhD (certified canine rehabilitation practitioner).
Looking ahead
Going forward, AO PEER plans to extend its educational offering and collaboration in northern Europe with at least one AO PEER course per year; in the future, level 2 courses may also be considered. Furthermore, one AO PEER course per year will be offered in the Germany, Austria, and Switzerland region; in 2022, that event will take place in Fribourg, Switzerland. In 2022, one course is planned for the United Kindom (to be conducted in collaboration with the University of Cambridge), and another in Porto, Portugal, at the European College of Veterinary Surgeons (ECVS) Annual Scientific Meeting in July. In Russia, one course—to be chaired by Leonid Solomin and Danila Ananin—is planned.
To stay on top of AO PEER news and events, visit

www.aopeer.org

and register to receive the AO PEER newsletter here.