AO Surgery Reference releases revised adult and new pediatric trauma content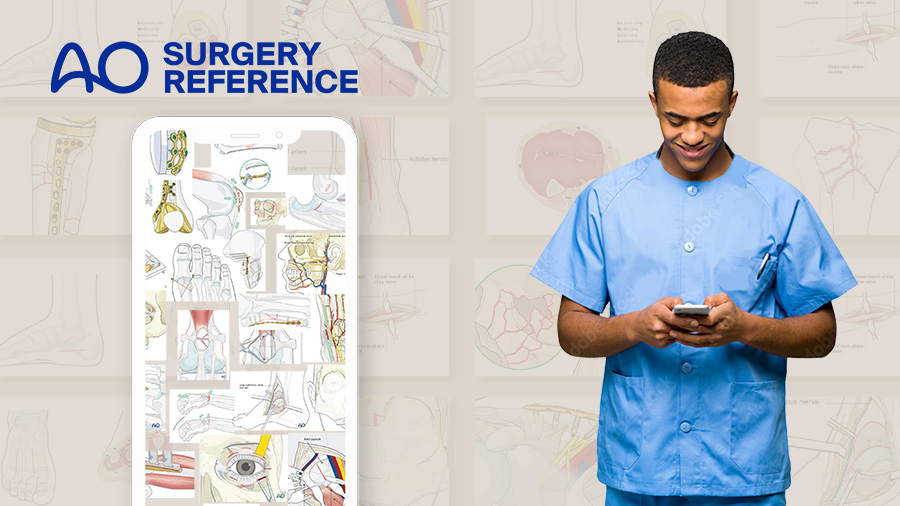 The AO Surgery Reference recently published several major revisions in the adult trauma section (ie, proximal femur and mid- and forefoot) and added one new pediatric module on distal tibial and fibular fractures.
---
Revised proximal femur fracture management
This revision brings a whole set of new features. Theerachai Apivatthakakul (Thailand) and Jong-Keon Oh (South Korea) provided up-to-date expertise with Michael Baumgaertner (United States) as the editor. The module now contains pages on patient assessment, complications and technical failures, and assessment of reduction quality. Special emphasis is given to describing simple and complex pertrochanteric fracture patterns with illustrations and clinical cases. A section on the management of combined fractures has been added, and sliding hip screw, cancellous screw fixation, nailing, and arthroplasty techniques have been updated.
Karl Stoffel (Switzerland) and Daniel Rikli (Switzerland) contributed chapters on the femoral neck system and intraoperative imaging, respectively.
---
Revised mid- and forefoot modules
This content was revised and extended by Khairul Faizi Mohammad (Malaysia) and Brad Yoo (United States), with Markku T Nousiainen (Canada) and Richard E Buckley (Canada) as executive editors. The content is enriched with the management of Chopart and cuneiform fractures, cuboid and navicular avulsions, as well as with patient assessment and positioning.
Visit the modules:
Midfoot fractures
Metatarsal fractures
Foot – Phalanges
---
New pediatric module
Daniel Green (United States), Philip Henman (United Kingdom), and Mamoun Kremli (Saudi Arabia) created this content with Fergal Monsell (United Kingdom) and James Hunter (United Kingdom) as editors. Covered are the treatment options for metaphyseal and epiphyseal fractures of the distal tibia and fibula as well as injuries to the syndesmosis. Special emphasis is given to Tillaux and triplane fractures and their management.