AO Trauma competency-based curricula expanded and updated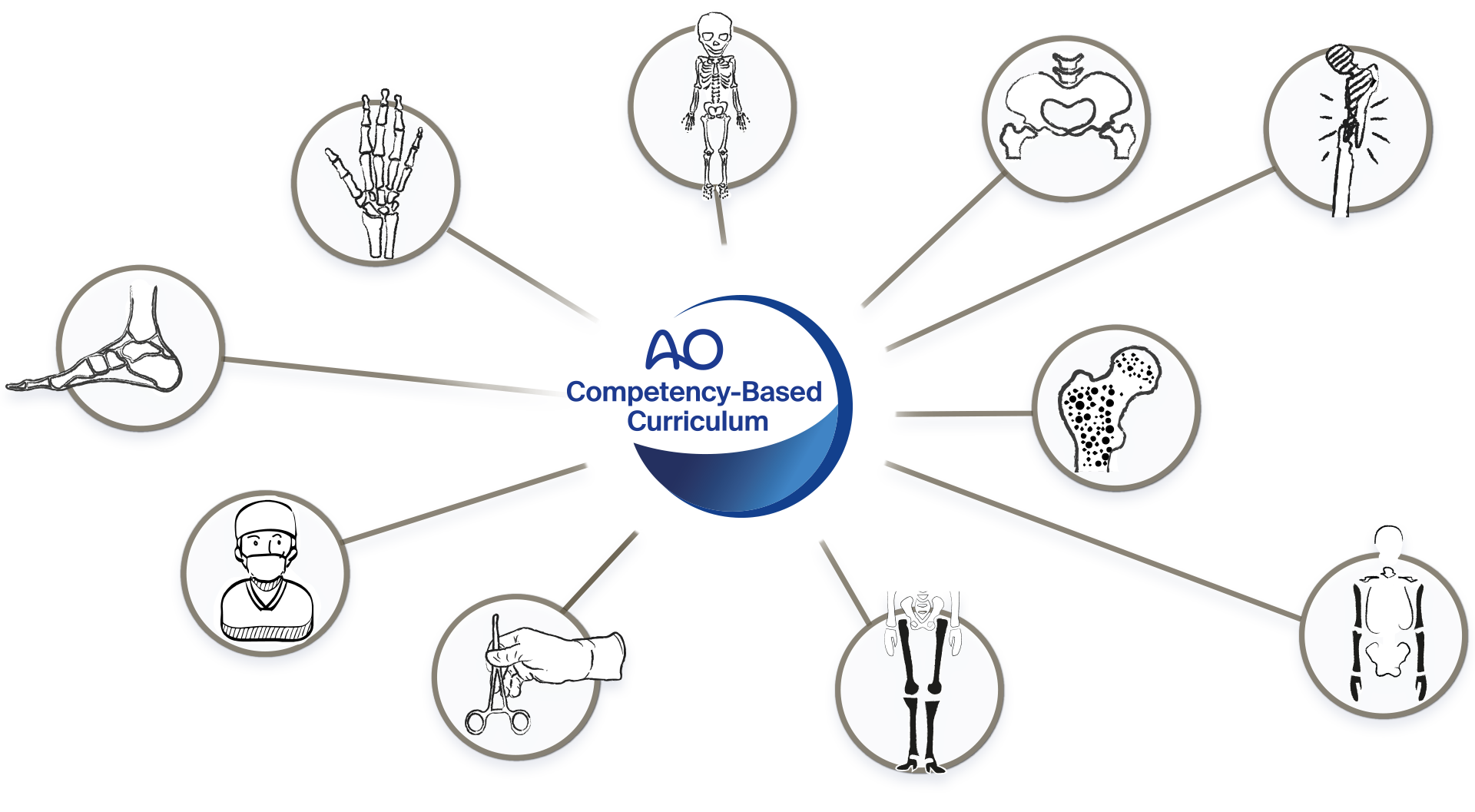 AO Trauma continues to expand and update its competency-based curricula with two major updates and one new curriculum in 2022. AO Trauma's portfolio now features nine competency-based curricula with almost complete coverage of anatomical areas and subspecialties.
All curricula are being developed by education taskforces consisting of content experts, educationalists, and target learners applying latest curriculum development concepts to help chairpersons and faculty to deliver high-quality education around the world.
Updates and upcoming new curriculum
The curriculum frameworks for hand and wrist as well as pelvic and acetabular fracture management have been updated, and templates and teaching material have been added to the faculty center. Both curricula feature multiple predefined course types for different experience levels and offer chairpersons and faculty a framework and resources to help them design events that address learner needs based on a set of defined competencies.
Hand and wrist curriculum
AO Trauma Course—Introduction to Internal Fixation of Hand and Wrist Fractures
AO Trauma Course—Management of Hand and Wrist Fractures
AO Trauma Masters Course—Management of Hand and Wrist Fractures
Pelvic and acetabulum curriculum
AO Trauma Course—Pelvic and Acetabular Fracture Management
AO Trauma Course—Pelvic Fracture Management
AO Trauma Course—Acetabular Fracture Management
For more details, and an overview of the experts involved, please check out the pages for hand and wrist and pelvis and acetabulum.
A new lower extremity trauma curriculum covering nine modules from hip to ankle will be released in 2022 including pilot events.
Resources for event chairpersons and faculty
All chairpersons and faculty involved in AO Trauma subspecialty and masters courses are encouraged to implement the available curricula and consult the resources in the faculty support packages for their topic area for program planning and teaching preparation.
Course programs applying the curriculum frameworks, addressing all competencies, and fulfilling the defined criteria are eligible for the AO Competency-Based Curriculum visual mark.
If you have questions and or want to provide feedback on the curricula, please contact Barbara Niederee.
Practical exercise from a pelvis and acetabular fractures course

Practical exercise from the hand and wrist course
AO Trauma competency-based curricula
Residents curriculum:

AO Trauma Course—Basic Principles of Fracture Management
AO Trauma Course—Advanced Principles of Fracture Management
Orthogeriatrics curriculum
Foot and ankle curriculum
Upper extremity curriculum
Periprosthetic fractures curriculum
Hand and wrist curriculum
Pelvis and acetabulum curriculum
Lower extremity curriculum (as of the fourth quarter of 2022)