AO Trauma Latin America's Baumfeld wins silver medal at first AO Trauma Research Olympiad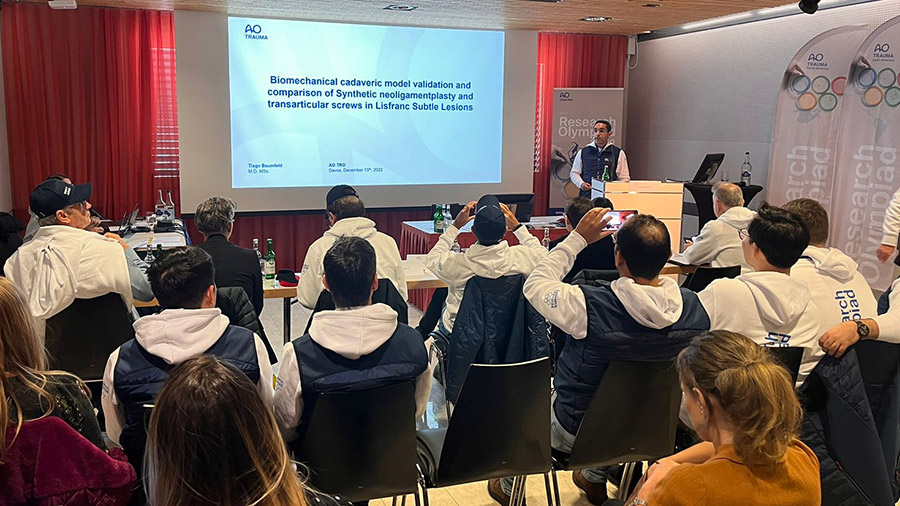 AO Trauma Latin America's Tiago Baumfeld of Brazil won the silver medal in the first-ever AO Trauma Research Olympiad, conducted during the AO Davos Courses 2022 in December in Davos, Switzerland.
The project, led by Peter Giannoudis of United Kingdom, underscore the importance of research, enhances a culture of clinical and basic science research, and strengthen the bonds between the AO Trauma regions through a spirit of competitiveness and respect.
For the event, each AO Trauma region selected two candidates to present their research and compete at a global level. Projects had to be original clinical research that had not been published or presented in the 6 months prior to application for participation in the AO Trauma Research Olympiad. Participants also had a networking agenda during the December 12–16 event, including a visit to AO Research Institute Davos (ARI) facilities and a get-together with ARI researchers and AO Innovation Translation Center (AO ITC) staff.
In addition to Baumfeld, AO Trauma Latin America was represented by Gonzalo Guillermo Garcia Barreiro of Argentina. Baumfeld medal-winning research project was titled, "Biomechanical cadaveric model validation and comparison of Synthetic neoligamentplasty and transarticular screws in Lisfranc Subtle Lesions."
The AO Trauma team caught up with Baumfeld to discuss his project and the AO Trauma Research Olympiad experience:
---
Can you tell us more detail about the research you presented during the AO Trauma Research Olympiad?
The planning and development of the work that I presented started in 2018 and is a result of my PhD. It's a continuation of my research carried out during my master's degree where initially I defined and developed a cadaveric model that replicated the model of fracture and dislocation of Lisfranc. Then, during my doctorate, I compared the classic fixation method—transarticular screws—with the synthetic neoligamentplasty method. Therefore, it was a large and long-term research project.
Is there anyone at the AO who you consider to be a role model in research and who has encouraged you to carry out this research, or any other mentors you would also like to mention?
There are two people at the AO who are impossible not to mention, both for their representativeness in the institution and for their personal encouragement. First is Dr Robinson Esteves, who works with me here in Belo Horizonte; I consider him one of the surgeons who lead high-quality trauma-related research here in Brazil. He helps me on my path, a great friend and mentor. Another role model and mentor is Dr Vincenzo Giordano, who I had the pleasant surprise of meeting during my participation in the AO Trauma Research Olympiad. He has a phenomenal desire to promote research in Latin America. Both of these surgeons will be participating in my PhD committee.
How was the exchange with colleagues during the AO Trauma Research Olympiad?
It was indeed amazing to be with people from the four corners of the world— especially being able to meet Dr Gonzalo from Argentina and learning about his work.
I was able to network with colleagues from places that we usually don't have much contact with, such as Afghanistan, Egypt, Turkey, and Korea, and I realized how research is fostered by the AO worldwide. Being with these colleagues and exchanging experiences was really fruitful!
What would you highlight about the event in general?
I would definitely emphasize how serious and impeccably organized this event was.
The scientific work was on a very high level, as were the judges—and I should also mention the presence of the AO Foundation Board (AOFB) and other AO leaders. I also valued being able to participate in and understand the AO's structure in terms of scientific research; and experiencing the research lab in the core of clinical application of innovations was really very useful.
In general, I would say that the greatness of the AO and its willingness to promote research in the world were what most caught my attention.
How do you perceive the development of current scientific research on orthopedic trauma in Latin America and in Brazil?
Research in both Brazil and in Latin America—if we make a comparison with more developed countries—obviously is crawling in several sectors due to various problems such as issues in the structure of medical practice itself, as well as the lack of incentives from government structures and other foundations—makes it more difficult to develop orthopedic trauma research in daily life.
The AO is an exceptional in this sense and its initiatives help other surgeons understand the importance of scientific research, offers international recognition, and better prepares us to carry out research within the region.
But by being closer to colleagues who produce science here in Latin America, and with events like the AO Trauma Research Olympiad, we see that science is possible and there are entities that encourage and make it possible for interested and trained surgeons in this field to be successful in their research activities.
I think the AO is on the right track in terms of encouraging research in Latin America. It gives young people the opportunity to publish, offers healthy competition between research projects, and advances very interesting initiatives. And the AO is able to fund research, something I learned about while I was in Davos. Without a doubt, this creates a lot of interest and the possibility of continuing to carry out high-quality research in Brazil and Latin America. This way, we are making our presence in research increasingly strong within the world.
Be part of 'The AO Trauma Latin America road map of research'
AO Trauma members conducting research can learn more about the open call for the Injury Journal supplement, "The AO Trauma Latin America road map of research," at the links below. The supplement aims to promote AO Trauma Latin America members' orthopedic trauma research and stimulate the growth of scientific studies in the region. The call is open until February 28, 2023.
You might also be interested in:
Strategy Fund
Strategy Fund provides seed funding for innovative early-stage ideas strengthening the AO in key strategic areas.
Development Incubator
Development Incubator funding supports inventors up to USD 3 million over 5 years.
Improving bone models
New Strategy Fund-supported project—Flexible, 3D-Printed Bone Models—represents a step forward for musculoskeletal education as well as surgical planning.