AO Trauma Switzerland general assembly and spring conference in Zurich was a great success
Read more about this past event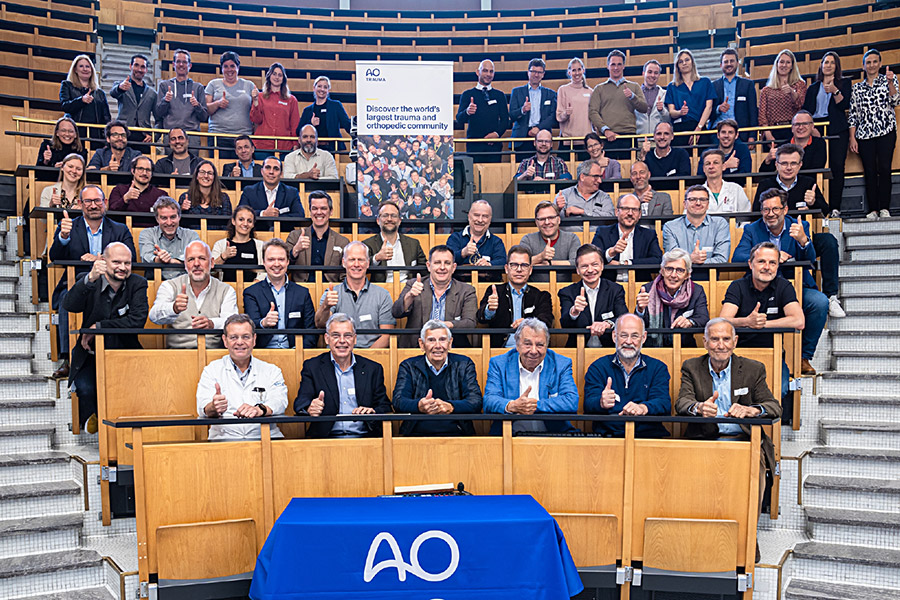 This year's annual conference of AO Trauma Switzerland was organized by Prof. Hans-Christoph Pape and Prof. Andreas Platz at the University Hospital in Zurich.
The board decided to open the conference with the general assembly on Thursday evening, followed by dinner in order to facilitate participation for members.
Numerous members of AO Trauma Switzerland gathered on Thursday for the administrative meeting in Zurich. There was lively discussion, not least because the statutes also had to be amended, but a good consensus was always found. It should be noted that two new honorary members were elected: Claudio Gubser, who has done invaluable work as secretary for our association for many years, and Prof. Reto Babst, who has shaped AO Trauma Switzerland and the AO Foundation with his ideas and initiatives and still does.
The dinner at the Sento restaurant was a wonderful opportunity to exchange ideas and news with one another while enjoying the best food and wine. The restaurant staff even put in an extra shift for us, thank you very much!
On Friday we were allowed to deal with scientific and practical topics related to geriatric traumatology. The program was very varied and, in addition to interactive case studies, also included new findings from basic research. The discussions were lively and showed that not all the secrets surrounding this promising topic have been revealed. Thanks are also due to all the speakers for their excellent presentations!
The AO Trauma Switzerland Science Award has been newly introduced in 2022. Research work in the field of traumatology from Swiss hospitals can be nominated for the prize. The board selected three papers from the submitted works, which were presented by the authors. The conference participants were then able to vote for the best work. Andrea Gross from Winterthur won a voucher of CHF 1000 for an AO course with her publication: "The surgical management of highly unstable fragility fractures of the sacrum with spinopelvic dissociation: A case series and proposal of a surgical treatment algorithm".
At the end of the conference, Aline Suter from Winterthur and Marco Burkhard from Chur reported on their experiences during the DACH fellowship. It is always exciting to hear what young AO members can learn from their colleagues in our neighboring countries.
The final highlight were the celebrations for our new honorary members Christoph Sommer, Chur and Niklaus Renner, Aarau.
Christoph Sommer's contribution to AO Trauma Switzerland and the AO Foundation is enormous. His presentations are legendary and have influenced many young surgeons. He is still active in the technical committee and never tires of further improving patient care with innovative ideas.
Klaus Renner left a deep mark on both AO Trauma Switzerland and the AO Foundation. The list of surgeons who have been trained by him in the treatment of trauma patients is long and impressive. As president of the AO Foundation, he has led the organization through profound changes with a sure hand.
With a relaxed apero on Friday evening, we were able to conclude the conference and return home with many new ideas and inspirations.
Thank you all very much, the exchange was fruitful, and we look forward to further events in our region.