Adaptive learning program
Achieving milestones, one step at a time.
AO Milestones first product:
Adaptive learning program for orthopedic residency programs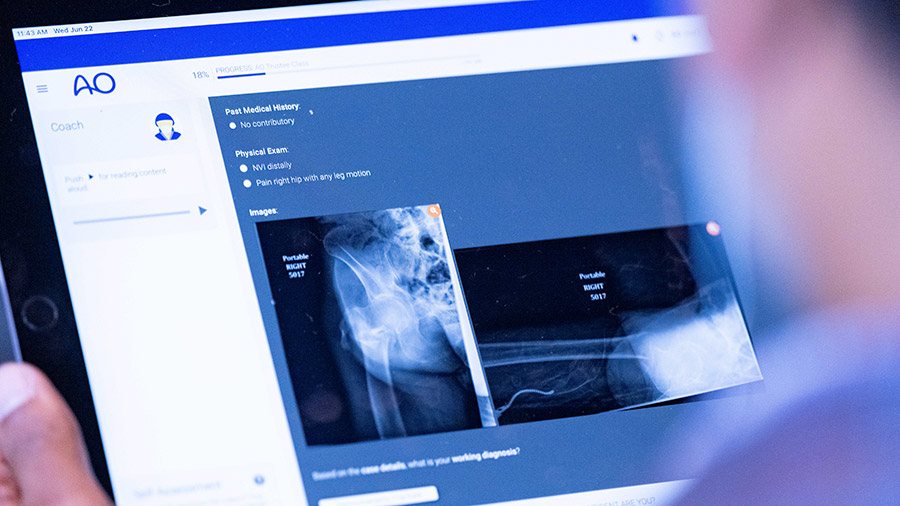 AO Milestones adaptive learning programs are developed for orthopedic residency programs. Our platform delivers a personalized and engaging learning experience, using the latest in adaptive learning technology, focusing on orthopedic residence and supporting residency program directors.
As part of AO Milestones, AO Trauma's competency-based training and assessment program, the programs cover essential modules in Fundamentals of Osteosynthesis and Hip. Our curriculum is mapped to ACGME Milestones and Entrustable Professional Activities (EPAs) for enhanced learning and assessment.
With these modules, residents have access to instructional videos, high-quality illustrations, interactive assessment questions, and even gamification and simulation approaches. Our modules are developed by expert authors from North America, including the editors Dr Brett Crist and Dr Chad Coles.
Enroll now to support residents become competent and skilled orthopedic surgeons with AO Milestones.
Fundamentals of Osteosynthesis and Hip
Fundamentals of Osteosynthesis and Hip is a cutting-edge adaptive learning program for medical professionals. This comprehensive program covers a range of modules including anatomy and biomechanics of bones, absolute and relative stability, classification of fractures, diaphyseal fractures, sutures, imaging, radiation hazards, and thromboembolic diseases.
This program delves into the natural history and the anatomy of bones, exploring the biomechanics of bone healing and the pathophysiology of fractures. Participants will also learn about the different classifications of fractures, the history and physical exam, diagnostic imaging, pre-operative planning, and post-operative management.
By enrolling in this program, medical professionals can enhance their knowledge and skills in the field of Osteosynthesis and the Hip, providing them with a competitive advantage in their careers. The program utilizes the latest techniques and provides expert level experience with the management of thromboembolic diseases, as well as pertrochanteric fractures.
Join the forefront of medical professionals by enrolling in "Fundamentals of Osteosynthesis and Hip" today and help residents to gain a comprehensive understanding of key concepts and techniques.
---
Early adopter pricing: USD 150.00 per resident
Included in the early adopter price is one year access including updates and content additions to the fundamentals of osteosynthesis and hip program.
What is adaptive learning?
Personalized, just in time learning on multiple platforms; phone, tablet or desktop
Recreating the optimal teaching approach of a one-on-one personal tutor
Uses proved data analytics and intelligent technologies to adjust in real time
We will add additional adaptive learning modules on a rolling basis, covering the ankle, distal radius, diaphyseal tibia and femur, and elbow/forearm shaft. As part of the AO Milestones training program, we will also deliver modules for skills training and skills assessment of orthopedic surgeons, complementing the learning courses into a full-fledged surgical proficiency training program.
Are you a residency program director?
See what's in it for you:
The platform provides learners proof of competencies
Documents learners progress and gaps
Enables objective learner performance
Supports the ACGME and other relevant reporting
Are you an orthopedic trauma resident?
See what's in it for you:
Curriculum is mapped to the ACGME Milestones and relevant EPA's
Fun and engaging interactive content, virtual simulations, and gamifications
Accurate, validated, and reliable content
Get knowledge proficient in orthopedic trauma