AO Trauma conducts course under AO and Rimasys strategic partnership in Cologne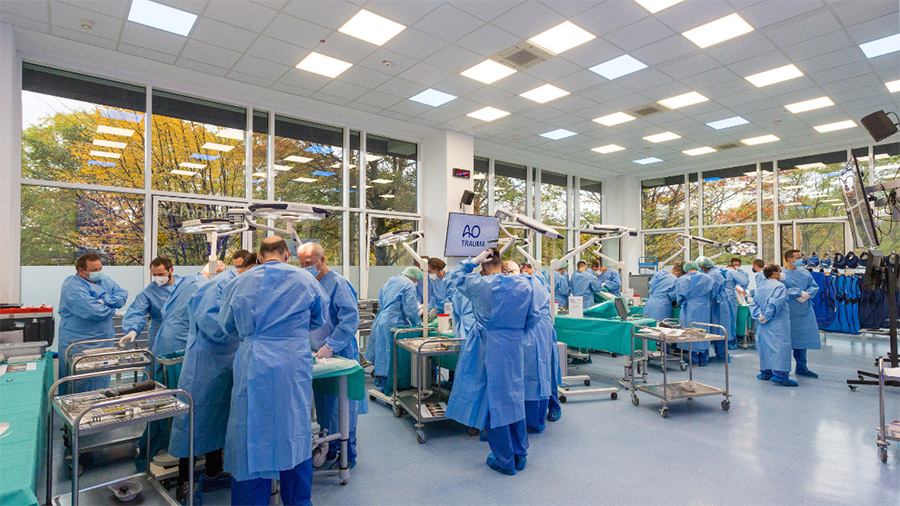 Surgeon participants from five countries tasted the first fruit of the AO's strategic partnership with technology-driven health-tech start-up Rimasys in November 2021, during a two-day, German-language AO Trauma masters course conducted at the Rimasys Cadlab Training Center in Cologne, Germany.
During this AO course conducted under the partnership and chaired by Karl-Heinz Frosch and Michael Raschke, master AO Trauma surgeons led participants on a deep dive—including practical exercises employing lifelike, prefractured human specimens with closed soft tissue—into the operative treatment of tibial head fractures.
The fully booked course underscores the value of the AO and Rimasys joining forces to develop high-fidelity solutions for surgeon education. Rimasys' technological capabilities and disruptive product portfolio complement the state-of-the-art expertise in orthopedics and trauma surgery the AO has built up and delivered with global impact over the past 60-plus years.
In the discussion-based course, prefractured human specimens were scanned using computed tomography (CT). The resulting CT datasets were used to transfer 3D models of the bone specimens to tablet mobile devices and to generate virtual reality (VR) segmentations and 3D prints of the specific fracture, allowing an end-to-end fracture management. Working in small groups, participants formulated treatment plans that they then presented for review and analysis by the expert surgeons, who recognized the group presenting the best plan.
With participants from Austria, Belgium, Germany, Liechtenstein, and Switzerland, and faculty from Austria, Germany, and Switzerland, the course built on existing AO knee courses and delivered high educational value.
"The course in this new format gave me a lot of input. The pre-fractured specimens made it possible to practice approaches and osteosyntheses in a realistic manner," says participant Wiebke Overbeck, who works at the Klinikum Braunschweig in Germany. "In the small groups, there was sufficient time and opportunity for all participants to get involved. The discussion throughout the course was very constructive: Everyone contributed tips and tricks at a high level and this allowed the whole group to benefit. The close cooperation with the very experienced instructors was fun, and problems and questions could be discussed directly during the practical exercises."
Teaching the course under the leadership of Karl-Heinz Frosch (Hamburg, Germany) and Michael Raschke (Münster, Germany) were faculty members Rohit Arora (Innsbruck, Austria), Thomas Freude (Salzburg, Austria), Thomas Gösling (Braunschweig, Germany), Elmar Herbst (Münster, Germany), Sebastian Krüger (Hamburg, Germany), Christian Michelitsch (Chur, Switzerland), and Philipp Stillhard (Chur, Switzerland).
The AO Trauma course finder is the place to start when planning your 2022 continuing medical education—including on-site educational events, webinars, internet live sessions, seminars, and symposia.