The learning game—How patient outcomes data can transform the entire care trajectory and deliver the results that really matter to your patients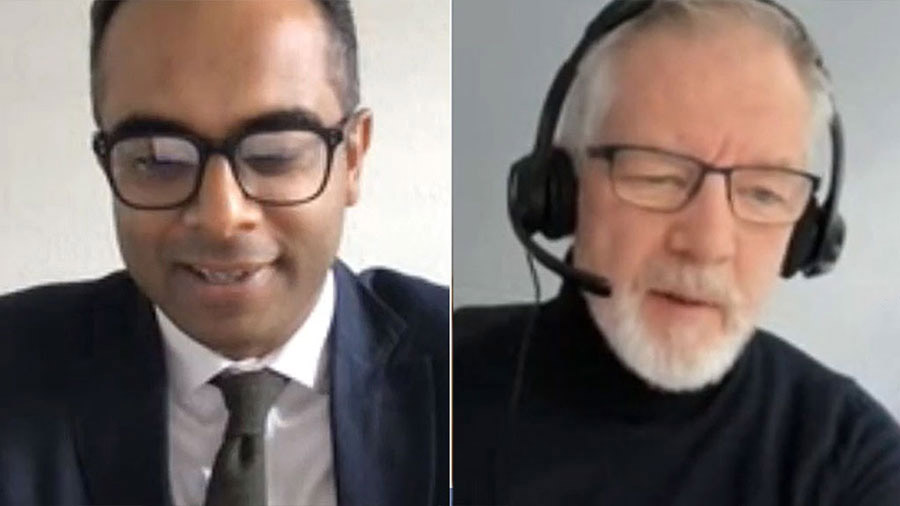 By combining patient reported outcomes, big data trends, and artificial intelligence, surgeons have a powerful suite of tools to drive value for their practice, patients, and populations. Dr Simon Lambert and Dr Prakash Jayakumar explain how tools and technologies can help enhance decision making and transform patient centered care.
Big data is one of the most powerful tools of the digital age, transforming the delivery of everything from customer services to surgery. In medicine, big data is a multilayered tool that—when applied correctly—can radically alter our clinical approach and development of patient treatment pathways.
For surgeons, big data is more than the sum of its parts. It encompasses not only basic patient information and surgical scores, but patient reported outcomes (PROs) and advanced statistical modelling. Recognizing the importance of this rapidly expanding field, AO launched AO Global Data (AOGD) for Trauma in 2020 and added new spine specific protocols in 2021.
The goal is to collect patient outcome data and integrate it seamlessly into clinical routines. AOGD maps to AO Surgery Reference, which is available to the system in real-time to present treatment options. AOGD enables the collection of a wide variety of data, including biopsychosocial and quality of life measures, specific anatomical scores, and relevant metadata.
With well over a billion datapoints, OBERD is the world's most comprehensive musculoskeletal registry, with which AOGD is now associated. With this comprehensive data tool, AO Trauma and AO Spine can advance their mission to promote excellence in whole person care.
The Swiss Army Knife of patient knowledge
Yet technology alone will only take us so far. In a fascinating webinar on 27 May 2021, Prakash Jayakumar and Simon Lambert unraveled the insightful and often surprising ways that PROs can revolutionize patient care.
Opening the discussion, Jayakumar observed that "A technology backbone is critical, but this is a great opportunity to leverage patient outcomes data at our fingertips to allow us to make the right decisions for our patients as a team. And to zoom out a little bit and start thinking of PROs as multifunctional tools that provide a range of capabilities—rather like a Swiss Army Knife perhaps."
Jayakumar highlighted the vast range of assessments captured in PROs, from physical functioning, psychological well-being, social health determinants, and related metadata. Among many functions, the tracking of health trajectories, screening, performance measurement and patient phenotyping are all facilitated by PROs. PROs can also help form a picture of the patient and help with goal setting, building relationships, reducing misconceptions and cognitive biases, while encouraging healthy habits, behaviors, and shared decision-making.
"Shared decision making is as a critical component of patient-centered care," said Jayakumar. "Patient reported outcome measures can complement our communication with patients and help transform the way we make shared decisions through effective knowledge transfer, communication, and understanding of a patient's preferences, values and needs. Applying this constellation of patient generated data will help set goals and reach a sweet spot for making effective decisions and delivering optimal treatments."
Transforming the care continuum: why we must understand the patient journey
Lambert and Jayakumar agree that patient activation is a quality of an individual which relates to how that individual makes decisions and acts on them. "To some extent this is related to 'personality', but it is a much more complex matter," Lambert continued.
Jayakumar stressed that patient experiences (how patients experience care delivery and interactions with clinical teams), patient engagement (how they are engaged), and patient self-efficacy (state and trait resiliency) might overlap and contribute to patient activation and their propensity to engage with their health and health care ecosystem.
Jayakumar continued to reflect on the enormous potential to combine PROs with technologies such as artificial intelligence, to augment the decision-making process through the use of patient decision aids. These technology-enabled patient decision aids could offer precise risk-benefit ratios, likelihood of improvement in pain, physical function, and quality of life using predictive analytics and big data.
"It's not just the surgeons that are finding these tools extremely valuable," said Jayakumar. "It's also the multidisciplinary team, in deciding the therapies, non-operative and operative strategies (with the patient). These tools can feature along the full pathway of care from the point a patient presents with a concern following their experience of symptoms."
This raises a question: if patients should have more influence than before over their treatment options, how do surgeons assess the patient's goals, preferences, and what might (or might not) be needed? Jayakumar discussed some interesting work around the prediction of health outcomes undertaken during his PhD at Oxford. In the field of orthopaedic trauma, the impact on health outcomes can be stratified using PROs.
"Physical, psychological, and even social factors can be characterized using PROs, and that is exactly what we did in our work at Oxford," said Jayakumar. "We used a model informed by patient outcomes data and built this onto data layers including demographic and clinical data and tracked this along their recovery trajectory. Psychological and social factors were the most dominant influential factors. Modifying one or more of these factors ahead of time can change the course of recovery and allow you to closely follow the patient along their journey."
Simon Lambert referenced research concerning the management of undisplaced shoulder fractures published in a Cochrane Review which showed that the evidence for a particular type of surgical intervention and subsequent rehabilitation was of insufficient quality to be able to advocate surgical intervention as having a measurable effect on the outcome for the individual patient.
"That as a surgeon, of course, is somewhat disappointing," said Lambert. "My efforts to make this look like a wonderful X-ray doesn't actually match the patient outcome. Where do we take things like PROMIS scores and surgical achievements? How do we relate patient expectation and outcome, and surgical intervention? How do we try to translate between the two?"
Addressing the information asymmetry
In his own practice, Lambert has found that he could take two comparable patients and comparable treatments, yet their outcomes could be rather different. "When you are reasonably experienced, and you do something pretty well the same every time you do it, then the variable no longer becomes the actual performance of the procedure, but what goes around it," reflected Lambert.
In his clinic, Lambert said he now spends about 10 minutes examining the patient and about half an hour listening to the patient. "You build up a very nuanced picture of this individual," he said. "(and) it becomes very clear that the condition itself is not particularly or primarily important to the patient—it's the effect that the condition has on their quality of life.
"Now, if you measure a shoulder performance in terms of its range of movement, its strengths, and whether or not there's a functional decrement in observer terms, that can have very little bearing on what the patient actually wants of you and of their shoulder."
In this sense data concerning the social context of the patient can have an influential role in analyzing treatment options. Jayakumar highlighted one example in Lambert's research which showed that marital status has a dominant influence on patient outcomes.
Lambert acknowledged this interesting finding. "The most potent factor guiding the outcome, (or) the benefit of, a revision shoulder replacement was nothing to do with me, or the x-ray, or the hemoglobin, or the calcium level or osteoporosis—it was whether or not you were married."
"So, if you had spousal support, you have a support structure that you could trust and rely upon, you could do quite well. Now the question I ask is, 'who will be helping you when you go home?' And so more effort is put on that particular aspect: How can we set people up to win and not just have a pretty X-ray?" PROs and associated metadata, through data management systems such as AOGD/OBERD, facilitate the transformation from clinician-centered, patient-oriented care to clinician-facilitated, patient-determined care.
He added: "As a young surgeon, one is technically oriented. You want to be the best at the crafts that you have entered into, and you spend a decade, maybe more, sometimes forever, honing your craft. You get to a point where you think, well, I can do some of these complicated things, and that's lovely - but my patients aren't getting any better!"
Jayakumar agreed. "You're starting off with a bit of information asymmetry. You are the expert as the upper extremity surgeon, you're vastly experienced. But the patient is the champion of all the other things that matter most to them. And capturing these things and their lived experience is hugely powerful."
The data will keep on learning
The data then, becomes a tool to capture these lived experiences, and to use that information to deliver the best treatment option not only for, but with, the patient: "I always think of the individual within the big data," said Lambert. "You've got to be able to fragment or crystalize (that) around the individual."
"One critical question posed is how we take that technology, which can feel like a black box, and build that into a learning system where we can understand the benefits and potential risks," agreed Jayakumar.
"Through advanced analytics, (including) predictive analytics, we know that this data can keep evolving. This is all a learning game. At the end of the day, this artificial intelligence power requires a human touch to make the right decisions for our patients with our patients."
Watch the full one-hour webinar, with Alexander Joeris, Simon Lambert, and Prakash Jayakumar on transforming patient outcomes data into value for you, your team, and your patients.