New AO In-Hospital module simplifies on-site fracture-related infection (FRI) education for AO Faculty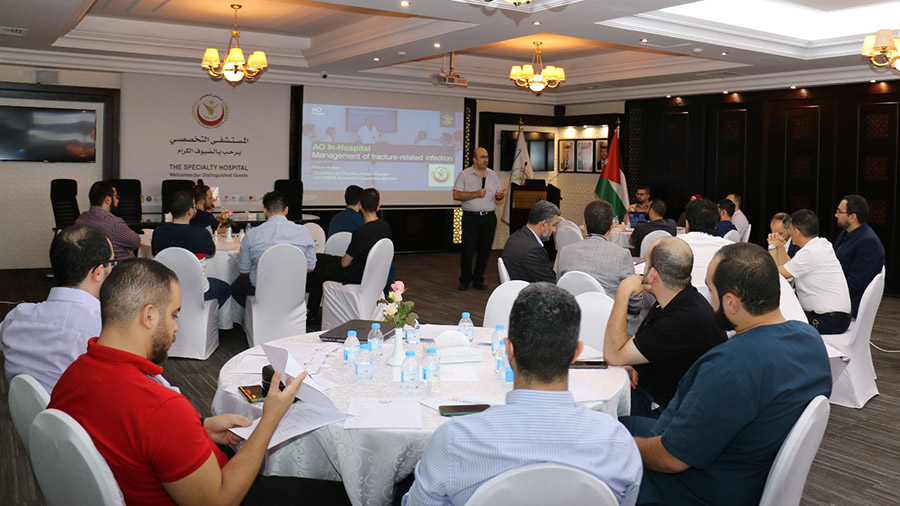 With its new "Management of fracture-related infection" module, AO In-Hospital makes it effortless for AO Faculty to bring high-value, extremely interactive, in-hospital staff training to their learners' doorsteps.
In the July 2023 release, a new module tackles a critical and concerning issue in fracture care. It seamlessly aligns with the AO's global leadership in addressing this widely acknowledged and severe complication of surgical fracture treatment.
Learning objectives
Upon completion of this module, participants will be able to:
Indicate the important interventions for preventing and diagnosing fracture-related infection in orthopedic surgery
Describe the initial surgical approach, the technique for sample collection for cultures, the surgical debridement, and the dead space management
Determine strategies for managing infections associated with implants in terms of retention and local management
Develop effective communication with physicians from other specialties to manage antibiotics
Part of the high value of AO In-Hospital modules is their flexibility: AO Faculty can fine-tune the content to their learners' need. The modules are very easy to access and deploy. Few know this better than AO Trauma Jordan Chairperson Yazan Hattar, who has successfully organized seven AO In-Hospital training events—including the new "Management of Fracture-Related Infection" module—since its launch in June 2022.
"I've actually lost count of how many AO In-Hospital events I have conducted since the AO In-Hospital pilot," said Hattar, who has deployed AO In-Hospital modules to as few as six hospital staff members and to as many as 40. "The requirements of organizers are very minimal: It's free, excellent-quality material, with very nice support from the system."
Bring AO education to learners' doorsteps
The new FRI module is a prime example of AO In-Hospital's commitment to bringing highly relevant in-hospital educational training content to hospitals' doorsteps, Hattar pointed out.
"We faculty members learned a lot from this module because this topic is very much debated these days and always evolving," he said.
The AO In-Hospital modules are accessible through an easy-to-use dashboard. It makes it easy for busy AO Faculty to choose the modules they want to present. Additionally, the fully automated system relieves them of an array of burdens, from finding pre-course materials to sending invitations and awarding certificates of completion.
"Having everything available on one easy-to-use platform—ready for AO Faculty to deploy in their own hospitals—is extremely helpful," Hattar explained. "In Jordan, the AO has a reputation for excellence in education and AO courses fill up within minutes of opening registration; so, while prospective participants really want an AO educational experience, it's not so easy for them to get it. AO In-Hospital is changing that by bringing AO education to hospital staffs' doorsteps."
A powerful tool
From an organizer's point of view, AO In-Hospital's educational content is "powerful," Hattar said.
"The well-designed curriculum, nicely prepared material, and automated features from the AO In-Hospital dashboard makes it far easier to arrange an in-hospital training event," he emphasized. "AO In-Hospital is also a powerful community networking tool because it helps introduce AO nonmembers to our community."
Hattar has enthusiastic advice for AO Faculty responsible for organizing regular in-hospital training for junior orthopedic trauma surgeons, residents, and general trauma surgeons.
"AO In-Hospital is easy to use, fun, and informative even for organizers. My advice is 'Do it.'" he said.