A look back to very special and successful AO Davos Courses 2020
AO Trauma earned praise for its purely online courses at the AO Davos Courses.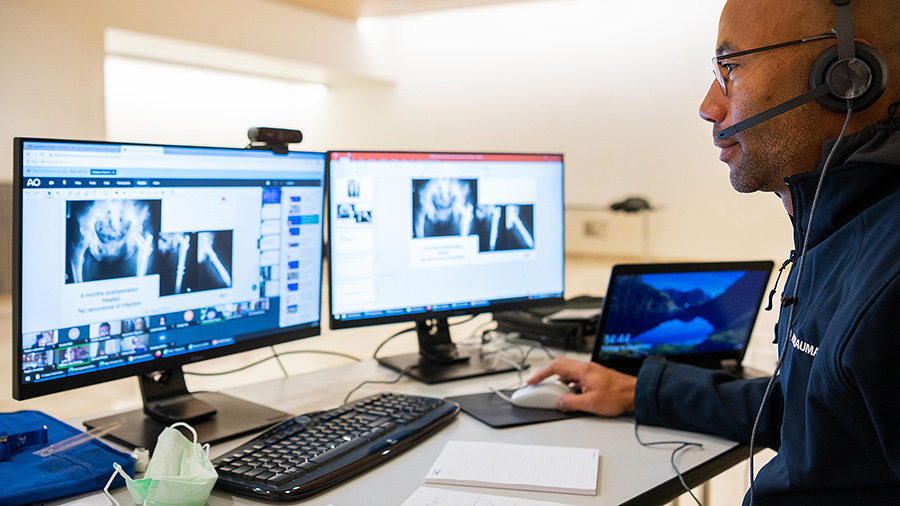 The first-ever fully online AO Davos Courses 2020 were a milestone in AO history, and AO Trauma—with twelve highly engaging online courses featuring some of the best faculty in orthopedic trauma—made an important contribution. At the AO's flagship annual event, AO Trauma provided state-of-the art education, confirming its pioneering role in the development of best-in-class educational products, despite the ongoing COVID-19 pandemic.
Over the past year, the pandemic limited surgeons' and faculty members' access to face-to-face, on-site courses, and the demand for educational events with personal interaction, in-depth discussions, and effective learning assessment grew immensely. That's why the gold-standard courses at the AO Davos Courses 2020, following the AO Trauma World Meeting in September 2020, were highly sought-after and extremely well-received.
Long waiting lists proved the indispensability of the basic and advanced principles courses in particular, and AO Trauma—with its innovative online course format—helped to compensate for the shortage of face-to-face, on-site events through live lectures, interactive discussion groups, and learning assessments with an extremely high proximity between faculty and participants.
A total of 647 AO Trauma course participants rated the first-ever fully online AO Davos Courses almost as highly as the previous years' on-site events (4.15).
The online format made participation accessible to a much wider audience. For example, participants—including some sponsored by the AO Alliance Foundation—from low- and middle-income countries who otherwise would not have had the opportunity to visit Davos, Switzerland, were able to join the AO family and experience the AO spirit in person.
Topics other than cases were discussed with experts in very well-attended side events and networking sessions. AO TV featured AO Trauma faculty in exciting interviews about their dedication, innovation projects, and how AO Trauma helps improve patient care in their country.
The faculty appreciated the intense and very good interaction with one other and with the participants and praised the excellent course organization. The consensus was that everyone involved did a commendable job in making the AO Davos Courses 2020 a unique and excellent learning experience.
Still, AO Trauma looks forward to meeting the community for on-site events in the future. Don't miss your next world-class opportunity to grow and advance your career: Stay tuned for details about the AO Trauma World Meeting 2021, taking place August 19–22, in Miami, Florida, United States.