Remembering Dr. Alan Nixon
Dr. Nixon's contributions to the orthopedics in both the veterinary and human fields are significant and far reaching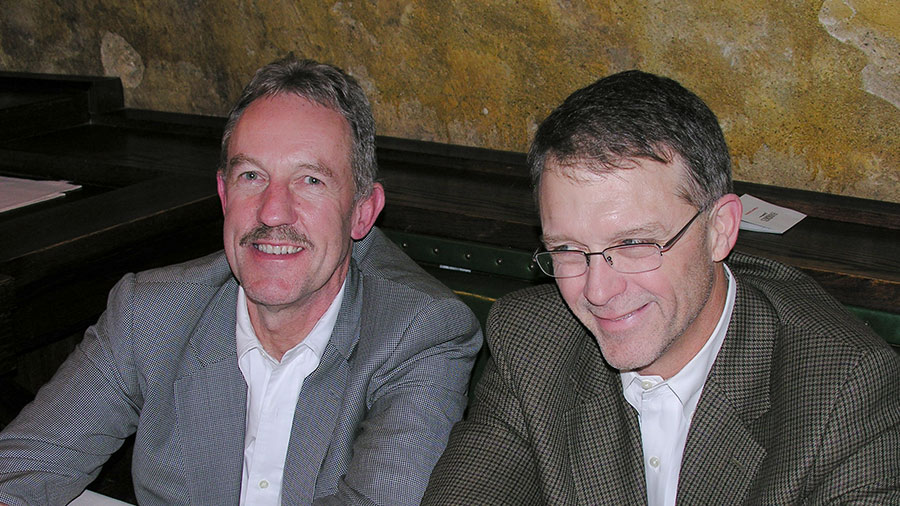 Above: Dr. Nixon (left) with Dr. Jeffrey Watkins, Columbus, Ohio, 2009
Alan J. Nixon, BVSc, MS, DACVS, was born in Australia and graduated from the University of Sydney Veterinary School in 1980. Following an internship at the University of Sydney and a brief period in private practice, he went on to complete a large animal surgical residency at Colorado State University in 1983 as well as a Master of Science.
He became an assistant professor of large animal surgery at the University of Florida College of Veterinary Medicine (1983-1988), then moved on to a long and fruitful career at the Cornell College of Veterinary Medicine from 1988 through 2021. During this time, Alan trained 15 interns, 40 surgical residents, 15 postdoctoral trainees, 15 PhD candidates, 10 MS candidates, and countless DVM students.
Dr. Nixon was a talented orthopedic surgeon with a calm presence and air of confidence that inspired all whom he trained. He held many leadership positions in national and international societies such as American College of Veterinary Surgeons, North American Veterinary Regenerative Medicine Association, Veterinary Orthopedic Society, and American Association of Equine Practitioners.
He received competitive grants from funding agencies such as the Grayson Jockey Club Research Foundation, Harry Zweig Memorial Fund, Grayson-Jockey Club Research Foundation, and National Institutes of Health. He was an active grant reviewer on NIH grant review committees and multiple veterinary and human journals.
Dr. Nixon's research made significant contributions to the field of cartilage repair and musculoskeletal regenerative therapies using biologics and gene therapy. He was a prolific author, editor, and co-editor of books that were the key references in equine orthopedics, such as Equine Fracture Repair (1st & 2nd editions) and Diagnostic and Surgical Arthroscopy in the Horse (3rd & 4th editions).
He was a key organizer and lecturer in Equine Arthroscopy courses held at CSU and Cornell as well as AO equine fracture repair courses held within the US and internationally. He received multiple awards for his contributions to orthopedic research including the Neer Award from the American College of Shoulder and Elbow Surgeons and the Founders Award from the American College Veterinary Surgeons and was also inducted into the Equine Research Hall of Fame in 2009.
Besides Dr. Nixon's significant contributions to the field of equine orthopedics and translation to human orthopedics, he was a beloved husband and father of three wonderful children. He was also a highly valued friend and colleague to so many that had the opportunity to work beside him.
He had a dynamic character, enjoyed the open water and ocean, was a talented sailor, and was the life of the party wherever he went. His passion for his work and for play was infectious and he inspired those who were fortunate enough to work and play alongside him. He will be greatly missed by his family, friends, those he trained, and his colleagues for many years to come.