Mentor & Mentee Series—Interviews with AO Trauma NA luminaries
Watch these masters tell stories from their careers and share advice on patient care, education, and work-life balance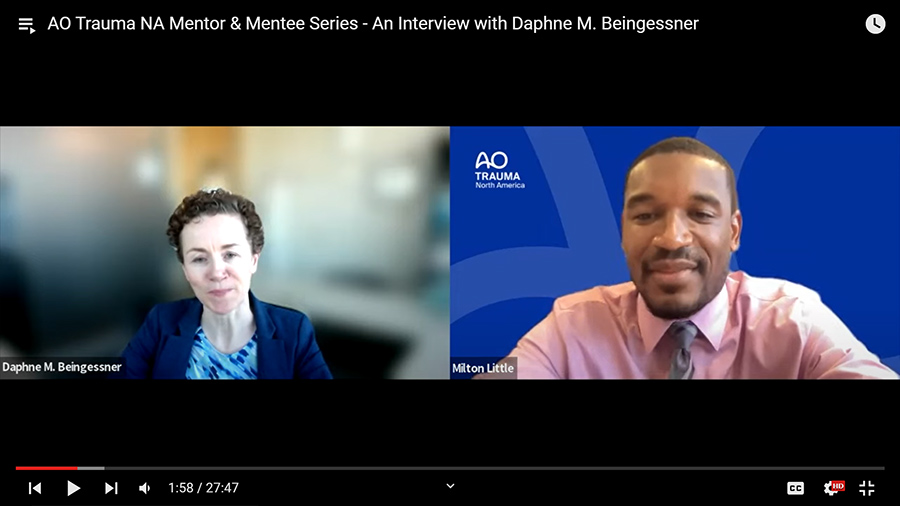 Written by Patrick Schottel, MD
The Mentor & Mentee project is a video recorded interview series that was started in 2020. The object is for AO Trauma NA mentees to interview their mentors and give them a 20-30 minute platform to talk about memorable events in their careers as well as anything else that has had a profound influence on their lives. 17 interviews have been published to date, and our aim is to add 1-2 new interviews every month.
The goal of the series is to provide a collection of interviews with senior AO TNA members who have had an outsized impact on the field of orthopedic trauma. In sharing their anecdotes of training under orthopedic trauma legends, their teaching and patient care philosophies, as well as work-life balance advice, we hope to inspire and educate AO TNA members.
Our current list of interviewees include:
Keith Mayo, MD
Robert Teitge, MD
Robert Meek, MD
Lawrence Bone, MD
Andrew Burgess, MD
Raymond White, MD
Lewis Zirkle, MD
James Kellam, MD
Jack Wilber, MD
Jorge Alonso, MD
Marc F. Swiontkowski, MD
Adam Starr, MD
Daphne M. Beingessner, MD
Carla Smith, MD, PhD
Jesse Jupiter, MD, MA
Michael Baumgaertner, MD
Thomas DeCoster, MD
You can watch all these interviews and find future interviews here on our YouTube channel.