Musculoskeletal issues among surgeons
The importance of ergonomic-minded practice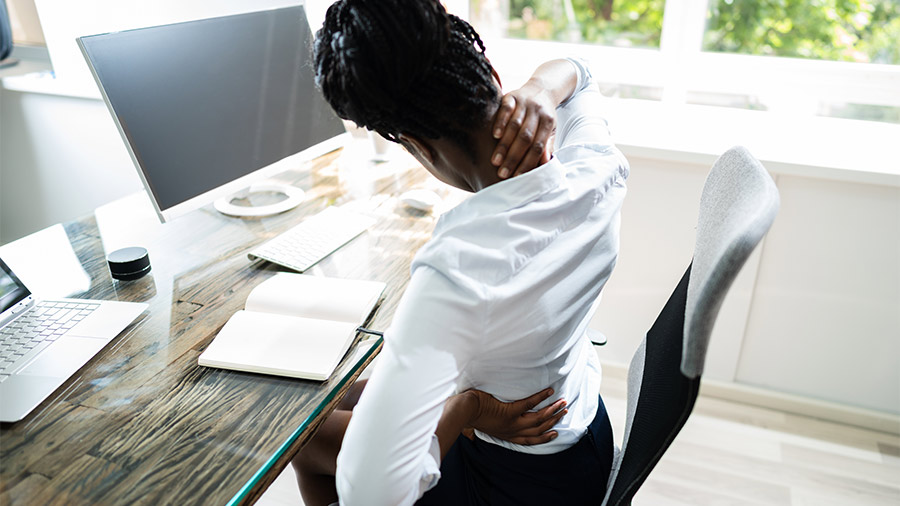 Written and edited by Nida Fatima, MD and Jakob Bower.
Physicians, especially surgeons, are expected to do a variety of repetitive tasks, often in awkward positions, posing high risk for injuries to muscles, tendons, and nerves. Luckily, these are all preventable disorders when you recognize how they occur, and there's an increasing amount of research focused on understanding and preventing these types of injuries.
A study focused on healthcare workers found these to be the most reported ergonomic hazards:
Muscle aches/sprains (76.5%)
Excessive stretching of muscles (67.5%)
Elbow/wrist/neck pain (56.0%)
Problems of body posture (56.0%)
Bending/twisting at work (55.5%)
Other ergonomic hazards included lifting heavy loads (50.0%), chronic back pain (46.5%), carpal tunnel syndrome (27.0%), hamstring pain (26.0%), and injury due to fracture (22.5%).
The variety and prevalence of these issues helps illustrate the degree to which healthcare workers put their bodies at risk of musculoskeletal injury. In fact, more people are kept out of work due to work-related musculoskeletal disorders than any other group of disease.
For health care workers, work-related musculoskeletal disorders are the number one cause of absenteeism.
Auerbach et al's 2011 survey reported a career prevalence of 27.6% for cervical radiculopathy among orthopedic spine surgeons. Within that group, 10.7% required surgical intervention and 18.9% required time off work, ranging from a few days to forced early retirement.
There is a dire need for ergonomics education among surgeons. Education on workplace safety and ergonomics has been shown to be effective in increasing awareness and reducing risk factors for many occupations—the same is true for healthcare.
Surgeons and hospital management should do extensive research and collaborate with experts in ergonomics and occupational medicine to examine current trends and develop a broader, system-based approach within the surgical suite.
While there is promising evidence for the use of certain ergonomics interventions—such as forearm supports, haptic feedback computer mice, and stretching programs—further research must be done to uncover what will best suit healthcare occupations.
Perhaps findings related to ergonomics and workplace safety could eventually be integrated with research on preventing surgeon burnout and attrition, considering the amount shared risk factors.
With this knowledge, and through efforts in curating wellbeing programs, we might be able to better protect the health and career longevity of our workforce and subsequently deliver superior patient care.
References:
Epstein S, Sparer EH, Tran BN, et al. Prevalence of Work-Related Musculoskeletal Disorders Among Surgeons and Interventionalists: A Systematic Review and Meta-analysis. JAMA Surg. 2018;153(2):e174947.
Punnett L, Prüss-Utün A, Nelson DI, et al. Estimating the global burden of low back pain attributable to combined occupational exposures. Am J Ind Med. 2005;48(6):459-469.
Wright ME. Long-term sickness absence in an NHS teaching hospital. Occup Med (Lond). 1997;47 (7):401-406.
Auerbach JD, Weidner ZD, Milby AH, Diab M, Lonner BS. Musculoskeletal disorders among spine surgeons: results of a survey of the Scoliosis Research Society membership. Spine (Phila Pa 1976) 2011;36(26):E1715-E1721.
Dennerlein JT, O'Day ET, Mulloy DF, et al. Lifting and exertion injuries decrease after implementation of an integrated hospital-wide safe patient handling and mobilisation programme. Occup Environ Med. 2017;74(5):336-343.
Van Eerd D, Munhall C, Irvin E, et al. Effectiveness of workplace interventions in the prevention of upper extremity musculoskeletal disorders and symptoms: an update of the evidence. Occup Environ Med. 2016;73(1):62-70.