Computer-Assisted Craniomaxillofacial Surgery System
Understanding possible applications and benefits of computer assistance in maxillofacial surgery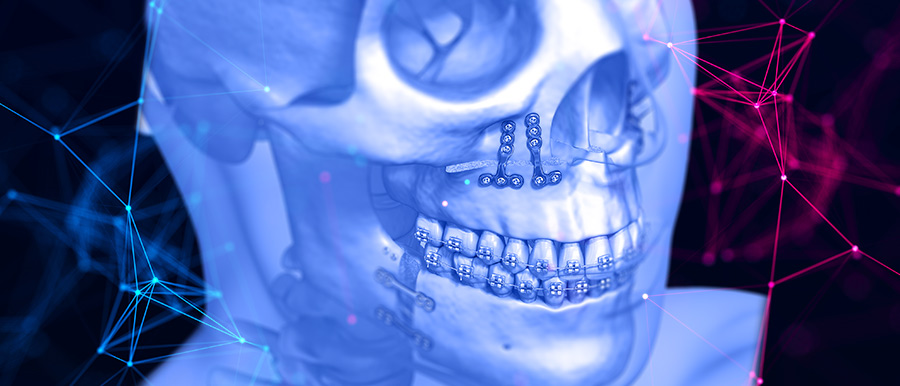 Innovation and technology are rapidly progressing and computer-assisted surgeries (CAS) are gaining worldwide importance.
AO North America faculty have been actively engaged in research and education on this subject, and multiple studies exploring CAS in craniomaxillofacial surgery have shown these systems could have incredible implications for clinical outcomes and cost efficacy.
What is CAS?
CAS is a term that includes any sort of surgical planning or execution utilizing software development, advanced imaging, analysis, planning, or rapid prototyping.
New technologies are quickly joining or replacing traditional diagnostics and treatment planning, but they must first demonstrate clinical and statistically significant results.
For example, computer assistance allows surgeons to rapidly switch between various diagnostic image data such as CT, MRI, and Ultrasound, and can provide the ability to perform simulations on superimpose images 1.
The CAS workflow dogma has been presented here as suggested by Edwards SP 2010 et al 2.
Benefits of CAS in CMF surgery
CAS technology offers substantial improvements regarding functional and aesthetic aspects in a variety of surgical procedures.
Augmented reality principles in computer-aided navigation systems result in reduced time and costs of surgery. Ewers et al 3 shows us an operating room utilizing CAS in the image below.
The surgical planning phase consists of a three-dimensional image generated from a high-resolution CT scan and loaded into CAD/CAM software. One of these examples has been demonstrated by Levine JP et al 4
The computer-generated bony reconstruction improves the ability to plan and guide cutting of the bone and, acting as splints, can precisely reposition the bone and direct plate placement.
During the surgical phase, instrument navigation tools offer the surgeon interactive support through operation guidance and control of potential dangers.
Below is another example of standard orthognathic surgical planning utilizing CAS proposed by Olszewski R et al 2011 5 after conducting a systematic review of 292 articles. Their results showed that surgical engineering plays a pivotal role in the development and improvement of cranio-maxillofacial surgery procedures.