AO Spine NA Fellows Forum 2022 abstract and poster winners share thoughts on Banff event
Highlights included practical discussions with faculty and opportunities to make new friends and connections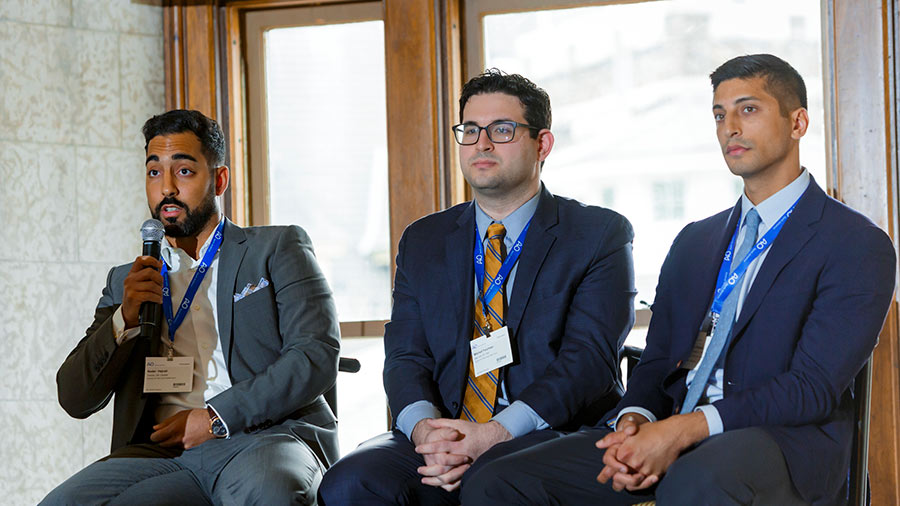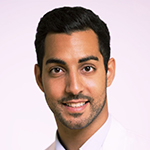 Dr. Nader Hejrati – Best Abstract Presentation, 2022 AO SNA Fellows Forum
Promoting functional recovery and neural circuit regeneration following cervical spinal cord injury through bioengineered neural stem cells and focused robotically driven rehabilitation
After almost a year of an intense yet extremely educational fellowship at the Toronto Western Hospital, the Fellows Forum in Banff was an excellent event to culminate my experience gathered through the University of Toronto Spine Program. On that note, I would like to express my gratitude to my mentors Dr. M. G. Fehlings, Dr. S. J. Lewis, Dr. E. Massicotte, and Dr. R. Rampersaud, who have tremendously shaped my path in both a professional and personal way.
The Fellows Forum provided me with the opportunity to present my basic research project, which examined bioengineered neural stem cells in combination with focused robotically driven rehabilitation to promote functional recovery and neural circuit regeneration after cervical spinal cord injury – a project that I would not have been able to realize without the support of my mentor Dr. M. G. Fehlings and our basic science team.
The faculty lectures were extremely useful and highlighted relevant topics in a spine surgeon's everyday clinical practice. The well-organized program encompassed great social events where I got the chance to meet fellow colleagues from across North America and make new friends.
Finally, the event venue and its environment are undoubtedly a must-see. As a Swiss citizen, the Canadian Rocky Mountains reminded me of the AO origins in Davos, Switzerland, and made me almost feel like being at home surrounded by the Swiss Alps.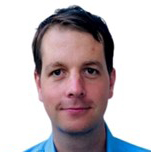 Dr. Lukas Grassner, MD, PhD – Best Poster Presentation, 2022 AO SNA Fellows Forum
Serum neurofilament light (NF-L) and glial fibrillary acidic protein (GFAP) biomarkers and their association with MRI findings in acute human traumatic spinal cord injury
The Fellows Forum was a great opportunity to interact with colleagues from other institutions in a beautiful and stimulating environment.
The Forum was thoughtfully organized to include a mix of lectures by the faculty, research presentations by the fellows, and opportunities to discuss personal and professional successes and struggles. I especially enjoyed the fireside discussions where challenging and thought-provoking cases were presented.
Together with the social activities, the Fellow Forum deepened a sense of comradery amongst the fellows and provided a wonderful opportunity to engage with thought-leaders. This was definitely a memorable experience and one that I am sure will be beneficial for my career and for future colleagues.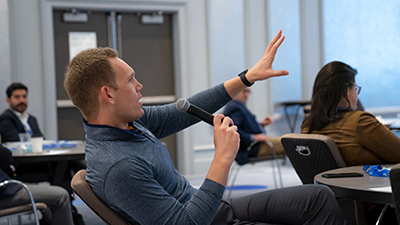 AO Spine NA Seminar - Managing Complications: Clinically, Ethically, and Legally
Join a team of AO Spine NA experts and an experienced medical attorney as they discuss cases with complications and how to manage them outside of the operating room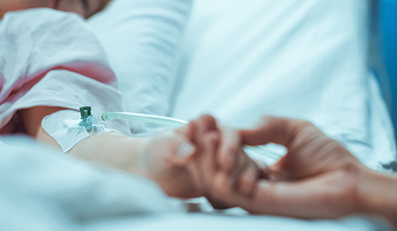 Why understanding fear and hope is important to being a surgeon
Wishing to be called a surgeon is easy—being submissive to the compassion and responsibility that the title brings with it is difficult