AO Spine—celebrating a distinguished history
Looking back at the first 20 years of AO Spine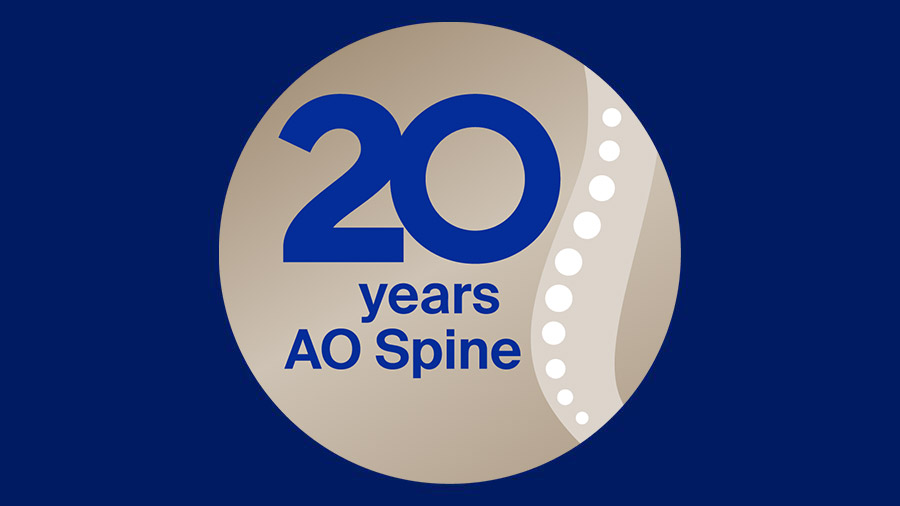 2023 is an extraordinary year for AO Spine: we are celebrating our 20-year anniversary as the leading worldwide academic community for innovative education and research in spine care. Join us in marking this milestone at our events and share your memories and messages on the AO Spine celebration wall.
Asdrubal Falavigna, Chairperson AO Spine:
"Happy 20-years celebration, AO Spine!
AO Spine has accomplished things no one else had done before and grown into a world leader in spine education and research. Today, we celebrate the extraordinary achievements of the first 20 years: the AO Spine Knowledge Forums, Global Spine Congress, Global Spine Journal, Global Spine Diploma and Exam, thousands of education activities, faculty training, diversity, and a unique network of friends worldwide.
Many factors determine the success and strength of an organization, and AO Spine has made us, the people, the most valued asset, our members and staff. We have learned valuable life-lessons in friendship and trust along the way. I am grateful to work with talented, dedicated, and passionate people every day. My special thanks go to Past Chairs John Webb, Max Aebi, Mike Janssen, Luiz Vialle, Jeff Wang, Daniel Riew, and S. Rajasekaran for carrying the torch.
Today we are a network of more than 30,000 spine specialists willingly dedicating our ideas and time to AO Spine. A journey to become a unique global organization while staying sensitive to regional diversity and needs is not easy. It takes courage, passion, boldness, and perseverance to build a bridge to the future. Let's continue to shape the future together! I am proud of this milestone and can't wait to see what the future holds for all of us at AO Spine.
My heartfelt congratulations to the entire AO Spine family on our successful journey—I wish us all a happy 20th anniversary. Here's to the next twenty amazing years of improving spine patients' lives!"
AO Spine in numbers 2003–2023:
---
3'100+
educational events
---
225'000+
trained surgeons
---
260+
manuscripts from the Knowledge Forums
---
12'000
abstracts submitted to GSC
Looking back at the first 20 years of AO Spine
In fact, AO Spine's pedigree goes back a little further than 2003—to 2000, when a group of spine surgeons succeeded in campaigning for greater autonomy under the auspices of the AO Foundation.
By the turn of the millennium, ...
... the AO Foundation had established an unparalleled reputation in the understanding and treatment of fracture healing techniques and technologies. Leading spine surgeons within the AO now believed that there was potential in broadening its scope to recognize the particular needs and challenges of their specialty. John Webb, Max Aebi, and Paul Pavlov were instrumental in establishing the AO Specialty Board for spine surgery, which was given responsibility for developing spine as a key competence area for the AO Foundation.
Right from the start, the organization's mission has been to provide the highest levels of support for spine surgeons, researchers, and other spine professionals. The keystones of this approach have remained consistent throughout our lifetime: education, research, and community.
The first Chairperson was John Webb, and in the first year under his leadership the spine board created task forces concentrating on Elderly Spine, Minimally Invasive Surgery, Deformity, Non-Fusion, and Trauma; organized a number of international Spine Courses, Symposia, and Live Surgery presentations; and inaugurated AO Spine Reference Centers in China.
The range of the spine board's ambitions ...
... and their independent spirit may have raised eyebrows in some quarters, but they drove forward with enthusiasm. Initially it was no easy task to increase the awareness of spine specialties and begin to change attitudes outside and inside the profession. Over time the team managed to generate the optimal combination of factors that would appeal to surgeons who were already familiar with the AO's philosophy, and more widely to academics involved in spine research, the spine establishment, and neurosurgeons. One particularly important aspect would be the organization's emphasis on regional representation as part of a flexible global operation. In 2003 Chairperson Max Aebi oversaw the establishment of new Regional Boards in North America, Latin America, Europe, and Asia Pacific, with country councils to provide a level of autonomy and local decision-making where appropriate. This democratic structure enabled us to tailor the assistance and training we could provide to the unique priorities of each local spine community.
2003 was also the year when AO Spine outgrew...
... the concept of the Specialty Board and came into its own as the organization we recognize today. Its stated aim was to add cutting edge spine surgery to the AO's gold standards, supporting continuous improvements for the global spine community of surgeons, researchers, healthcare funders, and patients. To assist in fulfilling this vision AO Spine launched its own spine-oriented website and set up the first membership scheme to bring together spine orthopedic or neuro-trained surgeons, researchers, ORP staff and spine therapists. By now we were running more than 40 educational events, funding short-term and long-term Fellowships, and beginning long-running research projects into disc degeneration.
With AO Spine's structures and ethos in place, 2004 and 2005 were periods of consolidation and development, expanding the breadth and depth of our training course program, increasing fellowship opportunities, and forging new partnerships to provide surgeons' input into new products and service offerings.
2006 marked a new milestone: ...
... the creation of a Iegal entity for AOSpine International within the framework of the AO Foundation under Chairperson Michael Janssen. This was a prerequisite for building a global spine community under a single roof with a transparent legal regional and local management infrastructure, plus the ability to establish other legal entities around the world—essential now that AO Spine now had a presence in 50 countries.
An AO Spine planning meeting in 2007 sought the input of 30 high-level international spine surgeons together with members of the AO Foundation and industrial partners to define ten measurable strategic initiatives that would form the organization's focus for the following five years, including creating value for members and setting new standards in education and research. The year also saw the launch of a new subscription-based membership program with a range of levels, structured to nurture the potential of AO Spine members by delivering a unique package of benefits to help them in their professional careers.
By 2008 AO Spine had got well into its stride, strengthening its member benefits with the development of CaseBase, which enabled members to get feedback from other surgeons on interesting patient cases and form discussion groups—a forerunner of the interactive AO community that we see today in the myAO app. Clinical research enjoyed an expansion with the new Cervical Spondylotic Myelopathy–International Study (CSM-I). The importance of the Middle East as a hub for spine was officially recognized with the creation of AO Spine Middle East as the fifth AOSpine Region. In addition, the organization's first international event was held in the Asia Pacific region: the World Forum for Spine Research (WFSR), created as an academically independent platform to foster new ideas and progress in basic, translational, and clinical research of spinal disorders.
Many developments ...
... were unveiled in 2009 as the role of Chairperson passed to Luiz Vialle, including a new package of support and training for faculty, and the design of AO Spine Principles to ensure a consistent approach in course modules. Another significant first was the inaugural Global Spine Congress (GSC) held in San Francisco, USA. With a broader scope of topics than the WFSR, the GSC epitomized the confidence and outward-facing nature of AO Spine as an international organization.
In 2010 education was very much to the fore, with many decisions made about AO Spine's long-term strategic direction at an education workshop in Rio de Janeiro, Brazil, among them developing innovative educational tools and formats, working toward positive cultural change, and building stronger learning communities. A new WFSR focusing on intervertebral disc was held in Montreal, Canada, and was a significant success for the organization. Another mainstay of AO Spine activities took wing, with the creation of our first Knowledge Forum (KF). Led by key opinion leaders in specific spine pathologies, KFs aimed to generate and disseminate knowledge by publishing evidence-based recommendations, developing and updating classifications and clinical practice guidelines, and performing clinical studies.
The first AO Spine Knowledge Forum ...
... concentrated on spine tumors, and additional Knowledge Forums were created in 2011: deformity, trauma, spinal cord injury, and degenerative/biologics. Development of the AO Spine Curriculum for Lifelong Learning began with the definition of essential competencies for each of the six spinal pathologies. These were piloted at ten educational courses around the globe and from this point they would form the framework of our educational programs. Following its successful implementation in Europe, a new training program for course chairpersons was adopted for all regions, designed to equip them with the skills they would need to create and run outstanding courses aligned to the Curriculum. More than 700 spine care professionals from 72 countries participated in the 2011 Global Spine Congress (GSC) in Barcelona, Spain. And the new Global Spine Journal (GSJ) was launched alongside the Evidence-Based Spine Journal (EBSJ) offering peer-reviewed scientific articles as well as original research, reviews, commentaries, editorials, technical reports, and case studies.
In 2012 AO Spine welcomed Jeff Wang as its new Chairperson. Work commenced on the AO Surgery Reference covering every aspect of the spine, a major project which would culminate in a comprehensive teaching and clinical resource to aid treatment of spinal disorders. The WFSR in Helsinki, Finland shared knowledge from renowned clinicians and established researchers in the field of intervertebral disc and back/neck pain.
Highlights of 2013 ...
... included the third Global Spine Congress in Hong Kong, an innovative educational format for the AO Spine Davos Courses, plus the development of a new thoracolumbar (TL) injury classification system. The KF Deformity PEEDS project sought to answer questions about the suitability of large spinal procedures for patients aged 60+.
For 2014 the priority was on sharing knowledge and expertise. The AO Spine Research mentoring program paired young surgeons with experienced AOSpine surgeons to encourage best practice in research projects. Like fellowships, this initiative enabled AO Spine to spread know-how and skills across cultures and countries. During the fourth edition of the WFSR, more than 200 registered participants from 35 countries gathered in Xi'an, China, to exchange knowledge on the recent advances on the intervertebral disc.
AO Spine continued to invest in its academic credibility in 2015 with an increased Knowledge Forum research output, an increased publishing schedule for GSJ, and an enlarged participant base at the Global Spine Congress in Buenos Aires, Argentina. Dan Riew took up the reins as the organization's new Chairperson. More use was now being made of online options for learning materials, backed up by awareness campaigns on social media.
In 2016 AO Spine began implementing the TEAM guiding principles into its activities: Transparent, Egalitarian, Accountable, and Meritocratic. New Terms of Reference were established for all boards and commissions. The increased success of the Global Spine Journal and Global Spine Congress confirmed the community's vast interest in knowledge exchange—with the Dubai, United Arab Emirates event combining GSC and WFSR. The introduction of novel educational concepts such as the BioSkills Simulator Lab at the AO Davos Courses, plus a new global research strategy, laid the foundations for future positive impact in education and research.
AO Spine strengthened its academic position ...
... throughout 2017, publishing AO Spine-developed clinical practice guidelines for acute spinal cord injury and degenerative cervical myelopathy. We welcomed over 11,000 professionals to 206 educational events. The three-pillar global research strategy—clinical research, preclinical research, and research training—continued to advance spine research. We reinforced our reputation for thought leadership by publishing over 92 peer-reviewed scientific papers and presentations. Hosted in Milan, Italy, the Global Spine Congress had now become an annual event, while the Global Spine Journal continued to increase its importance amongst the spine journals. The AO Spine community passed a landmark with a growth in membership to 6,500 people.
One key advancement in 2018 was the first disease-specific patient outcome tool to collect information from spine cancer patients, namely the Spine Oncology Study Group Outcomes Questionnaire (SOSGOQ2.0), aiming to evaluate treatment and improve quality of life. AO Spine launched a major re-appraisal of its global activities and research, led by its new Chairperson Shanmuganathan Rajasekaran, to ensure it was better able to meet health care professionals' needs. We expanded our use of webinars and e-learning to help participants develop their theoretical knowledge, adapting our face-to-face courses to more clearly focus on practical skills. Another successful Global Spine Congress was held in Singapore, and during the year AO Spine was also proud to build community engagement by introducing in-hospital education to all regions.
2019 was marked by the launch of RECODE-DCM, an international, multi-stakeholder initiative to create a 'Research Toolkit' to help accelerate knowledge discovery and improve outcomes in DCM, while KF Tumor's treatment recommendations and classifications for metastatic spine tumor were adopted and implemented in the AO Surgery Reference. The GSC saw further success with its event in Toronto, Canada.
For AO Spine as for everybody else, 2020 was dominated by the rise of COVID-19. In-person educational events had to be severely curtailed, but our experience in conducting webinars and other virtual activities meant that we were able to pivot rapidly to move many training courses online. Cutting-edge events included the two-day AO Spine Asia Pacific First Virtual Conference, and six dedicated webinars from AO Spine Clinical Expert Advice Forums on everyday clinical scenarios. Global Spine Journal became the first open access journal in spine surgery to receive an impact factor. We conducted a pilot of the newly-designed AO Spine Global Diploma Exam—a formal assessment of spine surgical knowledge and skills. KF Trauma published PROST, the first universal outcome instrument specifically for spinal trauma patients.
The Global Spine Diploma (GSD) Program ...
... picked up steam in 2021, building on the Global Spine Diploma Exam which saw worldwide expansion following its trial period. After being canceled in 2020, Global Spine Congress 2021 returned for face-to-face presentations in Paris, France with a hybrid format that allowed many sessions to be streamed online for those unable to travel. AO Spine also published a Patient Profile for Adult spinal deformity (ASD) to help clinicians navigate the treatment options available for this broad spectrum of pathology. Two AO Spine Classification Systems were validated, ensuring best practice for Subaxial Cervical Spine Injury and Sacral issues. Asdrubal Falavigna took over as AO Spine's Chairperson.
In 2022 AO Spine published the results of research conducted the previous year into appropriate telemedicine utilization in spine surgery, and KF Tumor published a scoping review on the systemic considerations for the surgical treatment of Spinal Metastatic Disease. KF Deformity's first large-scale, international, multicenter, prospective study on Spinal Deformity Intraoperative Monitoring (SDIM) entered the statistical analysis phase. As restrictions loosened, AO Spine in-person events could be scheduled once more, and many of our community were delighted to be able to meet up again at training courses, the GSC in Las Vegas, USA, and the Davos courses.

Now that we have reached the mature age of 20 years in 2023, we would like to extend our heartfelt thanks to everybody who has contributed to the success of the organization over the years—our boards and faculty, the AO Spine team, and most especially to you, our members, and supporters!