New format and content for the AO Spine Latin America Continuing Education Program in 2023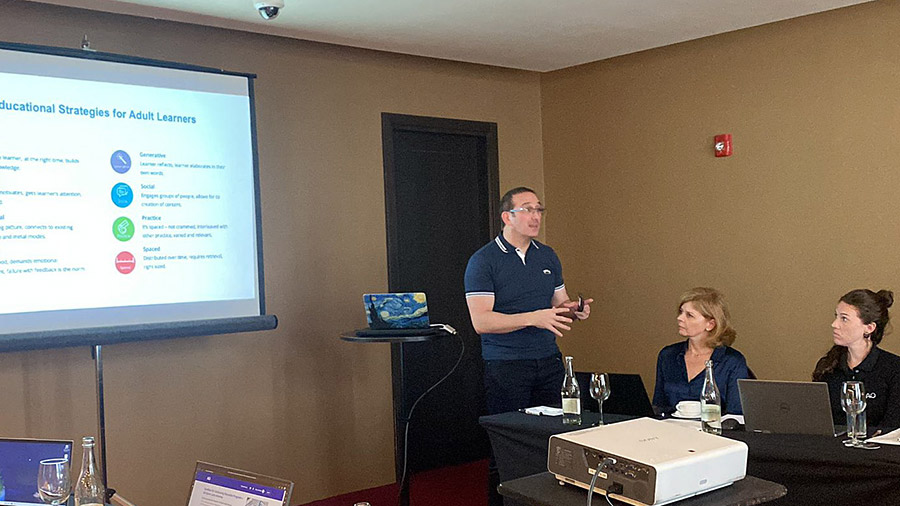 The AO Spine Latin America Continuing Education Program will launch in a new format with revised and updated content in 2023. The revised modular program is designed for completion within 12 months and participants will enjoy more live activities than before.
Tutors of the Continuing Education Program from all over Latin America got together in Montevideo, Uruguay, in November 2022 to design and finalize the academic and structural updates of the program. The main changes for 2023 are related to the completion time, which will be reduced from 18 to 12 months, and strengthening of the modular features of all spine pathologies within a specified timeline. Also, the number of quizzes will be reduced.
The new format will offer more synchronous, live activities with newly updated content. Another novelty is the incorporation of Online Working Tables, where participants will present a clinical case to a group with a tutor and other participants of the program.
Tutors' engagement is crucial
The Continuing Education Program tutors first got together in La Plata, Argentina, in 2021 to design the program, and ever since, with its success and resourceful outputs, the annual event has had a place in the AO Spine Latin America calendar.
Program Director Néstor Fiore and AO Spine Latin America Chairperson Juan Emmerich coordinated this year's edition, which focused on designing new activities and new creative ways to offer more interaction within the program.
Engaging tutors will be even more important and decisive in the new format.
Fernando Nin, one of the tutors, was satisfied with the outcome and found the meeting productive. "Tutors from the main countries of the region came, and the excellent working environment allowed us to plan the annual continuing education course for Latin America. By the end, we came up with very interesting proposals and challenges for next year, always focusing on quality training for our spine specialist colleagues."
Other participants of the tutors meeting were Bruno Saciloto, Joana Guasque, and Tulio Rangel from Brazil, Carlos Zanardi and Juan Pablo Guyot from Aregentina, José Dangond and Rodolfo Paez from Colombia, and Francisco Sanchez from Mexico.
The Continuing Education Program tutors meeting in Montevideo, Uruguay, November 2022
Continued education for regional needs
The Latin American Continuing Education Program is an online postgraduation program for spine specialists, both orthopedic and neurosurgeons. The modular 12-month program covers all spine pathologies and comprises synchronous and asynchronous activities, alongside complementary face-to-face activities. It offers solid academic training, focusing on classical and current academic concepts in spinal surgery. The program allows to learn and to correctly evaluate different situations of diagnosis, treatment, and surgical techniques and problems related to the spinal column.
The program concludes with a final online exam and successful candidates receive a certificate for completing the program and exam.
The program is an AO member privilege, driven and taught by renowned spine surgeons from Latin America and tailored specifically to regional surgeons' needs.
---
Registration for the 2023 program is closed. Stay tuned for upcoming calls and find out more about the AO Spine Latin America Continuing Education Program.
For further information, email contact Carla Vinize at educ.continua@aospine.org.
You might also be interested in: