Blended online learning is effective and significantly decreases learning gaps also in spine surgery
BY DR ALPASLAN ŞENKÖYLÜ AND DR EMRE ACAROĞLU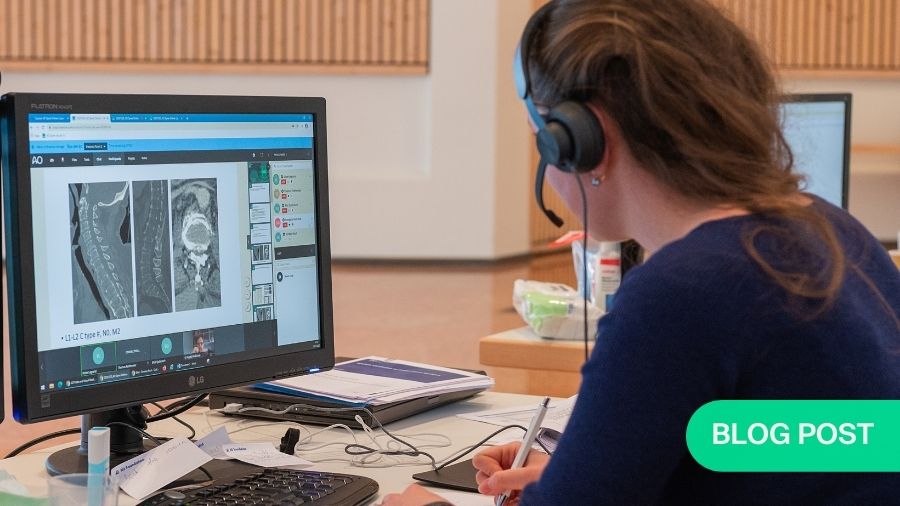 The COVID-19 pandemic led to scarcity of face-to-face education from one day to the next everywhere in the world. While faced with a necessity to transfer education online, we lacked data on the effectiveness of online blended courses. This was the chief motivator for the study, "Evaluation of Blended Online Learning in Three Spinal Surgery Educational Courses," published recently in the Journal of European CME.
Our study showed that participants' learning gaps decreased in all three courses and with statistical significance in two of three courses. We found that a fully online blended learning course on spine surgery can be delivered effectively with a high participant and faculty satisfaction rate, and that the asynchronous part of such a course contributes significantly to learning.
AO Spine, as the global leader in spine surgery education, has significant experience in this training subspecialty, but this experience had not been adequately published in the literature. COVID-19—and the AO's agile pivot to online education in the face of the pandemic—proved to be an opportunity for the study's authors. We felt that the results of this experiment should be shared with colleagues across the world for developing substantial online educational activities in the future.
This paper is significant for its novelty: This is one of the first papers about the evaluation of distance education accomplished by fully online blended learning on spine surgery. Besides the pandemic, there are many people—especially in underserved parts of the world—for whom travel to a course location is and will remain untenable due to economic reasons. So, we expected online blended learning to stay in service of these people, which makes proving its effectiveness even more important.
The main difficulties we encountered in developing and executing the online blended courses were the lack of enough participants and that this was an untested format. Obviously, potential learners are exhausted due to webinar fatigue, a prominent obstacle for fully online courses; we believe this has been a general problem during the pandemic and won't be a big issue after the pandemic. With regard to the untested format, developing acceptance and buy-in-from all stakeholders—including, but not limited to faculty—was a major problem; people were reluctant to accept this as an effective modality and this is reflected in our registration numbers.
Robust resources are a must
At the same time, there were some factors in our favor. The pandemic rendered any other course format almost impossible, and that may have been a factor in our favor. After all, considering that the predominant pandemic-era educational offering was webinars only, we could create a more comprehensive and interactive learning experience compared to webinars, and this was very much appreciated by participants and faculty alike.
Another factor in our favor was that AO Spine already had plenty of online resources available, such as e-books, surgical videos, manuscripts, and apps, so construction of an online syllabus and content were not that difficult for us. Organizations that would like to conduct online blended courses should have robust online resources; otherwise, maintaining the asynchronous part might be troublesome.
Secondly, training the online faculty before the course resulted in more motivated tutors who asked effective questions for facilitating discussions and providing feedback to participants.
'Perseverance and engagement' a major challenge
Retention of faculty and participants in the learning management system was one of the critical online learning issues underscored in the study. Perseverance and engagement emerged as key factors. Once registration of online blended learning course participants was complete, motivating and retaining faculty and participants become a major challenge. We worked hard to establish a faculty training program before the courses with invaluable support from the AO Education Institute, and we believe this program was a major factor in persuading the course chairpersons, educational advisors, and faculty of the feasibility of this learning/teaching experience. And then, these people were very much instrumental in motivating participants to participate in the activities presented in the learning environment from start to end.
It's important to mention that our faculty members were very well trained before the courses, and they understood the expectations of the event. They all knew the importance of interactivity and how to facilitate online discussions at a high level. Active participation by online faculty positively affected participants' engagement since they motivated learners with highly interactive content. At the same time, participants promoted peer-to-peer learning.
'Blended online' will stay in toolbox
At the time the study was published, although we had demonstrated that online learning is effective (at least in significantly decreasing participants' learning gaps), we did not yet know whether it would be as—or more—effective (as the standard format of online asynchronous (self-directed) learning followed by in-person, face-to-face synchronous learning. In this regard, the AO Davos Courses 2021 had two very similar endoscopy courses in two formats: online, as well as online followed by in-person, face-to-face learning. This afforded us the ability to compare these formats for their effectiveness, and we will be writing another manuscript on this experience—but I can say that our results, while confirming the effectiveness of the online format, also demonstrated that it is less effective compared to the online face-to-face blend. Based on this, unless another pandemic or similar situation imposes face-to-face meeting restrictions, the online format we discuss in our paper is not likely to become "the" standard AO Spine educational offering. On the other hand, it will remain in our toolbox as an alternative solution in delivering educational services to the underserved areas of the world.
Going forward, it is important to know how the learning environment is used and the influences of the tools and techniques that distinguish the differences in learning outcomes as the technology evolves. As a surgical specialty, spine education needs more hands-on and practical exercises. This is a limitation of fully online learning. Technological improvements such as virtual reality and augmented reality would be robust opportunities for providing a more efficient learning environment and compensating for online spine education's limitations in the future.
Emre Acaroğlu
, MD, an orthopedic surgeon and traumatologist based in Ankara, Turkey, is the current chairperson of the AO Spine Education Commission. He graduated from
Hacettepe University Faculty of Medicine
in 1986, specializing in orthopedics and traumatology. In 2002, he became a professor and continued to serve as a lecturer at Hacettepe University until 2009. Dr. Acaroğlu has been the founding director of
Ankara Spine Center
since 2002. In addition to his expertise in health care, he also conducts academic studies on online and distance learning and has completed the online and distance learning master program at Open University Milton Keynes in the United Kingdom.
Alpaslan Şenköylü
, MD, is a spine surgeon practicing in Ankara, Turkey. He is a member of the
Global Spine Diploma
Executive Council and the education officer-elect of AO Spine Europe and Southern Africa Board. He gained his medical expertise at Ankara's
Gazi University
, where he was a resident from 1995–2001 and has been a professor in the department of orthopedics and traumatology since 2013. Additionally, he is a respected researcher who has published on a variety of topics, ranging from pediatric deformity to emerging technologies in spine surgery such as 3D printing and biomaterials.
Additional resources:
Emre Acaroglu, Muhammed Assous, Richard Bransford, Luiz Gustavo Dal Oglio Da Rocha, Asdrubal Falavigna, John France, Emiliano Vialle, Atiq Uz-Zaman, Ginesa Aviles, Brian Amster, Michael Cunningham & Alpaslan Şenköylü (2022)
Evaluation of Blended Online Learning in Three Spinal Surgery Educational Courses
, Journal of European CME, 11:1.
Find information on upcoming AO Spine courses and events in your region in the Courses and events finder, AO Spine Education Curricula and learning formats on our website, and information on past and future AO Davos Courses.
Disclaimer
The articles included in the AO Spine Blog represent the opinion of individual authors exclusively and not necessarily the opinion of AO Spine or AO Foundation.