myAO: Discover the improved digital tool to connect and engage at events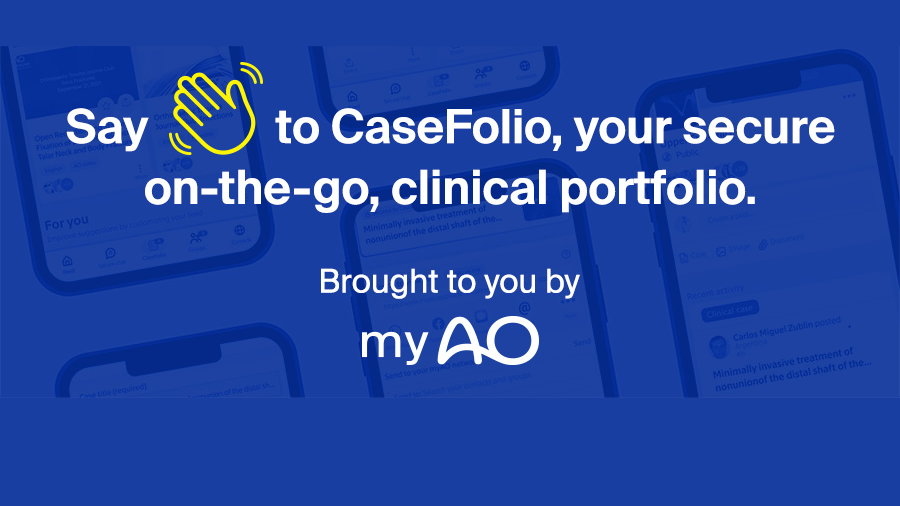 myAO—the rising star in the surgical world—reached over 50,000 surgeons worldwide mid-2022 and continues to grow every day. Following the introduction of better search options, secure discussion groups, encrypted chat, and integration to AO events, myAO takes clinical data sharing to a new level with the release of CaseFolio, your secure, on-the-go, clinical portfolio.

myAO's benefits for the surgeon's daily practice?
From event promotion and secure connection to surgeons around the world to curated content tailored to your interests, myAO has become an indispensable tool for more than 50,000 surgeons across all clinical specialties.
Share and present cases easily with CaseFolio, your secure, on-the-go, clinical portfolio
The AO is delighted to announce the release of CaseFolio—designed with surgeons from the AO network and based on community feedback—your secure, on-the-go clinical portfolio. The initiative is designed to support surgeons in their daily practice by providing them with a secure, easy, and organized way to manage their clinical images and cases.
This new feature allows you to share clinical images securely with the myAO network and with external surgeons. It is just like WhatsApp, but better, with patient de-identification prompts, watermarks, and no third-party data sharing. CaseFolio makes it easier to organize, retrieve and edit clinical images with editing tools such as free writing, angle measurement, and black-and-white inversion.
CaseFolio also makes it easy to avoid mixing clinical photos with holiday photos on a mobile phone. With myAO and CaseFolio, the user can organize single clinical images into fully curated clinical cases that are editable and accessible anytime from anywhere. This flexible tool saves time and effort, making it easy to and build up a solid portfolio for presentations*, teaching events, and congresses.
Thanks to myAO, course faculty can now connect with all course participants directly on the myAO event page. Cases can also be shared easily from CaseFolio with the entire group of participants and faculty, to bring an additional opportunity for interaction and knowledge sharing.
Sign up for myAO by using AO log-in details at www.myao.app.
The myAO platform is constantly being updated and improved and user feedback is valued. The myAO team is eager to hear how the platform can be part of surgeon's daily practice. Reach out today at myaosupport@insights.md.
*Discover the case export feature, to be released in December 2022.