New educational research publications available from clinical specialties and AO Education Institute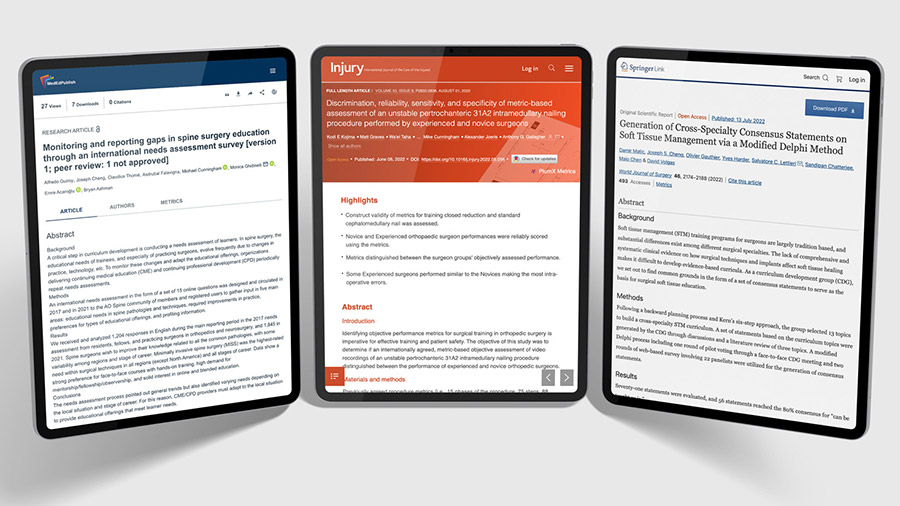 AO Trauma, AO Spine, AO CMF, and AO VET surgeons have collaborated with the AO Education Institute to publish three articles in peer-reviewed journals.
---
In the article titled "Discrimination, reliability, sensitivity, and specificity of metric-based assessment of an unstable pertrochanteric 31A2 intramedullary nailing procedure performed by experienced and novice surgeons," past AO Trauma International Board Chairperson Kodi E Kojima and coauthors validated the previously developed performance assessment metrics. They established that the metrics are capable of distinguishing between low-performing and high-performing surgeons and that they can be scored reliably by different assessors. By developing and validating discrete procedural metrics, intraoperative teaching and assessment can be standardized.

The full, open-access article is available here.
---
In the article titled, "Generation of Cross-Specialty Consensus Statements on Soft Tissue Management via a Modified Delphi Method," AO CMF faculty member Damir Matic and coauthors following a backward- planning process, selected 13 topics (eg, wound types and clinical aspects of wound healing; skin preparation and patient positioning; suture materials including barbed sutures; methods of hemostasis) to build a cross-specialty soft tissue management curriculum. Coauthors generated 92 statements related to the 13 topics that, through a modified Delphi process, were subject of two voting rounds involving 22 panelists. Fifty-six statements reached 80 percent consensus.
The full, open-access article is available here.
---
In the article titled "Monitoring and reporting gaps in spine surgery education through an international needs assessment survey," AO Spine faculty member Alfredo Guiroy and coauthors describe and analyzed 1,204 responses from 2017 and 1,845 from 2021. Respondents were residents, fellows, and practicing surgeons in orthopedics and neurosurgery from all regions. The study showed that minimally invasive spine surgery (MISS) was the highest-rated need within surgical techniques in all regions except North America and all career stages, and that there is a preference for face-to-face courses with hands-on training, high demand for mentorship/fellowship/observership, and solid interest in online and blended education.
The full, open-access article is available here.