Congratulations to the Global Spine Diploma Program graduates first class from Indian subcontinent!
Certifying knowledge, advancing careers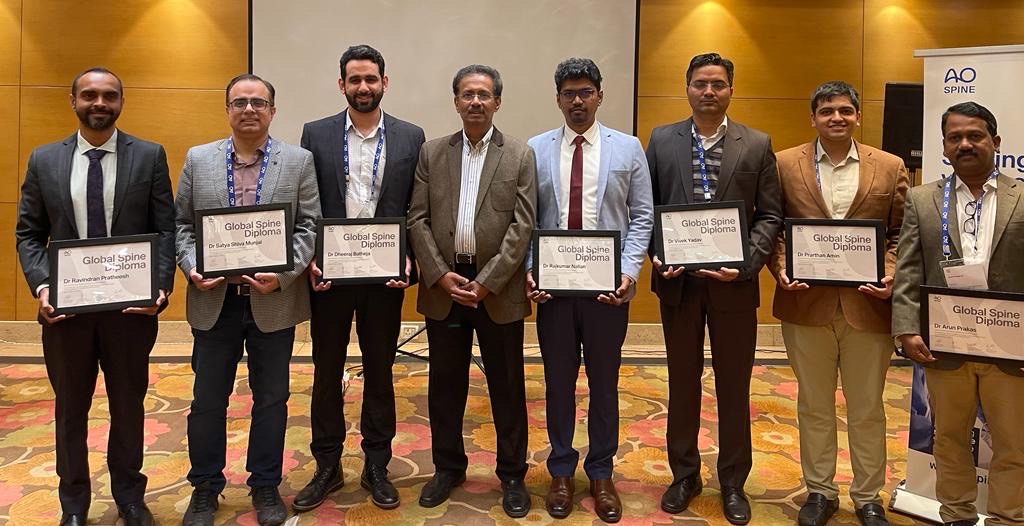 Nine surgeons from the Indian subcontinent make up that region's first-ever class of graduates from AO Spine's Global Spine Diploma Program—the first globally developed, systematic spine surgery training pathway for recently graduated orthopedic surgeons and neurosurgeons.
The GSD puts graduates on the path to AO Spine's lifelong learning journey, with a chance to certify their knowledge through the Global Spine Diploma Exam in order to ultimately advance their careers and their patients' outcomes.
In a commencement ceremony in New Delhi, India, the graduates heard from the program's cofounder, Prof S Rajasekaran, who gave an academic and philosophical talk on his reflections and learnings from 25 years in spine surgery.
Improve your decision-making and intuition
Graduates had only high praise for the program.
"The Global Spine Diploma Program is a uniquely designed modular learning [pathway] in spine surgery which ensures audiovisual learning and helps in creating interactions between spine surgeons with different levels of experience," said Dr Prarthan Amin upon completion of the program. "It will definitely have an impact on me personally as it has accelerated my decision-making and intuition by exposing me to thought processes and management techniques of different spine surgeons across the globe. It has a systematic approach which allows learning to run in parallel with your current practice."
Dr Pratyush Shahi emphasized the Global Spine Diploma Program's well-thought-out approach: "I loved the program because it is interactive, covers all topics in spine, and allows you to go at a pace that can be easily accommodated in your professional schedule."
"The quality of content in the course is very good and comprises of very good articles and video webinars. At the same time, the course gives you plenty of time to go through the content," Dr Dheeraj Batheja added.
The program's discussions impressed Dr Vivek Yadav. "The best thing about the program is discussion with the faculty stressing core concepts and clearing doubts," Yadav said.
"Comprehensive practical knowledge on all aspects of spine care delivered by exceptional faculty," is how Dr Pratheesh Ravindran described his experience in the program.
Call for applications now open
The call for applications for the 2023 and 2024 Global Spine Diploma Program is now underway and continues until the end of April. Beginning this year, a new format is being introduced: The program is shortened to twelve months, including five eight-week modules with starting dates in August 2023 and February 2024. The UEMS-EACCME® accredited program offers participants the opportunity to learn—in just three to five hours per week—efficiently and flexibly in small online groups.
Participants will benefit from a sophisticated syllabus based on a thorough curriculum written and taught by world-renowned surgeons, as well as an optimized learning management system.
To find more program details, to download the brochure, and to apply to the Global Spine Diploma Program starting in August 2023 or February 2024, visit the web page.