Giving young researchers a head start
Congratulations to the ten winners of the 2022 AO Spine Research Start-up Grants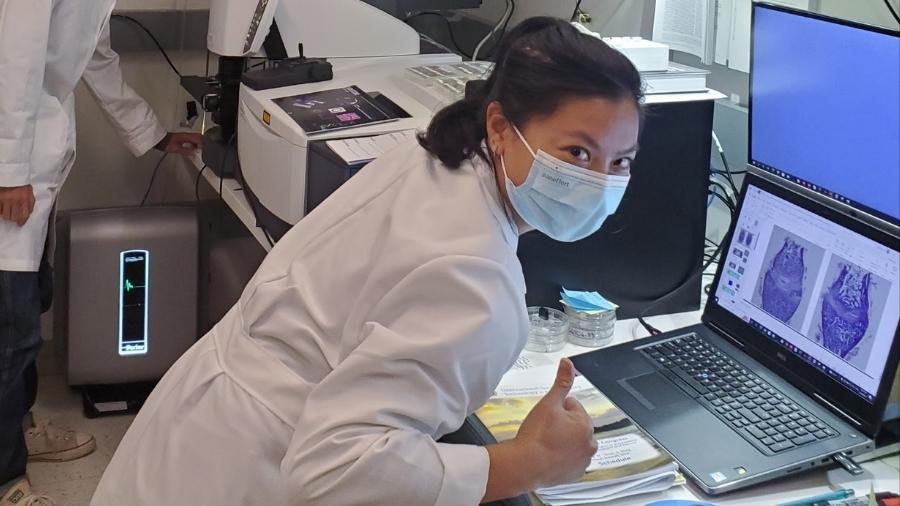 The AO Spine Research Commission is delighted to announce the ten winners of the 2022 AO Spine Research Start-up Grant. Through this program, AO Spine aims to identify, engage, and mentor talented young researchers in the early stages of their careers. Here, the 2022 winners explain what they aim to achieve and how their studies will improve patient care.
This award is targeted towards investigators of 40 years or younger, who are within five years of completing a professional degree or initiating their first assistant professorship at an academic institution. Seed funding is provided up to CHF 25,000 for one year.
Fifty researchers, from 15 countries across all AO Spine regions, answered the open call in March 2022. In a blinded evaluation process, proposals were reviewed by the AO Spine Research Commission for scientific merit, clinical relevance, and feasibility.
The top research fields were degenerative disease and deformity, with applications also covering spinal cord injury (SCI), tumor, and trauma. Of all proposals submitted, 50% were clinical projects involving human subjects and 50% were translational research projects.
The mean applicant age was 34 years (range: 27–40 years) and the mean funding request was for CHF 23'000, ranging from CHF 5,000–25,000.
All start-up grant recipients are encouraged to disseminate their findings at the Global Spine Congress and submit their work for publication in the Global Spine Journal.
Pathology focus* 
(*Multiple options possible)
Degenerative spinal disorders

44%

Deformity

34%

Spinal cord injury

12%

Trauma

10%

Tumor

10%

Other

18%
AO Spine region
Applications were received from all AO Spine regions
Asia Pacific

46%

North America

28%

Europe and Southern Africa

20%

Latin America

4%

Middle East and Northern Africa

2%
Applying spatial transcriptomics to identify therapeutic targets for discogenic pain
James Caruso, University of Texas Southwestern, Dallas, TX, USA
We will apply RNA-sequencing techniques and computational bioinformatic analyses to study RNA expression changes that occur within the lumbar intervertebral discs in patients with back pain. By studying discs harvested from carefully phenotyped patients with discogenic pain undergoing spine surgery, we will identify how RNA-expression-changes within inflammatory cells in the disc influence aberrant sensory neuron activity and lead to pain formation.
This work will represent the most detailed and comprehensive transcriptomic description of disc degeneration and discogenic pain formation to date. Lower back pain resulting from disc degeneration is a widespread and debilitating condition. However, many existing treatments relieve symptoms without treating the underlying disease.
By clarifying the transcriptomic profile of the degenerating human intervertebral disc and innervating sensory neurons, we can better understand the molecular mechanisms that drive discogenic pain formation. This unprecedented insight will pave the way for a variety of advances in the treatment of back pain, including novel risk stratification tools and targeted RNA-editing strategies designed to slow disc degeneration and relieve pain.
A novel diffusion tensor image and three dimensional isotropic T2-weighted turbo spin-echo SPACE sequence in the diagnosis of elderly patients with lumbar spinal stenosis
Xiaolong Chen, Xuanwu Hospital Capital Medical University, China
Conventional magnetic resonance imaging (MRI) has been reported to produce false positives in 26% of lumbar foraminal stenosis cases. To our knowledge, age-related lumbar spine degeneration, such as degenerative lumbar scoliosis, facet joint osteoarthritis, and disc degeneration, may change anatomic structures of nerve roots' surrounding tissue and affect reliability of traditional imaging assessment. Therefore, new diagnostic imaging techniques to detect lumbar nerve root entrapment and identify the severity of nerve root damage due to the compression are urgently required.
The new diagnostic imaging techniques for evaluation of the lumbar spinal stenosis should meet two essential criteria: (1) qualitative assessment—providing details of nerve root pathological lesions and nerve root anatomical structures; and (2) quantitative assessment—providing quantitative information regarding the extent of nerve root compression and discrepancies
In order to locating the nerve root compression and the severity of nerve root damage in the patients with lumbar spinal stenosis, this study aims to evaluate the diagnostic value of contrast-enhanced three-dimensional (3D) T2-weighted turbo spin-echo SPACE (T2-SPACE) in different nerve root compression locations and demonstrate the diagnostic capability of novel diffusion tensor imaging for structural alteration and recovery.
Utilization of machine learning and multidisciplinary approach in the creation and implementation of a holistic risk-assessment online application for patients undergoing spine surgery for metastatic spinal tumor
Aladine A. Elsamadicy, Yale School of Medicine, New Haven, CT, USA
In surgery for spinal metastases, to effectively manage patient expectations, physician education and hospital administration, we must improve our understanding of patient risk-factors and their correlation with perioperative complications and healthcare utilization.
We aim to develop an application that will elicit quantifiable risk percentages of perioperative complication rate, length of hospital stays, and unplanned 30-day readmissions.
These risk-stratification tools will be created using a multidisciplinary approach, incorporating spine surgeons, radiation oncologists, medical oncologists, physical therapists, and the public. Our work will allow for a better understanding and communication between providers and patients during important surgical decisions.
Elucidating neurotrophic molecular mechanisms in spinal-cord-injury-associated heterotopic ossification
Rahul Gawri, McGill University, Montreal, QC, Canada
Spinal Cord Injury (SCI) is often associated with polytrauma, intense local inflammation at the musculoskeletal injury sites, and disruption in communication between the central and peripheral nervous systems. In up to 50% of patients, the disease burden is further increased by neurogenic formation of bone tissue around large articular joints, known as heterotopic ossification (HO), profoundly impacting quality of life and long-term rehabilitation.
We hypothesize that pathological neural signalling leads to aberrant differentiation of mesenchymal stem cells in injured musculoskeletal tissues and formation of HO. The aims of this project are to elucidate the pathogenic molecular mechanisms and identify potential therapeutic targets in a novel clinically relevant mouse model of SCI-associated HO. The knowledge generated from this project will be translated into clinical practice to achieve better rehabilitative outcomes for patients with SCI.
Development of an augmented reality (AR)-based lumbar spine model for transforaminal epidural block
Dae-Woong Ham, Chung-Ang University Hospital, Seoul, South Korea
The aim of this study is to explore and improve the feasibility and clinical usefulness of the markerless AR system in the spine field.
We will evaluate the accuracy of the lumbar spine AR registration model and develop a Lumbar Transforaminal Epidural Block (TFEB) toolkit using the markerless lumbar AR model.
Conventional fluoroscopy-guided TFEB presents a risk of high radiation exposure to the operator, whereas ultrasonography-guided TFEB presents problems in level-checking and visualization in the lumbar region. However, the markerless AR system can create a lumbar AR model using skin landmarks from the patient's CT image. Therefore, this markerless AR system could not only significantly reduce radiation exposure during TFEB, but also become a promising new technology in other fields of spine surgery.
Acute effects of natural erect posture on solute transport across human lumbar intervertebral discs: a serial post-contrast MRI study in supine and standing
Prajwal GS, The Mallika Spine Centre, Guntur, India
We aim to understand the acute effects of natural erect posture on nutrient diffusion into the lumbar intervertebral discs in healthy normal individuals.
Previous in-vivo and animal-model studies have attempted to study the diffusion pattern using compatible compressive devices mimicking axial load on the discs. Using magnetic resonance imaging, our study will document for the first time the effect of axial load on disc diffusion in the erect position, compared with the supine position.
We hope the results will provide useful insight into the mechanical causes of disc degeneration.
Local expression of epigenetic candidate biomarkers for adolescent idiopathic scoliosis progression
Alberto Ruffilli, Rizzoli Orthopedic Institute, Bologna, Italy
Prognostication in adolescent idiopathic scoliosis (AIS) is currently challenging. Identification of predictors of progression is fundamental for appropriate clinical management—neither depriving patients of adequate treatment, nor exposing other patients to unnecessary treatment. Epigenetic markers represent potential prognostic tools to predict curve progression, and their identification may help the clinician to detect the disease earlier and choose the appropriate treatment.
The aim of our work is to characterize the local expression of candidate epigenetic factors that have emerged from recent literature as being implicated in the progression of AIS. We will identify which markers are differently regulated locally and validate their role in the phenotype, by comparing tissue gene expression in AIS and healthy controls.
Concordance of expectations among surgeon, oncologist, and patient in surgical decision making for metastatic spine disease
Christina Huang Wright, Oregon Health & Science University, Portland, OR, USA
Patients with metastatic spine disease are managed in a multi-disciplinary fashion that involves oncology, radiation oncology, surgery, and palliative care. Given that interventions for spine metastases are rarely curative, it is important to understand if these involved teams are discussing treatment goals and expectations within a palliative framework.
We will explore the shared decision-making and goal-concordant care in these patients, to learn whether the priorities and values of the patient are recognized during preoperative discussions and ultimately reached after surgery.
Preoperative expectations may not be aligned between clinician and patient, nor between the various subspecialists. Patients with limited life expectancy may have unique or specific goals relating to their overall health and their spine disease. Evaluation of our capacity to respect and understand these wishes and work to achieve them surgically or medically is crucial. We hope to explore this knowledge gap.
Novel chemical spatial mapping of human intervertebral discs for future poly-omic and artificial intelligence (AI) solutions
Catherine Yuh, Rush University, Chicago, IL, USA
Chronic Lower Back Pain (cLBP) is a leading cause of disability globally that is commonly caused by intervertebral disc degeneration (IVDD). Modic changes (MCs) are pathological vertebral endplate and bone marrow changes visible in MRI that are highly associated with cLBP and increasing age. However, the etiology of MCs remains unclear.
Our long-term goal is to use AI to build predictive models of disc degeneration, to improve upon our understanding of disc pathogenesis and phenotypes. This work will form the foundation and novel platform of high-throughput and high-resolution "spatial-omics profiling" of the disc.
We will assess surgically retrieved IVDD tissue using a combination of Fourier Transform Infrared Spectroscopic Imaging (FTIR-I) and classical histopathological staining techniques to map the spatial distribution of chemical structures in these tissues, providing insight into disease phenotyping and targeted therapies.
This first step towards building a well curated tissue and cell repository, which catalogues patient samples with detailed imaging, health, and pain outcome history, will facilitate future correlations between cLBP symptoms and disease phenotyping.
Cerebrospinal fluid pressure monitoring as a biomarker of spinal cord decompression in spinal cord injury: a prerequisite in clinical trials and practice
Carl Zipser, Balgrist University Hospital, Zürich, Switzerland
Maximal neurological recovery in SCI and degenerative cervical myelopathy (DCM) requires sufficient spinal cord decompression; however, there are currently no established tools to measure decompression. Cerebrospinal fluid pressure dynamics (CSFP) may provide useful markers of sufficient spinal cord decompression, but their physiology is poorly understood, impeding their clinical application. In our preclinical study we will explore the relationship between CSFP dynamics, respiratory factors, and disruption of spinal CSF pathways.
Effective decompression is crucial, not only to limit secondary damage related to ongoing spinal cord compression, but also to ensure that intrathecal regenerative treatments (e.g., drug or cell therapies) have unrestricted circulation. Intraoperative and/or bedside CSFP dynamics monitoring could enable personalized treatment and improve clinical outcomes in SCI and DCM. We will develop a roadmap for their use in clinical trials and diagnostic studies.
---
We wish the awardees success in executing their research projects and a bright future for improving spine care worldwide.

The next AO Spine Research Start-Up Grant program opens for applications in Spring 2023. Visit the AO Spine website for research funding and subscribe to AO Spine Newsletters to stay up to date on open calls and various AO funding opportunities.