In the spotlight also at GSC 2022: High-fidelity training simulators improve skills and confidence in minimally invasive lumbar decompression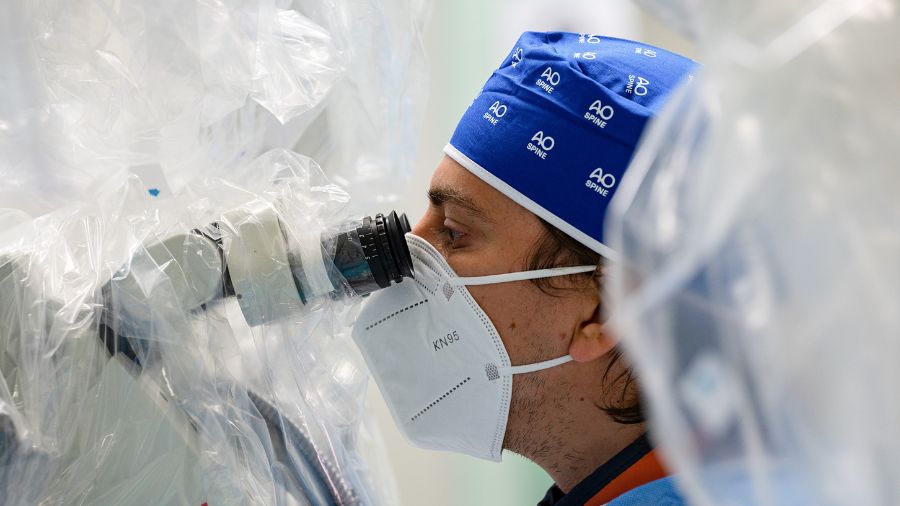 State-of-the-art, high-fidelity training simulators can improve the skills and confidence of trainees learning minimally invasive lumbar decompression, according to the coauthors of an award-winning paper recently published in the Global Spine Journal. Presentation of the abstract is among the scientific program highlights at the Global Spine Congress 2022, June 1–4, in Las Vegas, United States.
Funded by the AO and conducted in collaboration with AO Spine and the AO Education Institute, the prospective comparative study, "Use of a High-Fidelity Training Simulator for Minimally Invasive Lumbar Decompression Increases Working Knowledge and Technical Skills Among Orthopedic and Neurosurgical Trainees," quantifies how surgical trainees benefit from using a high-fidelity simulator to perform minimally invasive unilateral laminotomy for bilateral decompression (ULBD) in the treatment of lumbar stenosis. The paper was recognized as one of the top papers of the year, earning the American Association of Neurological Surgeons/College of Neurological Surgeons (AANS/CNS) Spine Section's Charlie Kuntz Scholar Award as well as its Journalistic and Academic Neurosurgery Excellent (JANE) Award.
How do you do ULBD?
The study is the brainchild of Carolin Melcher, a spine surgeon at the Schön Klinik Neustadt in Germany, and her mentor, minimally invasive spine surgery (MISS) pioneer Roger Härtl. As mentee in the AO Access Mentorship Program in 2017, Melcher was a clinical and research fellow under Härtl's supervision at Weill Cornell Medical Center in New York, United States. Having worked under several senior physicians—from different specialties—who sometimes performed surgeries in very different ways, Melcher's interest was sparked.
"We came up with the idea to define the perfect procedure by metrics and actually ask very experienced surgeons, 'How do you do ULBD?'" says Melcher, an AO Spine faculty member.
In addition to differences between the ways senior surgeons perform procedures, Melcher says there is "a huge difference" in the way spine surgeons are trained, for example, in the United States and Germany.
"You often still have to be lucky to be properly trained as you are very dependent on someone training you. I was very lucky," Melcher says, adding that metrics and sophisticated training simulators could ensure that young surgeons receive globally consistent training, wherever they are in the world.
Simulation-inspired spine surgery
Härtl says that the study builds on—and adds to—the AO's legacy of pioneering new educational methods in order to advance patient care.
"What we've been trying to do with this project and with others is to really increase access to valuable and effective training using surgical simulation, online training, blended learning, and so forth. The AO has certainly spearheaded that," says Härtl, senior author of the paper and leader of the AO Spine Minimally Invasive Spine Surgery (MISS) Task Force. "We've used MISS really as a mechanism to explore these new ways of teaching."
Not only is the study unique in that it is the first such study of using a state-of-the-art simulator that could realistically simulate the soft tissue, bone, bleeding, and dura routinely encountered during standard lumbar spine surgery, Härtl says it is unique terms of the preparation that went into it.
"We took an MIS operation, really analyzed it in detail using experts, and tried to define the individual steps that really make up the procedure—that are necessary for trainees to master in order to get good at performing this procedure," he says. "Once we had defined those steps, we used surgical simulation to replicate them and have surgeons replicate them multiple times in sequence."
The procedures were recorded to gauge whether the surgeons' performance improved.
"That was unique because this type of surgical-simulation-inspired surgery has never been done before," says Härtl. He noted that such state-of-the-art training is a far cry from his own training which relied on cadavers, which are expensive and in limited supply—and cadaver training often requires traveling great distances; all of these factors are obstacles, particularly in low- and middle-income countries.
Spine surgery has a steep learning curve
"Spine surgery has a very steep learning curve and—of course—in this study, we saw errors where people decompressed in areas where they shouldn't have, but what we saw mainly was that people were so focused that they actually forgot about the little things like adjusting the table height or the microscope," she explains.
Another takeaway from the study was that surgical time decreased during each of the three procedures performed on the simulator and sentinel errors—such as injury to the facet joint during drilling and dural tear—decreased over the course of subsequent procedures. Participants' skills improved in each of the domains observed, with the greatest increase among the inexperienced and very inexperienced participants. Furthermore, overall surgical proficiency improved over the course of three trials with the simulator.
Simulation accelerates learning
The study found that simulation for performing MISS can accelerate learning and provide a safe environment for exploration and practice prior to intervention on live patients, and that using high-fidelity simulator models may have the most impact early in training. All participants, regardless of their training background, showed improvement in every measure and test, from the first procedure onward with fewer errors and skipped steps and less operating room time.
Melcher says simulation has the potential to transform education and prompt more hospitals to adopt MISS.
"It could be a great chance to bring more people to MISS and convince hospital management of its value, because surgeons will be able to say, 'Listen, I've done this on a simulator and I know exactly what I'm doing,'" Melcher says, adding that in her opinion, the simulator offers a superior training experience compared to cadavers.
Härtl adds that surgical simulators are not being used by academic institutions, they are being used by other entities—including the AO—to train surgeons.
"The AO certainly has extensive experiencing using it for some AO activities, but there is still some limitation [to wider use] due to the cost of the technology," he says, explaining that—for example—AO North America sent surgical simulation models to six institutions where local surgeons performed ULBD and MISS transforaminal lumbar interbody fusion (TLIF), with faculty participating remotely.
What does the future hold?
Härtl sees production costs as the real challenge to affordability of the technology and hopes prices will come down as the technology matures. Another challenge is communicating the technology's benefits—as demonstrated by the study—to AO surgeons and course chairpersons spearheading AO education worldwide.
"I think the traditional concept of surgical meetings and congresses, where surgeons come together in one location, will continue to be very important. But I think these activities can be supplemented—and surgical simulation could be a very powerful supplement," he says. "I think the future is going to hold a combination of traditional learning and innovation with surgical simulation, decentralizing, and blended learning."
A follow-up study, funded in part by the AO, is in the works with Weill Cornell Brain and Spine Center surgeon and researcher Ibrahim Hussain, to explore how high-fidelity simulator training translates into the operating room.