Giving young researchers a head start
Congratulations to the winners of the 2023 AO Spine Research Start-up Grants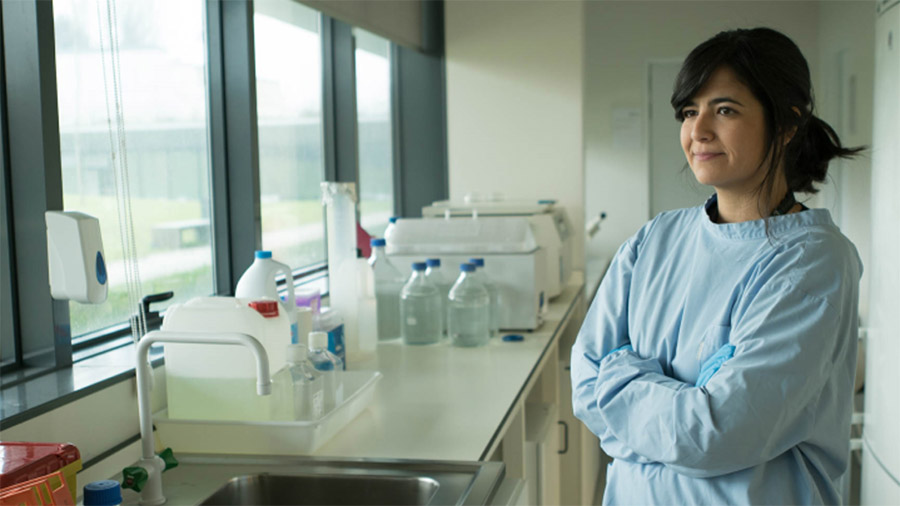 The AO Spine Research Commission is delighted to announce the winners of the 2023 AO Spine Research Start-up Grant. Through this program, AO Spine aims to identify, engage, and mentor talented young researchers in the early stages of their careers. Here, the 2023 winners explain what they aim to achieve and how their studies will improve patient care.
This award is targeted towards investigators of 40 years or younger, who are within five years of completing a professional degree or initiating their first assistant professorship at an academic institution. Seed funding is provided up to CHF 25,000 for one year.
33 researchers, from 15 countries across AO Spine regions, answered the open call in March 2023. In a blinded evaluation process, proposals were reviewed by the AO Spine Research Commission for scientific merit, clinical relevance, and feasibility.
The top research fields were degenerative disease and deformity, with applications also covering, tumor, trauma, and spinal cord injury (SCI). Of all proposals submitted, 58% were clinical projects involving human subjects and 42% were translational research projects.
The average applicant age was 35 years (range: 27–40 years) and the mean funding request was for CHF 21'750, ranging from CHF 18,500–25,000.
All start-up grant recipients are encouraged to disseminate their findings at the Global Spine Congress and submit their work for publication in the Global Spine Journal.
Research field
Degenerative

40%

Deformity

12%

Tumor

12%

Trauma

6%

Spinal Cord Injury

27%

Other

3%
Region
Asia Pacific

37%

Europe and Southern Africa

36%

Latin America

0%

Middle East and Northern Africa

6%

North America

21%
The winners and their projects:
---
Alterations in Core Metabolome and lipid composition between healthy and degenerated lumbar intervertebral discs—can it identify degeneration mechanisms and provide clues for reversal therapy?
Dr Sri Vijay Anand K S, Ganga Hospital, Coimbatore, India
Understanding the early mechanisms of degenerative disc disease (DDD) is of paramount importance as the spine community is looking at reversal therapy. Metabolic alterations within the intervertebral disc (IVD) are initiated much earlier before visible changes of degeneration appear in MRI and could provide key information on pathomechanisms involved and clues to mitigate degeneration.
Our study proposes an untargeted metabolite profiling of control discs obtained from Braindead voluntary organ donors having MRI-normal lumbar discs and degenerate discs from patients who undergo spine surgery for degenerative disc pathologies using uHPLC-MS/MS to identify the metabolite alterations in disc degeneration.
As a first step, our study will document the core metabolome of intervertebral disc. Among the metabolites, Lipids are the predominant metabolites present inside the disc serving as regulators or inducers for the disease progression. We hypothesize, that any alterations in the IVD microenvironment would alter the metabolic pathways and result in differential expression of signaling lipids. This study will identify phenotype-specific lipids and other metabolites; and quantify the altered signaling lipid in different grades of degeneration in the two groups of discs. We also aim to understand the crosstalk between lipid peroxidation and oxidative stress responses as a potent trigger of disc degeneration.
Exploring the proteoglycan signature of Acomys cahirinus as a roadmap for mammalian axon regeneration
Sandra Braz, Institute for Research and Innovation in Health (i3S), University of Porto, Portugal
After trauma, the central nervous system (CNS) neurons struggle to repair themselves. The unsuccessful regeneration is mainly due to the formation of scar tissue at the injury site. One extraordinary exception is the Acomys cahirinus, a species closely related to Mus (common mice). Unlike Mus, Acomys has the remarkable ability of scar-free regeneration of various organs. This regenerative capacity of Acomys is multifactorial, involving a different extracellular matrix composition.
We have explored whether Acomys can also regenerate CNS tissue. Our studies have revealed that Acomys can repair spinal cord injuries (SCI) without scarring, leading to rapid and spontaneous sensory and motor recovery. At the molecular level, Acomys exhibits pro-regenerative proteoglycan signature, driven by a key enzyme, the β3gnt7. Intriguingly, β3gnt7 has been found to promote nerve growth in Mus neurons, suggesting it as a novel target to enhance nerve regeneration following SCI.
This research aims to reveal the cellular mechanisms of β3gnt7-induced axon regrowth in Acomys after SCI. To achieve this, we will test the β3gnt7 efficacy as a nerve regrowth enhancer in the non-regenerative Mus following SCI. This insight into nerve regeneration can inspire new effective therapies to stimulate nerve regrowth, offering new hope for individuals living with SCI.
Stop & Rewind: CRISPR-mediated fetal gene activation for IVD regeneration (REWIND)
Joana Caldeira, Institute for Research and Innovation in Health (i3S), University of Porto, Portugal
Intervertebral disc (IVD) degeneration is often the cause of low back pain, which affects over 80% of the population. Degeneration occurs with age and is accompanied by extracellular matrix (ECM) depletion. Current surgical treatments do not restore function nor provide a long-term clinical solution. As so, there is an urgent need to develop novel therapeutic strategies.
We demonstrated ECM changes that occur in the IVD with development and ageing and that fetal ECM promotes healthy matrix synthesis by IVD cells and impairs angiogenesis. In line with this, we propose a revolutionary strategy to treat IVD degeneration based on the reexpression of COLXII and COLXIV, proteins that are uniquely expressed in fetal disc tissues. We intend to recreate a microenvironment similar to early developmental stages by simultaneous transcriptional activation of Col12a1 and Col14a1 in resident NP cells using the CRISPR-Cas9 system in vivo.
This proof-of-concept study will provide essential insights for the establishment of a pioneer treatment based on cutting edge technology. The complementary expertise of the team and the unique experimental tools available will be paramount to test this hypothesis. This ground-breaking strategy will certainly open new perspectives for therapeutic intervention, by recapitulating early developmental cues to rejuvenate the IVD.
Investigating the role of polymorphisms in genes involved in inflammation in spontaneous resorption of herniated discs
Jessica Gaff, NeuroSpine Institute, Murdoch, Australia
Spontaneous resorption of herniated discs is a well-known phenomenon that may occur within 6 weeks after herniation. Histological, gene expression and animal experimental evidence implicates inflammatory molecules including interleukins, matrix metalloproteinases, chemokines and cytokines in the process of spontaneous resorption. Polymorphisms in the genes encoding these inflammatory molecules can alter the level of expression and the function of the encoded protein and therefore may influence an individual's ability for spontaneous resorption.
This study aims to investigate the role of polymorphisms in genes encoding inflammatory proteins by genotyping DNA from individuals with herniated discs that resolved spontaneously and those that required surgical intervention. Associated polymorphisms will undergo bioinformatic analyses to determine the impact on spontaneous resorption. Discovery of polymorphisms that impact spontaneous resorption may allow identification of patients most likely to benefit from extended periods of conservative treatment or from earlier surgical interventions and provide further understanding into the molecular mechanisms underpinning this phenomenon.
Unravelling the microbiota of Human Intervertebral Disc and the role of Gut- Spine Microbial axis in health and disease
Chandhan Murugan, Ganga Orthopaedic Research and Education Foundation, Coimbatore, India
There is an increase in the number of spine surgeries worldwide performed for advanced disc degeneration and related disorders. This is partly attributed to the poor understanding of its etiology and pathogenesis. Several theories have been proposed, however, the infective theory has been increasingly discussed recently.
Latest reports have shown that gut inflammation and gut microbiome are major players in immune-related arthritis, but a firm correlation has not been established with DDD and the possibility of a gut spine microbial axis is not fully established. Our preliminary work employing NGS and proteomics has shown interesting data on the prevalence of hitherto undescribed spectrum of microflora and there exists significant beta diversity between healthy and diseased discs. Interestingly, many of these bacteria include gut bacteria, again raising the possibility of a gut spine microbial axis.
The proposed study will expand our preliminary findings on profiling the microbiota in the IVD tissues of contrasting status (MRI Normal healthy discs from voluntary organ donors vs degenerated discs) using advanced next-generation sequencing tools and investigate the role of IVD/gut microbiome in modulating the progression of DDD. The proposed project will involve a metagenomics approach to profile the microbial diversity, its colonization, and its cross-talks with gut bacterium to unravel the etio-pathological initiators of DDD. Our study will be the largest work on this important and challenging problem of LBP/DDD.
Markerless Pose Estimation in Spinal Deformity Patients
Arash J. Sayari, MD, Rush University Medical Center, Chicago, IL, USA
Traditional clinical evaluation and surgical decision-making in patients with adult spinal deformity (ASD) have been guided using patient-reported outcomes (PROs) and radiographic measures. However, PROs are inherently subjective, while radiographic measures are limited to static images. Kinematic metrics objectively reflect movement dynamics and may address the limitations of PROs and radiographic measures in ASD. However, obtaining kinematic metrics from spinal deformity patients has been limited to the laboratory space due to the utilization of systems, such as optical motion tracking systems, which are bulky, expensive, and cumbersome to set up. New methods for estimating pose, a person's orientation in space, without wearable markers offer novel, portable techniques for quickly measuring kinematic metrics in clinical and remote settings, which may be useful for dynamically evaluating ASD patients.
We aim to develop a method to estimate pose in the clinic using the markerless pose software, OpenPose, to derive kinematic metrics from the estimated pose for tracking postoperative changes in patients with ASD, to validate these kinematic metrics against PROs and radiographic metrics, and to implement a streamlined workflow that will allow clinicians to easily obtain and interpret these kinematic metrics in either the clinical or remote setting.
Sagittal balance during gait in patients with spinal degeneration
Armand D. Škapin, University Medical Centre Ljubljana, Ljubljana, Slovenia
Patients with degenerative spine disease compensate the loss of sagittal balance with compensatory mechanisms which require activation of back and leg muscles. In current clinical practice we measure sagittal balance from full spine x-ray. The data is gathered during a short period of forced upright stance while the x-ray imaging is performed and does not always demonstrate true sagittal balance of the patient. The problem is because compensatory mechanisms can maintain normal sagittal balance through x-ray imaging but can sometimes fail to do so during gait. So sometimes the true sagittal balance can only be observed during physical activity, when muscles of compensatory mechanisms fatigue.
We plan to analyze the dynamics of sagittal balance during gait and compare it to sagittal balance during upright stance in patients with degenerative spine disease. We will do so by recording the patients during gait using a motion capture system. We hope to discover potential parameters from the established preoperative diagnostic methods (x-ray, patient history, questionnaires) that would predict the decline of sagittal balance during gait. This would help treat patients better with a more accurate preoperative assessment of sagittal balance.
Microsurgical resection of intramedullary spinal cord metastases—a retrospective international multicentre study
Felix C. Stengel, Cantonal Hospital St. Gallen, Eastern Switzerland Spine Center, St. Gallen, Switzerland
Intramedullary spinal cord metastases (ISCM) are a rare neoplastic manifestation and are treated surgically in even fewer cases, as chemo- and radiotherapy are usually the general and focal therapies of choice. Nevertheless, there has recently been an increase in published case reports and series of surgically treated cases, which is explained by prolonged survival as a result of improved oncological therapy options. Under certain circumstances of rapid tumor progression, progressive neurological deterioration, unbearable neuropathic pain, or uncertainty of histopathological diagnosis, microsurgical resection of ISCMs must be considered.
The aim of this study (ClinicalTrials.gov Identifier: NCT06042946) is to establish a multi-canter, retrospective database for patients with ISCM and analyze the functional outcome in surgically treated ISCM patients. The hypothesis is that the surgical treatment of selected ISCM patients does not lead to persistent morbidity and does not increase mortality, compared to patients that are treated non-operatively. Secondary objectives are to assess pre- to postoperative neurological deficits, ambulatory status, and overall survival of surgically treated ISCM patients. We intend to include a control cohort of patients with ISCM from participating canters, who underwent non-surgical oncological treatment.
Characterization of the effect of selective VEGFR inhibition on the phosphoproteomic landscape, edema formation, histological and functional outcome after traumatic spinal cord injury in a rat model.
Dr Alexander Younsi, University of Heidelberg, Germany
SCI often leads to lifelong disability and dependency, with limited available treatments for long-term functional recovery. To address this critical issue, our research focuses on targeting secondary injury mechanisms, specifically spinal cord edema, which exacerbates damage in the early hours after injury.
Our approach involves repurposing two FDA-approved inhibitors for vascular endothelial growth factor receptors (VEGFR), traditionally used in cancer treatment. We will administer these inhibitors to rats with acute thoracic spinal cord injury (tSCI) to evaluate their impact on edema formation and subsequent pathogenic and reparative processes. In a groundbreaking aspect of our study, we will measure the inhibitor-induced downregulation of receptor phosphorylation and its effects on phosphotyrosine signaling.
Importantly, we will administer the VEGFR inhibitors within the first 24 hours after tSCI, targeting the edema-vascular permeability phenotype without interfering with recovery mechanisms. If our research demonstrates a significant reduction in spinal cord edema and improved long-term outcomes, this could pave the way for clinical trials in human SCI patients. Our goal is to provide new hope and potential therapies for those affected by spinal cord injuries.