Global Spine Diploma Exam welcomes new Chairperson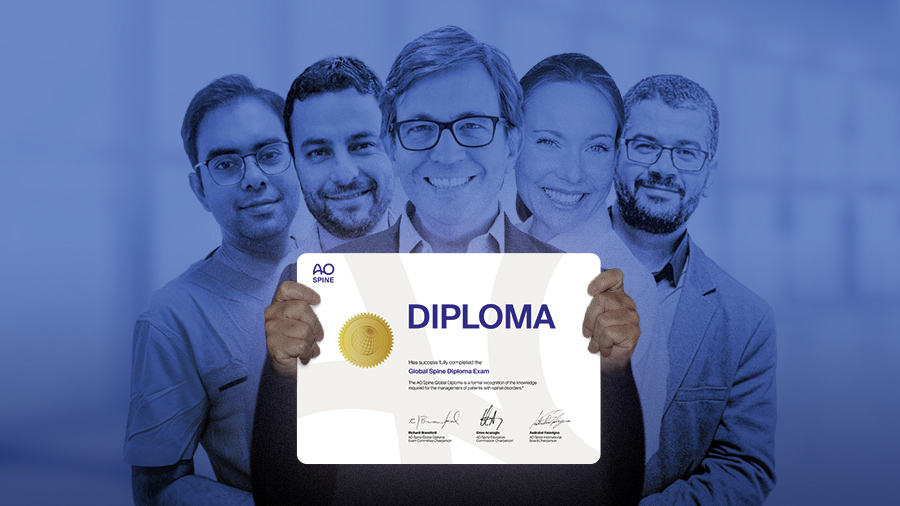 The Global Spine Diploma (GSD) Exam will open applications for the 2024 cohort on 7 September 2023. Ready to join and advance your career? Read more about the vision of the newly elected Chairperson and about the experiences of the successful candidates.


AO Spine welcomes the new GSD Exam Chairperson Dr Mohammad El-Sharkawi who started his 3-year term on 1 July, 2023. Dr El-Sharkawi envisions the exam as a must-have to certify spine surgeons' knowledge and advance their careers.
Launched in 2020, the GSD Exam consists of a written and oral component to assess the competencies required to manage patients with spinal disorders. The exam is designed for surgeons with more than five years of practical experience.
El-Sharkawi said the evolution of the exam inspired him to apply for his current leadership role as GSD Exam chairperson. He has been involved with the Global Spine Diploma Program and Exam from the very beginning as the AO Spine Middle East and Northern Africa region's representative to the AO Spine Education Commission (AO SEC), and later joined the GSD Exam Committee with a focus on creation and execution of the exam.
"I have witnessed the GSD's evolution from just an idea to a full program and have contributed to every step of its development. The amount of work behind this process is tremendous, beyond the imaginations of its creators," he said. "The challenge was to create a balanced exam with validated questions covering all aspects of spine surgery and suitable for use by examiners and examinees from all over the world and from different cultural and training backgrounds."
Feedback from examiners, examinees, the AO Spine International Board, and the AO Foundation Board has been very encouraging, and El-Sharkawi especially enjoyed collaborating with current AO SEC Chairperson Richard Bransford, GSD Program Chairperson Bryan Ashman, and AO SEC Immediate Past Chairperson Emre Acaroğlu.
"It became natural to me to continue working and leading this exciting project when the chairperson position was available," he said.
Playing a vital role
The GSD Exam serves a vital role in certifying spine surgeons' knowledge and can help advance their careers, El-Sharkawi said.
"Nowadays, more and more orthopedic surgeons and neurosurgeons dedicate their practices solely to spine surgery. Consequently, spine surgery has evolved into a separate specialty; yet prior to the GSD Exam, there was no globally recognized certificate for this unique specialty," he emphasized. "The GSD Exam fills this gap, providing a unique opportunity to surgeons from all over the world to test their knowledge; recognize areas of weakness, if any, to work on; and earn a certificate that distinguishes them from other practicing surgeons. In time, I believe, the GSD Exam will become mandatory globally to access better job opportunities and leadership positions."
In 2022, Global Spine Diploma Exam attracted participants from all continents. Among the cohort of 103 candidates, 65 successful candidates passed the two-part examination and were awarded with the Global Spine Diploma.
What the successful candidates say?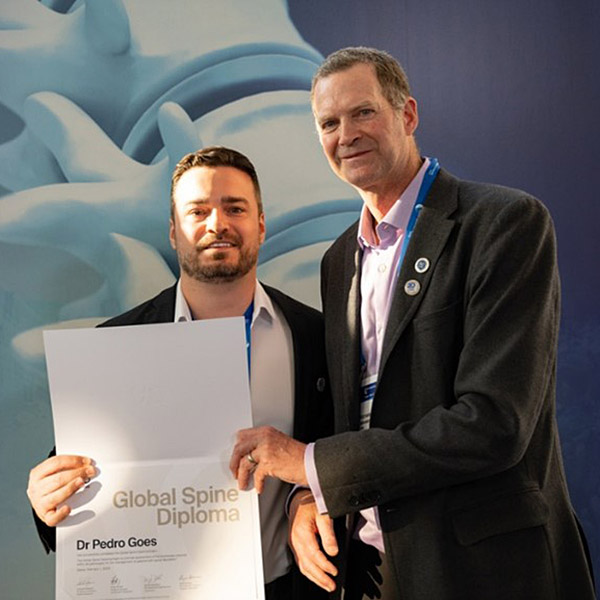 Dr Pedro Goes:
Since my residency and the start of my career as a specialist, AO Spine has been my main source of knowledge for both theoretical and practical studies. I have relied on AO Spine's publications, attended the seminars, and participated in the courses. The opportunity to be evaluated and approved for the AO Global Spine Diploma after working in spinal surgeries for five years reinforces how valuable the continuing education based on AO concepts has been for my growth as a surgeon. This achievement marks another significant step in my journey as a member of AO Spine, and I look forward to participating in its activities and future events.
Dr Hamdan Abdelrahman:
As a spine surgeon I don't only have to refresh my old knowledge but also feed my brain and memory to stay up to date with the latest developments in spine surgery. This motivated me to search for an acknowledgment of my basic knowledge.
I found the possibility by joining the first AO Global Spine Diploma Exam. With great pleasure, I was one of 36 candidates to pass the first GSD Exam in 2020. The program provided me with the necessary skills and knowledge to further improve my career in spine surgery.
Afterwards, I was very motivated to further broaden my knowledge in this specialty area to deliver high-quality and evidence-based care to my patients. This is why I joined the Global Spine Diploma Exam for the second time in 2022.
I was particularly impressed with the program's comprehensive curriculum, which covers a wide spectrum of topics. The experience as a whole was very fruitful and well-structured. I would recommend it to all spine surgeons in training.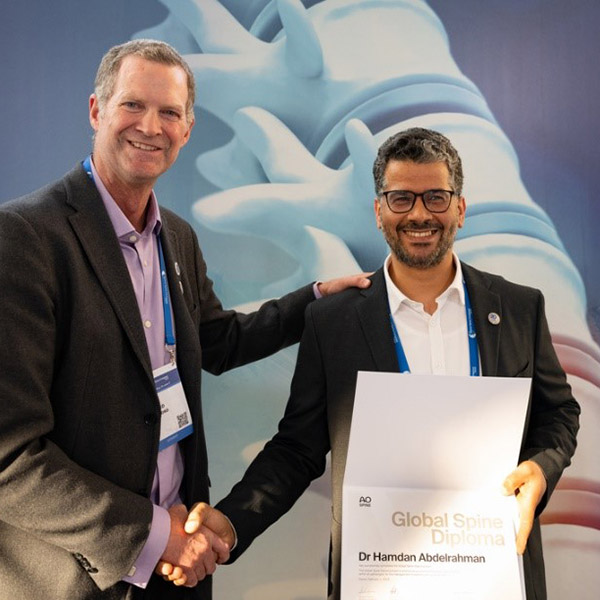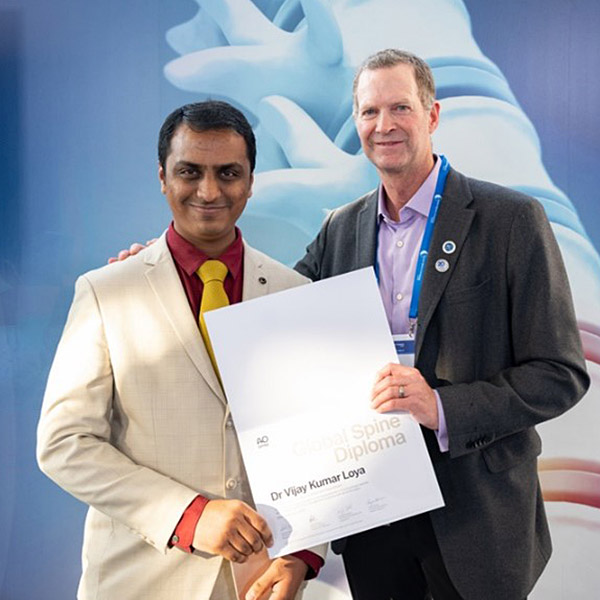 Dr Vijay Loya:
It was just about 5 years after my post-graduation and during my fellowship when I decided to take the Global Spine Diploma (GSD) Exam. The exam helped me to learn and understand topics that are less frequently dealt with, especially spinal tumors & deformity. The exam also helped me to prepare for my fellowship exit examination. All in all, it is a good way to brush up your theory and practical knowledge in spine, especially for a busy practicing clinician.