AO Spine members get more—and why GSC is more than a congress to you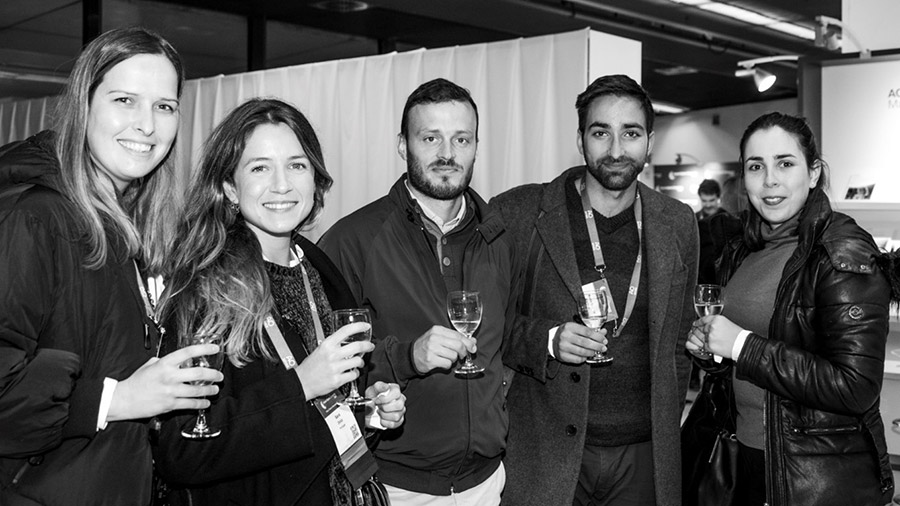 It is time to plan your stay in Las Vegas for the Global Spine Congress 2022. What will you achieve on top of gathering the latest knowledge from leading influencers at the scientific sessions? If you are an AO Spine member, you will easily personally connect with these leaders and enjoy handsome congress benefits—from discounts on registration fees to exclusive members-only sessions and the party highlight of the year. Everyone who is anyone in spine will be there!
We picked out some key member benefits you should not miss at the GSC. Scroll down for more.
> Exclusive members-only events—Wednesday June 1, 2022
Make sure to block the afternoon and evening for the exclusive GSC 2022 members-only sessions and the highlight of the year, the networking party. Invitations to the party have been sent to all AO Spine members registered to the GSC. The event is always booked out—so RSVP by deadline and don't miss out. Members will also receive their special collectable at the party, something you may be familiar with from GSC 2021 in Paris, France.
Here a summary of the six members-only sessions featuring essential skills for modern spine surgeons. All details and times in the GSC 2022 program:
How to brand yourself/social media and branding: Academic vs private practice
Moderator: Norman Chutkan, Speakers: Lali Sekhon, Yong Hai, Ahmet Alanay
Over 1 billion names are googled every single day. As a surgeon it's very likely someone has looked you up. What people find out about you online and offline determines how you are perceived by patients and business partners. In this session you will learn tips and tricks about how to brand yourself.
The Future of Medical Education
Moderator: Emre Acaroğlu, Speakers: Urs Rüetschi, Jane Wiedler, Emre Acaroğlu, Bryan Ashman
This one-hour session will educate the audience on how medical education is changing and how AO Spine is constantly evolving to fulfil the needs of its learners, both online and face-to-face.
The aging spine surgeon: when is it time to transition your career?
Moderator: R. Kiran Alluri, Speakers: S. Rajasekaran, Luiz Vialle, Jens Chapman
The average physician retirement age is typically older than the general population—for many doctors, practicing medicine is a passion rather than just a career, and they stay motivated. But there is more to think of.
Leadership Skills
Moderator: Juan Emmerich, Speakers: Asdrubal Falavigna, S. Rajasekaran, Jeffrey C. Wang
This session will focus on key leadership skills and how they are developed and implemented, through an interactive panel discussion format. The KOLs will share their experiences and lessons learned.
KF Degenerative Lessons Learned—Evidence Surrounding Patient Reported Outcomes, what do they mean?
Moderator: Zorica Buser, Speakers: Nancy Santesso, Stipe Corluka, Zorica Buser, S. Tim Yoon
This symposium will be in a debate format with audience participation. Various Patient Reported Outcomes (PRO) have been used to predict the success of surgery and patient's recovery. While PROs are extensively used, there is no standardization and many unknowns remain.
The good, the bad, and the ugly—the case that taught me the most
Moderator: Emre Acaroğlu, Speakers: Rick Bransford, Luiz Gustavo Dal Oglio Da Rocha, Abhay Nene
Discuss challenging cases with highly experienced surgeons and gain insight into potential complications experienced during surgery.
Find all details in the GSC 2022 program.
> Get discounts and free access
You can save up to USD 150 on the GSC registration fee by becoming an AO Spine Member. Discounts are available for both onsite and online participants. All details here.
AO Spine members receive reduced fees all through the year for AO Spine courses and publications. Members also have free access to the AO video hub and its wealth of recorded webinars, lectures, and training videos.
> AO Spine booth is your hub
Ginny Yau and Laura Leivo are ready to meet and greet all existing and new members at the AO Spine Booth. They will renew your membership conveniently while you catch your breath in the company of like-minded peers, keeping one eye on the GSC Live Studio. Who knows, you might be invited to join in…
And don't forget, you will receive a cool membership gift if you renew or become a member in person at the GSC.
> GSJ publication fee waiver
Did you know that the Global Spine Journal (GSJ) publishing fee is waived for AO Spine members? This is a huge advantage. The AO Spine's official scientific journal currently has an impact factor of 2.915. The GSJ is fully open access, so you don't pay any additional open access fees either!
The GSJ Managing Editor Danielle Lieberman will be in Las Vegas and is looking forward to a chat with you at the AO Spine booth. She will walk you through the submission and review processes and answer any questions you may have about the GSJ.
> myAO, for certified surgeons and AO members only
The myAO manager Raluca Herren will uncover the latest features of the state-of-the-art spine surgeon app for you. The secure myAO app allows you to share cases, join discussion groups, connect, exchange, and access the best knowledge in orthopedic and neural spinal surgery. You will find Raluca also at the AO Spine booth.
> For additional AO Spine membership benefits, opportunities, and the various membership packages, visit our membership website or email membership@aospine.org.