AO Spine brings fighter-pilot approach to new nontechnical skills training
Introduction to safety features from aviation to reduce complications and increase efficiency in complex spine procedures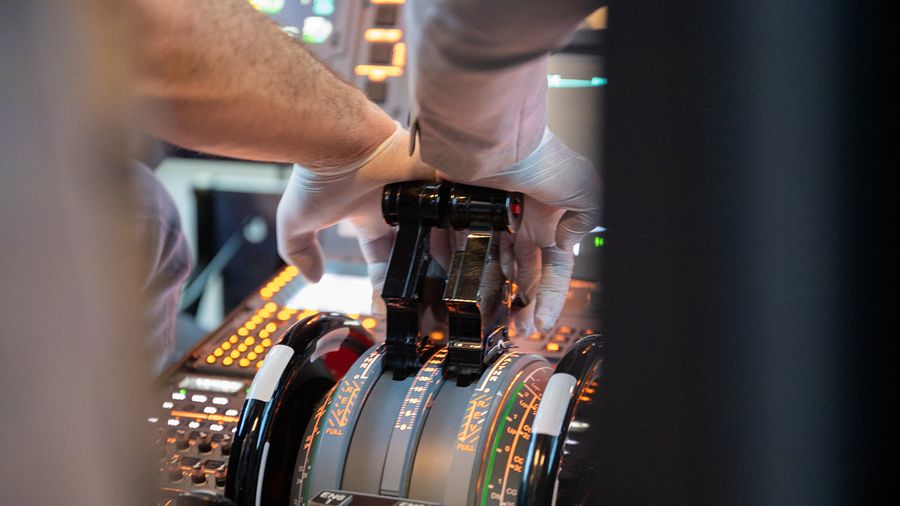 In a unique approach to nontechnical skills training for surgeons, AO Spine enlisted jet fighter pilots from the Swiss Air Force to teach basic safety concepts during the AO Spine Masters Level Specimen Course Improving Technical and Nontechnical Skills for Complication Prevention in Complex Situations, conducted in June at the Swiss Institute for Translational and Entrepreneurial Medicine (SITEM) in Bern, Switzerland.
In a postevent discussion, Prof Lorin Benneker, MD—course chairperson and AO Spine Europe and Southern Africa chairperson described the concept behind the well-received course.

"It's getting harder and harder for young surgeons to reach a level where they can work independently. There are many more administrative burdens for residents as well as working-hour restrictions and stricter regulations, so it's very hard for them to acquire practical skills," he explained. "Education, at least in Switzerland, for residents to become independent spine surgeons becomes longer and longer, and the practical teaching becomes less and less. Our initial thoughts were, 'How can we improve the teaching, make this more streamlined, so that they learn faster?'"
The idea of enlisting jet fighter pilots to teach surgeons basic aviation safety concepts—such as the use of procedures, checklists, crew resource management (CRM) and situational awareness—was sparked when Benneker met some jet fighter pilots and learned that a pilot is able to fly a plane alone after 30 days of training.
"How do they do that?" Benneker wondered, emphasizing that it takes ten years to become a spine surgeon. "So, there's a big gap, though the requirements, responsibility, and technical environment are very similar."
Aviation has a lot to teach surgeons, he said. For example, while surgeons are trained in cadaver labs that differ vastly from real, live surgery situations, fighter pilots are trained in flight simulators built to recreate an aircraft's cockpit, complete with computer-generated images replicating real-world situations, including the pilot's point of view and the aircraft's motions.
"They standardize the procedures into many different steps—standard operating procedures—which makes it easier to translate that knowledge. Aviation education has really dug into this for many decades and has optimized teaching. The emotional stress you have during a real-life simulation helps learners to memorize those events in greater detail," Benneker said, contrasting simulation to learning by simply reading or standard cadaver lab training.
"Usually, we surgeons are self-confident and don't see our deficits too easily, and that's where we can learn a lot from aviation: It's not only technical skills that we can learn and memorize but [we can also learn nontechnical skills by] stepping back and looking at ourselves and how we react to others and how they react to us. This communication within a team is not something we usually learn in our medical studies, but it is of paramount importance in aviation training—crew resource management."
He said analyses of aviation catastrophes reveals that while technical issues do arise, pilots' responses—including effective communication under pressure—to those issues can make all the difference. Additionally, Benneker said, pilots' own lives are on the line every time they take to the sky—a risk that surgeons do not face.
In the context of surgical education, Benneker said that while surgeons generally are well aware of gaps in their technical skills, they often are unaware of gaps in their nontechnical skills. That's exactly where the flight simulation experience can make a difference.
"That's the beauty of the flight simulator, for example: You really dig in, forget your surroundings, and feel this emotional attachment—so realistic. And in this controlled simulation, you can add in complications—you can add stress," he said. "That's when you suddenly realize, especially if someone with experience analyzes your reactions, you make a lot of mistakes that can—in real life—have severe consequences."
While the sort of nontechnical training—along with introspection around nontechnical skills—he described is used to eliminate communication errors and improve efficiency in certain risk-averse industries such as insurance and banking, Benneker said it is still a rarity in medical education. He champions introducing nontechnical skills training in the first years of medical studies and believes, as the learning gap is much larger, that a nontechnical skills course is far more valuable as technical skills courses.
Opening learners' eyes to their own deficits in the areas of communication and team interaction is key.
"If you have a resident who is assisting you during surgery, and you feel he/she is not alert or is frustrated, if you don't look, you don't realize he/she is upset," Benneker said. "This is where mistakes can happen and complications can occur. Once you know one another and talk with each other, you create a culture of openness and you start to get feedback. If we reduce the hurdles for others to communicate and be part of the team, your results ultimately become better. The goal of CRM is to make optimum use of the resources you have—everyone on a team of eight to ten people in the operating room."
In fact, a study in the United Kingdom indicated that open communication helps reduce complications. In the Bern course, faculty—supported by a professional CRM coach and a representative of the Swiss Air Force—emphasized awareness of deficits, the importance of standard operating procedures and a step-by-step approach, and extensive planning of every surgical procedure
Benneker said that while surgeons do plan their surgeries, a survey has shown that less than 50 percent of surgeries are planned in a structured way, while patients believe 100 percent of surgeries are so planned. Together with jet fighter pilots and other spine surgeons he has founded a not-for-profit organization which offers courses and free software for planning and execution of surgeries and a user-generated database with templates for surgical procedures. This concept of combining technical and nontechnical skills training is, according to Benneker, further improving the quality of AO Spine courses and addresses an underestimated deficit of most spine surgeons.
Participant feedback following the June course in Bern underscores the value of the training: 86 percent of respondents said they "learned something new and plan to use it" in their practice and 100 percent said they would recommend the event to colleagues.